Now in its fourth year of construction, an east-west truck bypass in Greater Sudbury is considered so important to the economies of the city and northeastern Ontario it has warranted two site visits by Prime Minister Justin Trudeau, once to announce funding in April 2016 and again in February of this year for a status update.
To be financed on an equal one-third basis between the city and the federal and provincial governments, the Phase 1 $80-million, 8.5-kilometre-long (5.2-mile) Maley Drive Extension is the culmination of years of planning, studies, and land acquisitions. The project is expected to deliver a list of benefits to truck haulers, short- and long-distance commuters, transit users, and residents, say city officials.
Included in that list is more direct access from northern and eastern regions of the city to provincial highways leading north to Timmins, east to North Bay, west to Sault Ste. Marie and south to Toronto.
It will also provide an alternate route for trucks, especially heavy mining trucks, and in the process reduce congestion on nearby residential and commercial streets.
With that reduction, public transit service travelling times are expected to improve by 43 per cent on two of those streets — LaSalle Boulevard and the Kingsway.
Underway since 2016 and expected to continue into 2020, the project encompasses the reconstruction of an existing two-lane stretch of Maley Drive, the construction of a new four-lane 5.6-kilometre-long (3.4-mile) westerly extension which includes erecting two overpasses, and an already completed realignment of Notre Dame Avenue, a north-south street and the site of one of those overpasses.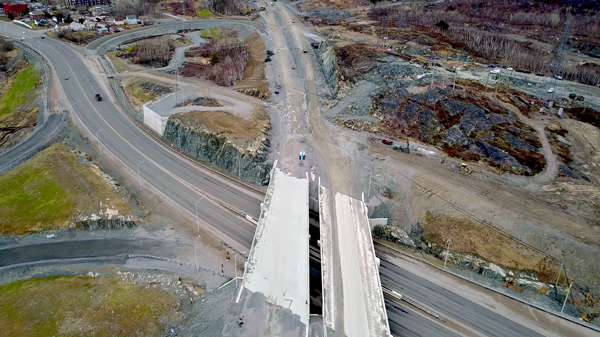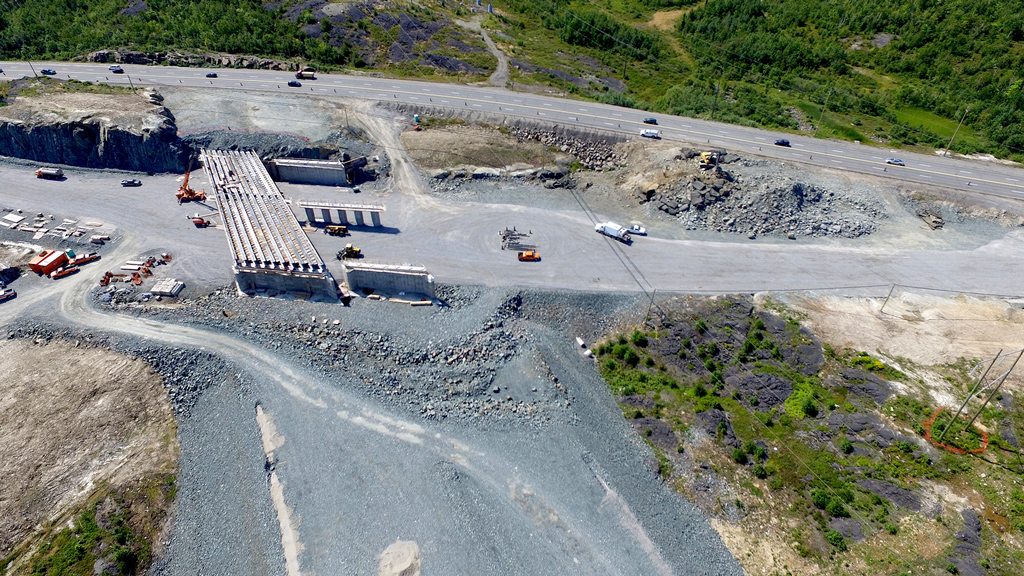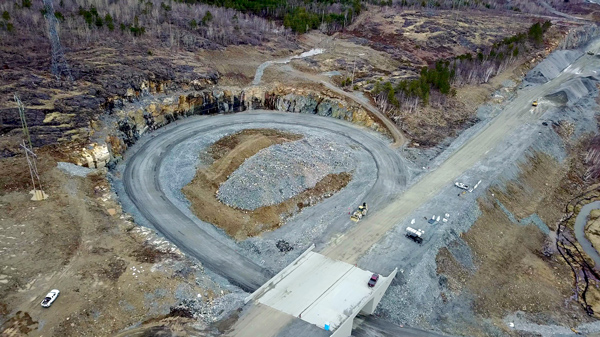 Designed by AECOM, the design-bid-build project was divided into three separate and smaller size contracts "to ensure competition in the bidding process," says the city's director of infrastructure and capital planning, David Shelsted.
The first of those contracts was the $21-million Notre Dame Avenue realignment by Bot Engineering & Construction Ltd.
A hill top was located at the original proposed site of the Notre Dame/Maley interchange and had the city pursued that option it would have necessitated a significant amount of landfilling on both sides of the interchange, he says.
"This (the realignment) also allowed the construction of the interchange to the east side, without impacting existing traffic during construction."
Construction, which included utility relocations, got underway in the summer of 2016 and was completed in late 2018, he says.
Locally based Teranorth Construction & Engineering Ltd. won the two other contracts, both of which got underway a few months apart from each other last year.
They include the $11.1-million reconstruction of the existing Maley Drive from Falconbridge Highway to where it currently ends at Barry Downe Road (Contract 18-35) and the much larger $48-million extension which will take Maley Drive west to Frood Road (Contract 17-35).
With the installation of 700 metres (2,297 feet) of new watermains, a roundabout, intersection improvements at Falconbridge Highway and other work, the reconstruction is no small endeavour. But it is the larger contract which has been and continues to be the most challenging, says Shelsted.
In the hard Canadian Shield terrain which Sudbury sits on, dynamite blasting is the only option to remove rock and along this particular construction route the rock formations were more than 20 metres (65 feet) high.
A vibration and monitoring system is in place to minimize the potential damage to nearby homes from five different blasting areas, he says.
"Three warning horns are sounded before the blast and then, after the blast, an all-clear horn," says Shelsted.
Not only are the horns activated at the actual blast area, a team is dispatched into the residential subdivisions to sound them at the same time, he says.
Very little of the blasted rock was hauled away, as it was used to fill low sections and to produce all of the Grade A and B granulars. The vast majority of the blasting is complete, the granular is being placed now and asphalt paving will start in June, says Shelsted in commenting on the progress of the extension which is now at the 60-per-cent complete stage.
Even when work wraps up next year, the truck bypass will be far from completed. Under a planned Phase Two what is known as LaSalle Extension will be widened, taking the bypass another 2.7 kilometres (1.6 miles) to the west. Also, the original section of Maley Drive—the piece now being rebuilt — will also be increased to four lanes. Included in that phase will be the erection of bridge over the CNR lane which is currently an at-grade crossing.
Estimated cost is $50 to $60 million. However, detailed design has not been completed and scheduling is contingent on securing provincial and federal government cost-sharing funding, says Shelsted.