A "dream team" has been assembled to develop a new roof — the third — for Montreal's star-crossed Big O, the Olympic Stadium.
Collaborating to prepare a business case for a new covering are Schlaich Bergermann Partner (sbp), a German engineering firm that has designed over 60 stadium roofs; German architectural firm GMP; Canadian engineers WSP; and the project owner, the Regie des Installations Olympiques (RIO).
The Quebec government approved planning for a new roof in 2017 and reiterated the goal in May. The target date for completion is 2024 with a projected cost announced at $250 million by the government two years ago, a figure RIO public relations counsellor Cedric Essiminy said does not reflect RIO's current cost case.
"We tried to gather a dream team, with somebody that is more technical, somebody that has an eye on the architecture and sbp, overall they have a lot of expertise on many stadiums, and us who are leading the project," said Essiminy recently.
"We are working really hard to be sure this time it is going to be the correct roof. The only purpose that we want is that it holds — retractable or not, partial or total, that is not the main focus. This time, it needs to work and it has to be flawless."
WSP was hired in April 2018 and sbp last August.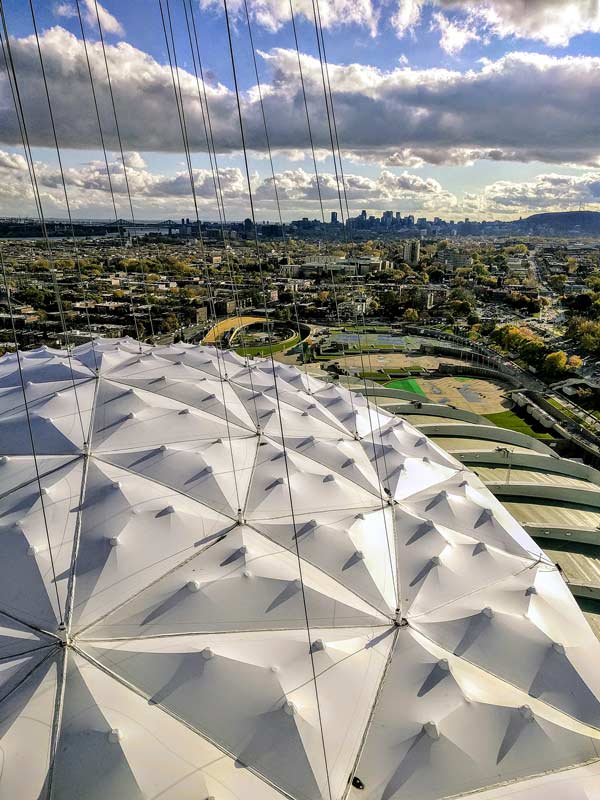 In unveiling a new website with a historical project timeline June 26, RIO made no attempt to minimize the litany of missed deadlines, cost overruns, rips, blunders and other embarrassments that have plagued the stadium since it opened, the tower and roof incomplete, for the Montreal Olympics in 1976.
Initial projections were that the stadium would cost $134 million to construct but the final cost estimate was over $1 billion.
The 175-metre, 45-degree inclined tower designed by French architect Roger Taillibert was finally completed in 1987; its retractable Kevlar roof is said to have sat in a French warehouse for five years awaiting installation. SNC-Lavalin erected the 66-tonne roof in 1987 but just a year later during a wind storm, the canvas tore in two places with rips 40 metres and five metres long.
Essiminy said the failure of the first roof — it was replaced in 1999 — was in part because it was a victim of its own success.
"People were saying, this is marvellous," he said. "The roof was not meant to be open and closed so many times but so many people were coming to see the roof open and close, they made the decision to open it and close it once or twice a day. So it tore up drastically. It was supposed to be open once or twice a month."
The roof was retracted about 80 times before it was closed for good in 1991; the biggest tear that year was 120 metres. Essiminy cites human, engineering and climatic reasons for its failure.
The current roof, non-retractable and designed by Birdair, consists of 93 panels of Teflon covered with fibreglass and resting on a lattice of steel cables. The RIO website recounts numerous failures including dumps of snow that have caused the cancellation of events and lately there is a yearly tally of the number of tears that have been repaired — the summer 2018 inspection found 3,256 perforations, though many were only the "size of a loonie," according to Essiminy.
"As soon as we installed it we had problems," said Essiminy. "But the original life expectancy was 25 years. So 2024, it is going to be 25 years. So even with the problems we had in 1999 while installing the roof, we were able to keep it on its life expectancy."
There have been several false starts over the past 15 years in initiating plans for the third roof but the current iteration seems to have legitimacy.
If the Quebec government approves the business plan next year, according to a tentative schedule, RIO will be in a position to issue a call for proposals and hire a project team. Meanwhile, the banker Desjardins moved into the tower with 1,000 employees last year, creating more momentum for RIO.
Schlaich Bergermann Partner general manager Michael Stein identified three major issues the design team must deal with in an interview published on the RIO website: harmonizing the design with Taillibert's existing tower, dealing with snowloads and adhering to Canada's National Building Code, which is much stricter than 50 years ago.
Essiminy noted that each roof is essentially a prototype, given that there are no other major stadiums with roofs held in place by a vertical tower.
"There are some stadiums where there is tension from the top but the way the Olympic Stadium is built, it is inclined not for esthetics, it is inclined because it holds the roof," he explained. "Around 70 per cent of the roof is held by the tower. The technical ring and stadium holds maybe 30 per cent."
Essiminy said the team will provide a conceptual design as part of the call for proposals. There is still a possibility parts of the roof could be retractable, he said. The procurement will be DBFM.