A temporary camp for workers is in place and prep work has started for the long-awaited Tlicho All-Season Road, a 97-kilometre-long, gravel thoroughfare in the Northwest Territories (N.W.T.) that will connect the community of Whati with Yellowknife Highway which runs around Great Slave Lake to the territory's capital.
An office and trailers have been brought in to the camp, along with several excavators, dozers, rollers and rock trucks. A kilometre-long swath of forested area and scrub has already been cleared by the equipment.
Greg Hanna, a spokesperson for the N.W.T. department of infrastructure, says the transformative project started in early September and 96 people are currently employed on the venture — 32 of whom are northern or Indigenous peoples from the area — and that number is expected to grow in coming months.
Construction of the road is expected to take up to three years and will result in significant employment and training opportunities for Tlicho residents, supporting the development of a strong northern workforce.
"The road is being built in a continuous or linear method with operations following one another sequentially," explains Hanna. It is slated to be open to traffic in 2022.
The project will include surveying, clearing and grubbing, drilling and blasting, rock crushing, grading and other operations.
The temporary camp is set up at the construction site entrance. There will be a primary camp constructed soon further up the project alignment that will house all the workers.
The road will connect with the Yellowknife Highway, also known as Highway 3, just west of Behchoko. Highway 3 loops around Great Slave Lake to Yellowknife.
Hanna says the project was deemed necessary for resource exploration and development projects in the region. By providing a permanent transportation route, the road is also expected to reduce the cost of living, boost tourism and improve winter access to other communities. It will provide year-round access to Whati and, in time, replace the winter road. Much of that road is constructed on frozen lakes and, as such, is vulnerable to fluctuating climate conditions, making it an unpredictable route for transportation.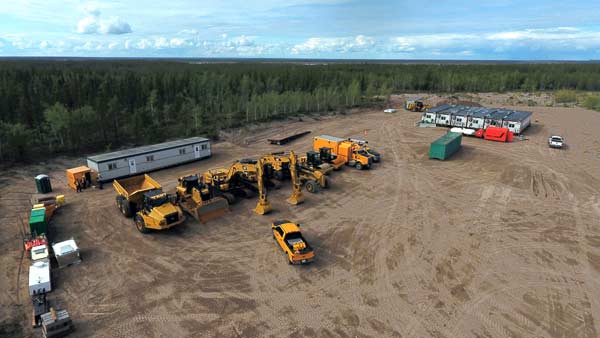 "Currently, Whati is only accessible by air, except during some winter months when the winter road is open," says Hanna. "Our government has moved ahead with an all-season road so we can provide uninterrupted access to Whati throughout the year. All-weather access may attract further interest from industry in exploration and development of natural resources in the region."
The road will be 8.5 metres wide and have two lanes. As many as 200 vehicles are expected to use it daily.
The project is being done as a public-private partnership, with a total contract value of $411.8 million over 28 years. North Star Infrastructure (NSI) was selected in November 2018 to design, build, finance, operate and maintain the road. NSI is a consortium made up of Kiewit Canada Development Corp. and the Tlicho government, with Peter Kiewit Sons ULC, Hatch Corp. and Thurber Engineering Ltd.
The N.W.T. has a 75-per-cent stake in the project and the federal government owns 25 per cent. The Tlicho government owns 20 per cent equity.
While the venture will be challenging, Hanna says the obstacles are not insurmountable.
"There are many technical challenges with this project but none that we can't overcome," he says. "Extreme weather, for example, is expected to impact working conditions, and the remoteness of the project adds complexity to ensuring the site has the resources, building materials and site amenities."
There are also many water crossings along the roadway route, but engineers came up with a unique solution to ecological concerns, says Hanna. The road will include four major water crossings that will require three bridges and one major culvert.
"One of the unique aspects of the highway is that none of the bridges will physically touch water. This design feature was a result of input we received from Tlicho residents, who indicated it would be ecologically and culturally inappropriate for there to be any middle piers touching water. Instead, our bridges have been designed as single span bridges," Hanna says.
The new road is being built less than three years after the opening of the Inuvik Tuktoyaktuk Highway, a 138-kilometre, all-weather, two-lane gravel road to the Arctic Ocean that includes eight bridges.
Federal Minister of Infrastructure and Communities Francois-Philippe Champagne says the road will significantly improve the lives of residents.
Chief Alfonz Nitsiza of Whati says community elders have talked about the need for an all-season road to the community for many years and are pleased to see it becoming a reality.
"We have been involved in all phases of the development of this road and are now a true partner through our equity investment in construction and operations. We know that this road will bring both impacts and benefits to the community, and we have been preparing for both," he says.