When the coronavirus outbreak started grabbing global headlines as it spread from China overseas, a Toronto-based contractor got to thinking that its decades-long partnership with temporary building manufacturer Sprung Structures could be put to good use.
"We started to suspect there would be a need for triage centres, a need maybe for remote connections to hospitals for COVID patients, for drive-through testing centres," says Paul Waddell, vice-president design build, of BLT Construction Services.
The contractor was onto something.
Since then, as a design-builder BLT has erected an 89-bed facility for COVID-19 patients at the Joseph Brant Hospital in Burlington, Ont. and an 80-bed temporary hospital at Trillium Health's Mississauga Hospital this April.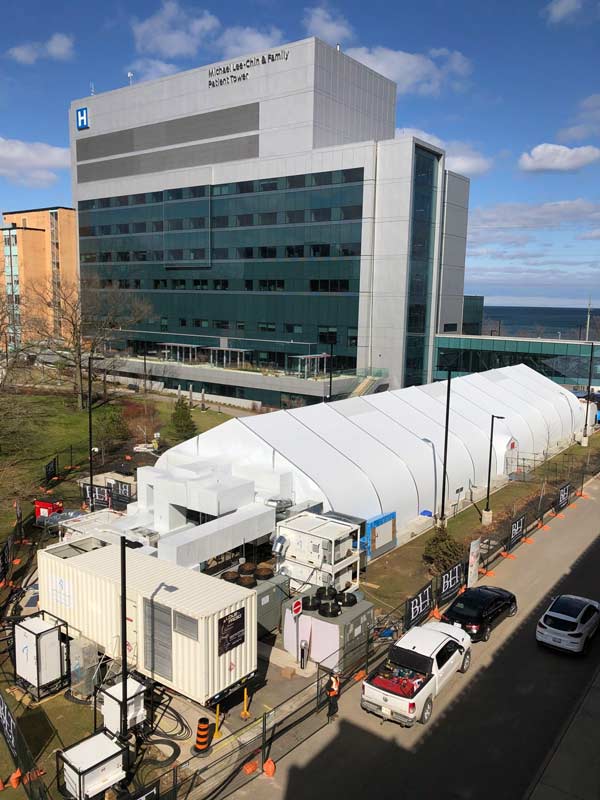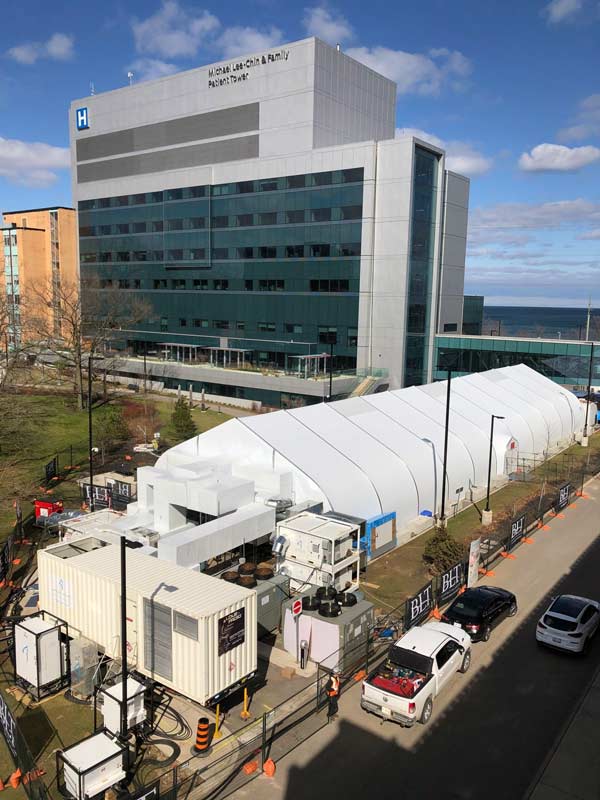 Calling that first field hospital in Burlington "the most unique, temporary, repurposable facility" to date in Ontario, Waddell says it features negative air pressure, oxygen lines, a mechanical system for heating and cooling and a raised steel floor on pedestals.
It is far from "the M.A.S.H (mobile army surgery hospital) tent on the asphalt with army cots" BLT might have originally envisioned, he says, largely because the hospital administration set rigorous specifications for "hospital-grade solutions."
Waddell, the director in charge of both contracts, says the Burlington field hospital took five days to deliver and another nine to assemble after the contract was signed.
"It included a whole lot of inventing," he says, noting the building code at the time had no COVID-19 relief measures in place.
The builder had to scramble because the site did not have access to potable water, a sewage system or sufficient emergency power.
"In the case of these temp facilities, you typically have none of that," he explains.
The Sprung Structures facility consists of an aluminum substructure covered in a tensile fabric membrane which is "pulled between the aluminum beams and then stretched to create the tensile strength."
Supplied and installed, the structure cost $90 a square foot. It was erected by a crew trained in Sprung Structures assembly.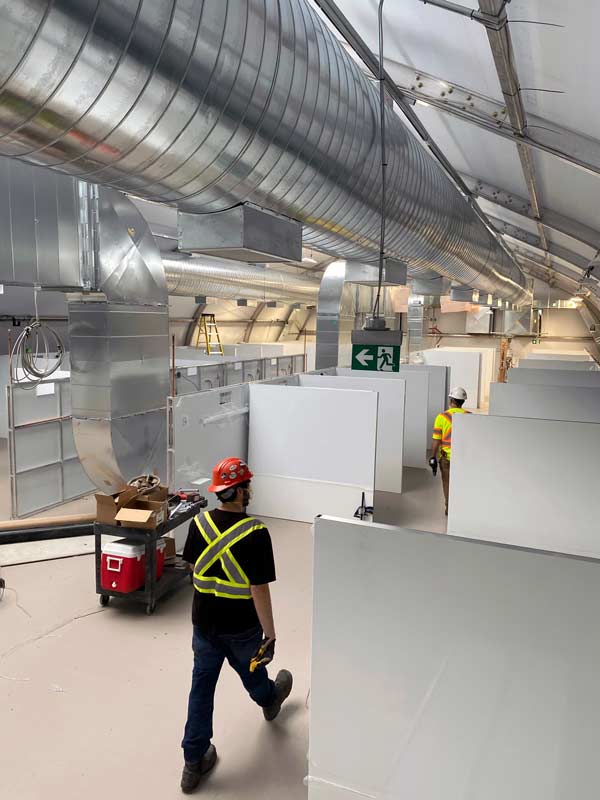 "We had to develop a very intense plan to meet the new COVID safety standards, including how to not have 200 people (subtrades) in the area at a given time," he adds.
That meant working 24 hours a day, seven days a week, Waddell says.
He credits the subtrades and vendors for finding solutions to problems on the fly.
"When we look back on it, we wonder if we could ever do it again."
Waddell says Sprung's buildings, which can withstand hurricane winds and heavy snowloads, have been installed in the "two polar opposite worst climates in the world." The field hospitals have energy ratings of up to R-30 and can be kept up for a few months, a year or longer.
Waddell says BLT completed an 80-bed field hospital for Trillium Health in Mississauga in late April.
The facility had more site-related challenges than its counterpart in Burlington. "Each one of these projects is unique…access, connectivity to the hospital," he states.
Both field hospitals are more than 8,000 square feet inside a 50-by-165-feet structure. Upon disassembly about 90 per cent of their structures are reusable, Waddell says.
BLT has partnered with Sprung Structures for more than two decades, erecting structures for arenas, pools and pedestrian tunnels. Last year, BLT completed three respite centres for the homeless in Toronto, he says.
While the contractor has ambitious plans ahead to erect more field hospitals, Waddell says the supply of temporary structures might not be readily available.
He says Sprung Structures has a growing demand from large U.S. customers for the temporary assemblies.
"The ability to get in the queue and stay in the queue is a challenge," he explains. "It's taken a little longer than we would like to see our solution (for field hospitals) rolled out."
Waddell says hurdles aside, the process of building a field hospital can be rewarding. As crews built the facility at Brant Hospital, spectators "cheered us along. They were very supportive and it gave us definite purpose and meaning."
Waddell says BLT is negotiating for several more field hospitals in Ontario and it is looking at national initiatives for health care projects in remote locations.