EllisDon ramped up construction at St. Michael's hospital in Toronto recently, enabling 33 new beds to open early for patients stricken with COVID-19.
The original commissioning deadline for the 4th and 7th floors at the new Peter Gilgan Patient Care Tower at St. Michael's was April 30 but as the pandemic began to progress a plan was hatched for the constructor to complete its work by April 9. The new ICU floors were in operation April 15.
EllisDon's senior project manager Cara Grant and senior superintendent George McGrath worked with colleagues, consultants, subtrades, NORR Architects and the Operational Readiness team from hospital operator Unity Health to meet the new commissioning deadline.
"It was certainly a surreal opportunity," said Grant. "There was pressure and such importance around the project at this challenging time. It was certainly a time to keep focused despite everything around you that you had such limited control over."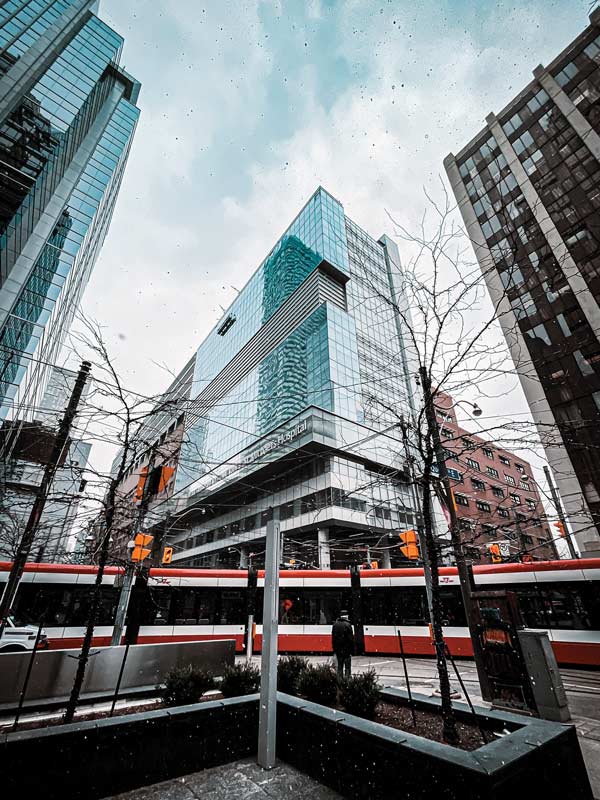 Speeding up the project by three weeks was only one of several challenges, noted Grant and McGrath. EllisDon had taken over the project from another contractor, so it had to familiarize itself with project requirements mid-stream, and then there was the spate of new COVID-19-related health and safety protocols to learn to follow just as crews were being asked to send the project into overdrive.
All this, amidst an ever-shifting regulatory landscape as the premier and his ministers continually announced new policies to be adhered to.
"When George and I started on the project we had no sense it would turn out this way, providing such an essential building to the city and the hospital," said Grant.
McGrath said it was important that the workers felt safe as the work schedule was stepped up.
"We had to adapt pretty quickly to the evolving situation, implementing the new COVID-19 response policies and project continuity plans," he remarked.
"Communication was the key to keeping everyone going. Communicating to everyone on the job to make sure they felt safe and they were safe and they could continue working so we could achieve the goal of getting the tower complete."
Grant said EllisDon had one week's notice to prepare the plan to accelerate the project. The firm uses the Last Planner System which contains a detailed six-week workplan, and Grant and McGrath sat down to determine how to squeeze that work into a shorter period. Grant said they identified risks, roadblocks and pinch points and then communicated those to all parties involved to find solutions to each challenge.
"It was definitely necessary to respond very quickly and decisively and communicate that plan clearly to everyone as quickly as possible," Grant said.
A major pinch point, she said, was resourcing. There was weekend work and longer days required, some workers were working from home, subs and consultants had to change their schedules to come onsite earlier, and processing of paperwork had to be sped up.
The major trades with work to complete were mechanical and electrical, drywallers and building envelope specialists. Multiple inspections were also required before EllisDon or other authorities could sign off on the new wing.
"I think we did well and our partners and our subtrades and our consultants responded very well to that," said Grant.
Beyond construction, EllisDon and its building partners had to work in close collaboration with Unity Health's Operational Readiness team to understand their priorities and accommodate move-in requirements.
Subsequent floors were completed and ready for commissioning in the weeks since work on floors 4 and 7 wrapped up.
McGrath said a major key to the success of the job push was how EllisDon set the tone and maintained the intensity level required to get the job done.
Commented Grant, "There was never a time when we questioned ourselves as to whether we could do it or not — there was no question, we had to get this done."
Follow the author on Twitter @DonWall_DCN.