After 15 years in Ontario, public-private partnerships (P3s) are in need of "a significant refresh," according to one panellist at a recent webinar on the future of P3s.
David Thom, president of IBI Group, Inc., a co-designer of the P3 Eglinton Crosstown transit project in Toronto, said players face heightened risks as Canadian P3 projects increase in size and scope.
Those risks are "causing some to get out of the marketplace," Thom told more than 200 viewers at the live webinar, which was part of the spring meeting webinar series hosted by the Urban Land Institute Toronto.
He said a new model emerging that is better suited to many project types in Canada and the U.S. is the "progressive DBFM (design, build, finance and maintain)" or Alliance P3 born in Australia. An advantage it has over standard P3s is it identifies risks early in the design stage before "you lock in the deal."
Delivering P3s in Ontario is the responsibility of Infrastructure Ontario (IO) which was established in 2005 when much of the province's infrastructure was aging and in need of upgrades. The idea was to transfer risk on projects, most of which are more than $100 million, said Jeremy Warson, the webinar's moderator and director of portfolio development in the real estate division with IO.
Some poorly constructed P3s occur when owners ask suppliers to assume more risks than they can effectively manage on a fixed price and fixed schedule, panellist Olivia MacAngus, chief development officer at Colliers Project Leaders, a project management advisory firm, told the webinar.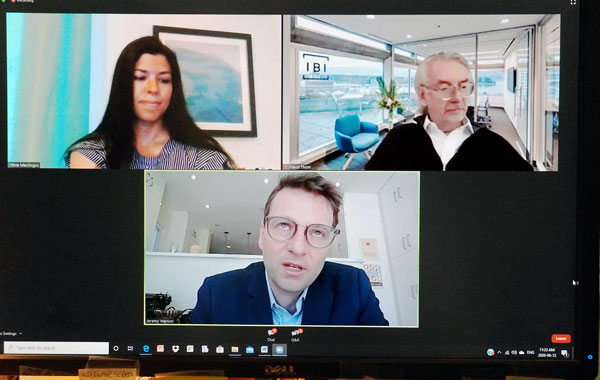 As an example, owners and contractors can't compel utilities to do relocations on their schedule which creates problems for their suppliers.
"You just get into a misalignment of interests," she said.
MacAngus sees P3s in a state of evolution. More owners are moving to different risk models, depending on the project type, which she calls "a sensible approach. You can't think of every aspect class in the same way."
Other models are better suited for certain "sizes and scales and degrees of complexity of projects," added MacAngus
Complex transit projects are a case in point, she told the webinar, noting that they don't go through the same rigorous planning process that, say, hospitals do because they are not on a single site.
"We need to be mindful to take all those things into account…to get much better projects," she said.
Thom said revenue-risk projects, such as transit, "are getting hammered" by the pandemic because fair-box revenues have significantly dropped off.
"To me there has to be some fast movement to that reality. You can't go back to the project agreement and say, 'tough luck,' " he stated.
He said he is seeing evidence that common sense is overriding project agreements.
MacAngus said in COVID-19 times there is a lot to be learned by going back to the original rationale for P3s. That includes output-based specifications being less prescriptive and "allowing more room for innovation and dealing with challenges to operating models that we are bound to see going forward."
Thom said a silver lining to the pandemic is that it has accelerated the use of technology in how facilities are planned, which allows for data comprehension "much more quickly."
"It is completely possible to build the digital twin (to the project) first," so it can be used early to eliminate potential problems and risks later on, he said. "It's a game-changer."
MacAngus told webinar viewers it's been Colliers' experience in Canada's north that more owners require the involvement of underrepresented communities.
"I do think that is a real game changer in the future economic viability in many regions," she said.
Warson told viewers that to date there have been 129 projects in Ontario — some still to be completed — totalling over $100 billion in capital costs.
He said while health care projects have traditionally represented the lion's share of Ontario P3s, large transit contracts have an increasing slice of the pie.