New research from the McKinsey Global Institute on the risks of climate hazards on global infrastructure should serve as a wakeup call to owners and investors no matter what their asset and where they live, says a Canadian partner with the firm.
In the report, titled Will Infrastructure Bend or Break Under Climate Stress?, the authors warn that no piece of critical infrastructure is immune from advancing climate risks; that not only are catastrophic risks such as hurricanes a major danger to systems but less severe chronic risks should also be recognized; and that compounding and unforeseeable threats are more pervasive than has previously been assumed.
"The frequency and severity of risks are likely to increase as a result of climate change and so the bar continues to rise in terms of our need to adapt," said Brodie Boland, as associate partner with McKinsey based in Vancouver.
"Our hope was the report would provide a comprehensive fact base for decision-makers from all sectors to think about climate risk. That may be governments making sure they are adapting to climate, infrastructure owners and operators preparing for climate risk and upgrading assets and investing in resilience, making sure they can keep operating through hazards, or investors, or the broader community."
The report, released Aug. 19, examines four critical infrastructure systems — the electrical power grid; water storage, treatment and purification; transportation; and telecommunications. Climate risks assessed included tidal flooding amplified by sea-level rise; hurricanes/typhoons and storms; tornadoes and other wind events; drought; extreme heat; and wildfires.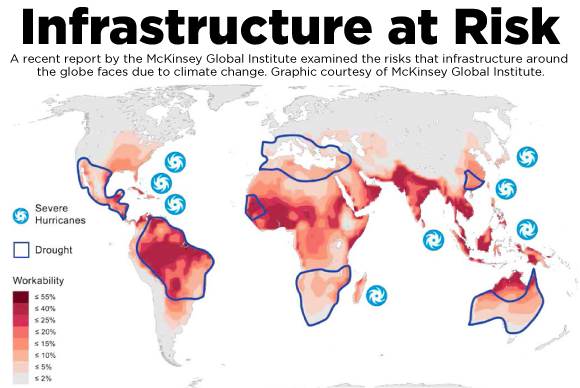 Boland noted that particular Canadian risks such as melting of permafrost, which endangers northern infrastructure, could also be recognized.
Some risks are obvious. Hurricanes can be seen to be obvious threats to most sorts of infrastructure, according to the report, while river flooding is particularly hazardous to rail, roads and water systems.
But others are less direct. McKinsey did a case study of the central business district in Bristol, England which did not seem to be directly threatened by a water risk event.
"While that place is not flooded, all the road networks feeding it would be flooded in a couple of decades in a climate change scenario and so you essentially have a shutdown of all the economic activity associated with those locations," he explained.
Boland pointed out that even incremental threats, such as an increase in one degree in temperature, reduces the operational efficiency of electrical assets.
"Heat is the biggest strain on the grid," the report noted. "Higher temperatures lower generation efficiency, increase losses in transmission and distribution, decrease the lifetime of key equipment including power transformers, boost peak demand, and force certain thermoelectric plants offline."
The report also points out that with 25 per cent of the world's 100 busiest airports less than 10 metres above sea level, coastal flooding and risk from storms could create significant disruptions. And during Hurricane Maria in 2018, winds of up to 175 m.p.h. knocked out 90-plus per cent of communications towers in Puerto Rico.
Boland said it was the intention of the authors to show a full spectrum of physical hazards and the ways each those hazards affect different infrastructure systems.
"If you are a mayor or governor or a leader of an infrastructure portfolio, knowing what parts of the infrastructure system are vulnerable is really important because it allows you to then think about the way to prioritize your efforts," he explained. "If you know wind has an effect on telecommunications lines, you can prioritize that.
"Part of our objective was to step back and provide that comprehensive view."
Boland said he believes Canadian infrastructure owners may be ahead of the curve in their analysis of climate risks but in general, the world lacks awareness.
"Generally, globally I think we are at the beginning of the journey here of incorporating a sophisticated awareness of climate risk into infrastructure investment asset management."
But Canadians should not be complacent and conclude, for example, that there is little chance that drought could hurt our hydroelectric infrastructure, said Boland.
Besides the arguments about incremental risks, for which Canadians might not have built systems to withstand, Canadians are affected by the disruption of supply chains internationally, and many of them have global infrastructure assets in their portfolios, on a personal level and corporately.
"We want to make sure Canadians are clear about the interdependence of all these systems," he said.
Follow the author on Twitter @DonWall_DCN.