Oakville's new infill Oakville Trafalgar Community Centre will open its doors Sept. 19 with only the slightest delay despite a construction shutdown caused by COVID-19 in the spring.
Town of Oakville capital project manager Nick Valerio reported project participants including architect Diamond Schmitt and general contractor Graham Construction, working with the town to deliver the $39-million project using an integrated project delivery (IPD) model, decided to continue intense "big room" meetings via video after town council decided to shut the project down at the start of the pandemic. That was the key to being able to restart with focus intact after the shutdown was lifted May 5 after one month.
"We demobilized but we kept our virtual big rooms going weekly to keep progress and materials on some sort of schedule, the best schedule we could do, to keep the site secure," said Valerio.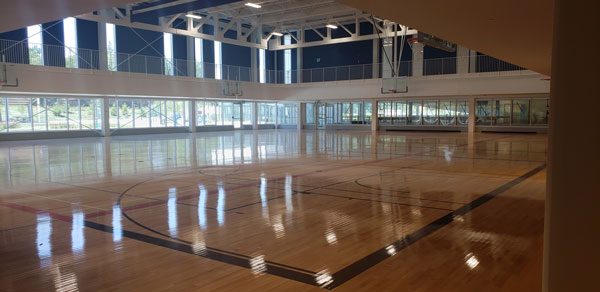 From then it was a question of adjusting to the productivity losses caused by the introduction of new COVID-related health and safety protocols, accepting that some materials would be delayed at the U.S. border and remaining intent on moving towards occupancy not long after the original August completion deadline.
The pool has not yet been lined and there remains work on two upper floors of a rehabilitated parking garage but otherwise, the town is looking forward to greeting the public.
"It was a challenging situation," said Valerio of the final months with COVID affecting the project. "But we are doing the best we can, we have achieved partial occupancy as of Monday (Sept. 14). We have a soft opening this Saturday with guided tours for the public, so it is very exciting."
The new 53,000-square-foot community centre, along with a new park and pavilion, are located in an affluent neighbourhood on a site previously occupied by Oakville Trafalgar Memorial Hospital. Part of the site remains undeveloped, set aside for future housing.
A highlight of the first year was the demolition of the hospital by Delsan-AIM. That proceeded without problems, Valerio said, with neighbours kept informed of the demolition timetable and warned of possible disruptions
Valerio said extensive collaboration with the community led to a design with facilities that would serve Oakville's increasingly diverse population. Facilities include a 25-metre lap pool, therapeutic warm water pool, double gymnasium, fitness centre, overhead running track, multipurpose meeting rooms, space for intergenerational programming and a cafe. 
The town is aiming for LEED certification and the project includes such sustainability features as rooftop solar panels, geothermal heating and cooling, and multiple car charging stations.
It is the fourth time Oakville has used IPD to deliver public projects.
"What was happening in previous projects, there was a collaboration gap," Valerio explained. "We wanted to reduce the change orders, we wanted to reduce the inefficiencies onsite, we wanted to reduce the unknowns.
"As the project began to move forward, we could say either that the risk was no longer a risk, and retire it, or yes we need some of that money because it is a risk so we will use that money toward the project."
Follow the author on Twitter @DonWall_DCN.