Infrastructure Ontario's (IO) latest P3 Market Update, released April 8, reiterated the provincial government's heightened focus on health care projects and otherwise confirmed its commitment to an undiminished pipeline of infrastructure builds.
The April 2021 update reaffirms the volume of projects forecasted in the December pipeline preview and presents new procurement schedules for several health care projects.
The market update includes 41 projects, with 27 projects in pre-procurement and 14 in active procurement, totalling an estimated $60 billion in contract value. Market updates are released quarterly.
The government plans to spend $30.2 billion over the next 10 years, including an additional $3 billion since the 2020 budget, on hospital infrastructure.
Details were presented by Minister of Infrastructure Laurie Scott and Michael Lindsay, president and CEO of IO.
 "This particular pipeline update is pretty heavy on the health side," said Lindsay. "In fact, we at IO say this is sort of a second generation of health care.
"There really is, from Mississauga to Moosonee across the province, a lot that's going to happen in the three to five years ahead in order to make investments in the health care space."
There were few surprises in the document, with only one project removed from the pipeline – and that one, SmartTrack Stations, was eliminated only because it will now be procured by Metrolinx using a traditional model, Lindsay explained.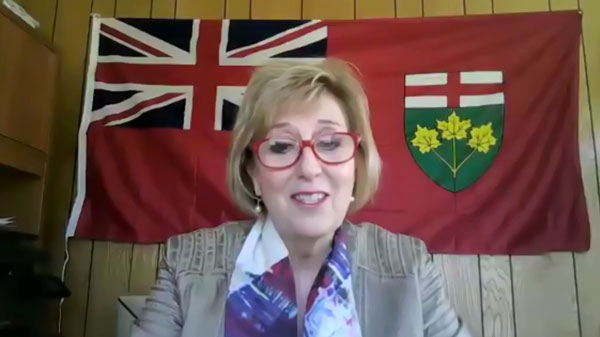 Highlights from the latest P3 Market Update included: release of the Thunder Bay Correctional Facility RFP April 1; the addition of the Children's Hospital of Eastern Ontario Integrated Treatment Centre, the Collingwood General and Marine Hospital Redevelopment/Replacement project and the Hotel-Dieu Grace Healthcare Mental Health Inpatient Bed Expansion as projects in pre-procurement; and the upgrade of the New South Niagara Hospital Project to active procurement.
Scott noted three projects had been added to the planning section of the document: the London Health Sciences Centre; the South Bruce Grey Health Centre; and the Children's Treatment Centre of Chatham-Kent.
"Our government is protecting people's health in the economy with this market update, and the P3 model is helping us to do this," she said. "Exciting times."
Among health care projects with near-term procurement schedules, the Kingston General Hospital Redevelopment project will now go to RFQ this fall; the Queensway Health Centre will now be procured as a build-finance project with financial close next year instead of this year; the RFQ for the Prince Edward County Memorial Hospital Redevelopment has been moved back a year, from this spring to next; and the budget for the Bowmanville Hospital Redevelopment has spiked from the $200 million to $499 million range to $500 million to $1 billion.
Despite being listed as a top-five priority transit project in the province's recent budget, the Hamilton LRT job was not listed in the market update. Scott explained it was removed from the pipeline by the province in 2020.  
"So yes, it's not on right now. It hasn't been on for a couple of pipelines, but we still have our billion-dollar commitment to the City of Hamilton to see what public transportation project best suits their needs," she said.
Lindsay noted the province has confirmed that two of the three Ontario Line contracts and two of three subway extensions projects are scheduled to come to market in the next quarter.
The Scarborough Subway Extension Stations, Railway, Systems project will go to RFQ in spring or summer; and the RFQ for the Yonge North Subway Extension will be issued in the fall.
The GO RER OnCorr project, budgeted for over $10 billion, is scheduled for contract execution this fall, and the contract will be highly complex, Lindsay stated.
Discussions are centred on "continued adaptation to allow for different types of incentive regimes that go with performance, longer phases of involvement in development, differential bases in respect of evaluation to emphasize more technical quality," he said.
Lindsay also issued notice of what he called "watch this space" – a future series of projects involving the management of the provincial government's real estate portfolio, which includes 4,500 buildings, 15 million square feet in rentable office space and one million acres of land.
"IO is working toward transformational partnerships with industry partners to manage, maintain, transact and enhance that portfolio through multi-year commitments," Lindsay noted in his CEO's letter attached to the market update.
Follow the author on Twitter @DonWall_DCN.