The Reseau express metropolitain (REM), at about $7 billion, is Montreal's biggest transit construction project in 50 years and will generally operate as an above ground light rapid transit system.
But in one area, downtown Montreal and the adjacent Mount Royal, the line will travel more than five kilometres underground through the city centre and the mountain, a city landmark. Over this portion of the line a couple of challenges occurred.
An unexpected blast took place in summer 2020 when heat drills detonated explosives that had been left over from when the tunnel was originally built for conventional commuter trains more than a century ago. There were no injuries, but the mishap forced new work protocols and helped delay, along with the onslaught of COVID, the overall project substantially.
Now another part of the underground section, this time in the soft soil between the mountain and downtown's Central Station, has had to be shored up because of decades of salt damage.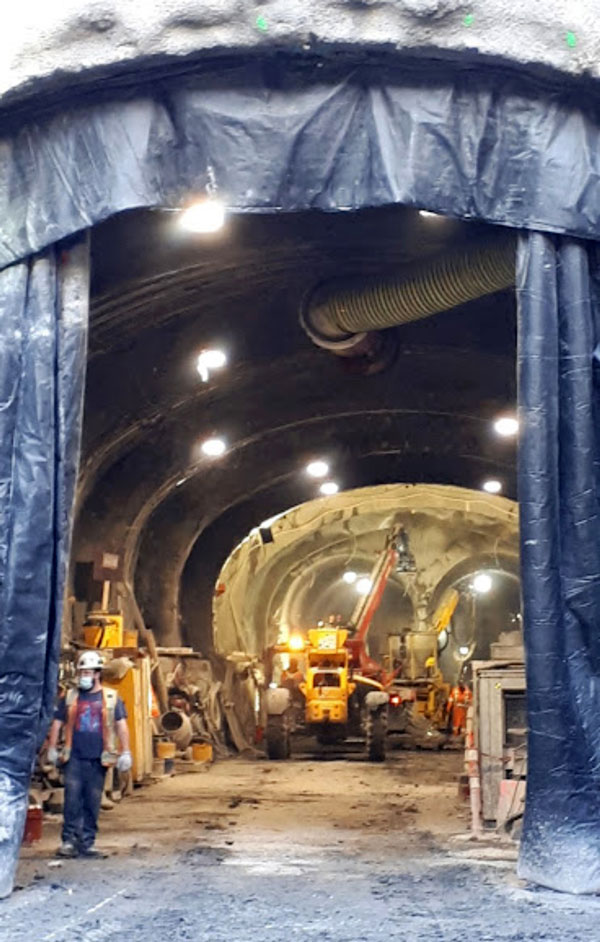 The problem was that the steel wall holding up the roof between the two-tunnel section, each tunnel containing a rail track, had degraded because of salt seepage from the street above. The strip is more than 100 metres long and could have survived a few more decades. But that wasn't good enough for a new transit system that is expected to take Montreal's transportation into a bold new era.
"We couldn't guarantee that it would hold up for the next 25 to 30 years," said Christian Ducharme, vice-president of engineering for CDPQ Infra, which is building the system that is due to open entirely by 2024.
"So, we thought, no, this is too short, we might as well do it now."
Essentially the wall between the tracks had to be demolished and the tunnel roof strengthened.
Crews used the pipe arch canopy method to reinforce the roof before demolishing the degraded structure below. On a media tour, painted green dots showed where holes were to be drilled to install the metal conduits, about 20, to form an arch above the existing tunnel roof. Concrete is injected into the conduits, excreted through holes in the pipes, spreading out and merging into the new canopy. The original roof and wall below are then removed by use of conventional demolition techniques like jackhammers. Twenty-metre-long steel arches complete the new roof ceiling. About 12 sections, each roughly 10 metres long, have to be shored-up.
How long does it take to do a section?
"We thought it would take about a month but we're doing better than that, we are doing about three weeks per section," Ducharme said. "And our record is two weeks for one section. We expect to be able to keep a three-week cadence until the end."
Ducharme said the pipe arch canopy method was relatively new to Quebec, and CDPQ Infra officials got some help from engineers working on a Toronto subway project.
"It's working great here. It's the right spot to use it," Ducharme said. "Because everything above us keeps on working."
Everything above is the existing McGill College Avenue, one lane remains open to traffic, and neighbouring Ste-Catherine Street, downtown's main shopping thoroughfare. Alongside the excavation are the multi-level Eaton Centre and Place Montreal Trust shopping complexes.
Three crew shifts are required because of the soil conditions.
"Once we start digging some ground, for stability's sake we have to continue. We can never stop," Ducharme said.
The distance between street level and the top of the tunnel is 15 metres, and 30 metres to track level.
Ducharme said there have been no problems with disturbing the street above — no sinkholes, for instance — nor with the adjoining massive commercial and office buildings that border McGill College.
There was only a slight problem with a leaky municipal pipe.
This cut and cover excavation is stabilized in part by huge steel beams. Meanwhile, construction immediately next door is taking place on the McGill REM station, which will connect to the Eaton Centre and the Metro's green line McGill station. The cavities and forms for the station's platforms are just up from the tunnel roof shoring work.
Immediately north, the Mount Royal Tunnel itself remains in "good shape," Ducharme said.
It's in solid rock unlike the soft soil under McGill College, which necessitated the dual roof tunnel construction under less sophisticated engineering methods a century ago.
There is only a single tunnel containing two tracks within the mountain itself.
"It's a five-kilometre tunnel and we're redoing only 100 metres of it really, so it proved to be in very good shape," Ducharme said.
But there's no question this section of the REM was one of the most difficult.
"There's a lot of stress in this area because of the proximity of the traffic, the buildings and the schedule," Ducharme said. "So, yeah, this is definitely one of the hot spots on the project."