Work is well underway to rehabilitate Canada's longest underwater highway tunnel, the Louis-Hippolyte-La Fontaine tunnel in Montreal.
Louis-Hippolyte La Fontaine was a major historical figure, the first premier of a United Canada, joining Upper and Lower Canada in the 1840s prior to Confederation.
The tunnel, construction of which began in 1963, was part of a wide spate of highway and infrastructure projects, including Montreal's subway, which was built during that decade in anticipation of Expo 67, the city's world's fair and the country's Centennial.
Travellers heading between Ontario, Quebec and Atlantic Canada will also recognize it as it forms a segment of the Trans-Canada Highway.
In Quebec it's Highway 25. It connects Montreal Island to the so-called suburban South Shore.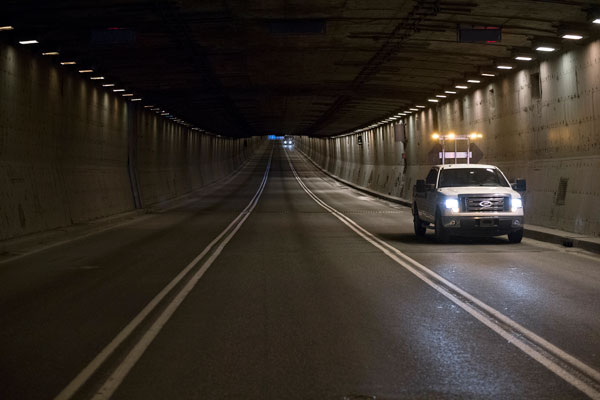 Montreal has a series of bridges also connecting the two geographic points but a tunnel was decided to connect the eastern flank because of geography and urban development.
The shorelines were flat and approaches to an elevated bridge, which also would have had implications for river ship traffic, would have been too long "destroying" a large swath of the nascent suburbs, said a report at the time.
The tunnel in effect connects Montreal to Charron Island on the St. Lawrence River, a two-kilometre stretch. A shorter bridge connects Charron to the mainland.
It is Canada's busiest highway tunnel, carrying 120,000 vehicles daily, 13 per cent trucks, therefore Montreal's biggest commercial crossing.
The tunnel was sunk into a trench consisting of seven prestressed concrete sections, 24 metres beneath the water surface. There are also two concrete approaches.
The tunnel actually encompasses three tubes — north and southbound lanes and a service tunnel.
Its overall width is 35.6 metres.
Work, some preliminary, on the $1.42 billion project got underway last year including non-tunnel construction of park and ride lots and noise barriers.
A reserved lane for buses and car-pooling on the south shore's feeder Highway 20 was established so traffic could flow more easily during the construction period or until 2025.
"This being a repair project, the objective is to preserve this crucial link for the mobility of people and goods," said Gilles Payer, a Quebec transport ministry spokesman.
The Quebec government signed the contract with consortium Renouveau La Fontaine (RLF), made up of Eurovia Infra, Pomerleau inc. and Dodin Campenon Bernard SAS. The Canadian government provided $427 million and the cities of Montreal and Boucherville kicked in $4.1 million.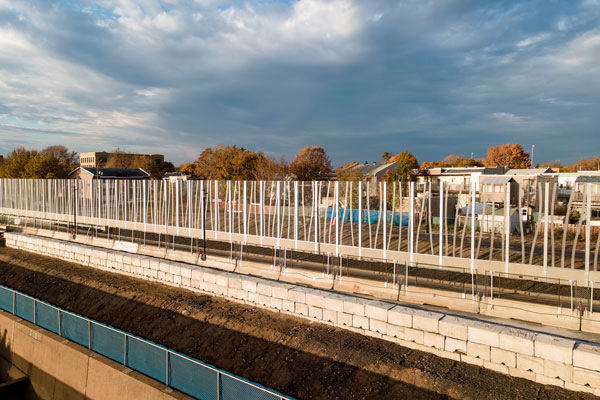 The contract is unique in that it's an "alternative design-build finance model," according to the province. That means the consortium is not just designing the works but carrying construction out. Traditionally separate contracts would be awarded for various stages.
The need for the rebuild is because of general degradation and age, much of the erosion caused by de-icing salt — a perennial problem for Montreal crossings — and the desire to shore up the infrastructure for a typical tunnel lifespan of 100 years.
Tunnel work itself will require reconstruction of the tunnel walls, joints and drainage systems. Slab and reconstruction of the concrete screed will also be done. As well, ancillary equipment like lighting, ventilation, fire protection and electrical is being overhauled.
But not just the tunnel will see an upgrade.
A third lane is being constructed on Highway 25 in Montreal and the freeway will also get 35 kilometres of new concrete paving on both sides.
As well, the central service tube will be enhanced for emergency evacuations. On the roof there will be more riprap to solidify the tunnel's position. Landscaping and a shoreline multiuse path is being constructed.
During construction there will be widespread traffic interruption and detours but certain lanes will continue to be open.
"The fact that the work is carried out in a confined space, with heavy traffic, is clearly a significant challenge for work teams as well as for traffic management during the work," Payer said. "Modernizing an existing tunnel to bring it up to international safety standards also poses a significant challenge."