Location, design features and a celebrity collaboration are just a few of the elements that set the new 8 Elm on Yonge apart from other buildings in downtown Toronto.
The 69-storey, 550,000-square-foot, mixed-use tower by Reserve Properties and Capital Developments is located on Yonge and Elm streets, just a few steps away from Yonge and Dundas. It was designed in collaboration with actor Simu Liu from CBC's Kim's Convenience. Liu was also the first Asian-fronted movie in the Marvel Cinematic Universe in Shang-Chi and the Legend of the Ten Rings.
"The architecture is something we think is stunning and we're proud of, the location is absolutely triple 'A' and then when it comes to the interiors we were able to really create something…very unique and special because of that collaboration both in terms of what Simu leant to the process but also in terms of his ability to help inspire the team to create that special space," explained Shane Fenton, COO of Reserve Properties. "Having such as substantial amount of amenity package and space in downtown Toronto is unique unto itself."
The team is currently working through the final phase of site plan approval, gearing up to go to market this fall and get shovels in the ground in the latter part of Q4 or Q1 2023.
The building is designed by IBI Group with interior designs by Cecconi Simone. The construction manager is Clark Construction.
As part of the development, three heritage facades at grade will be restored and preserved. The property is currently occupied by the James Fleming Buildings, designated heritage buildings that are being used as office spaces, which will be integrated.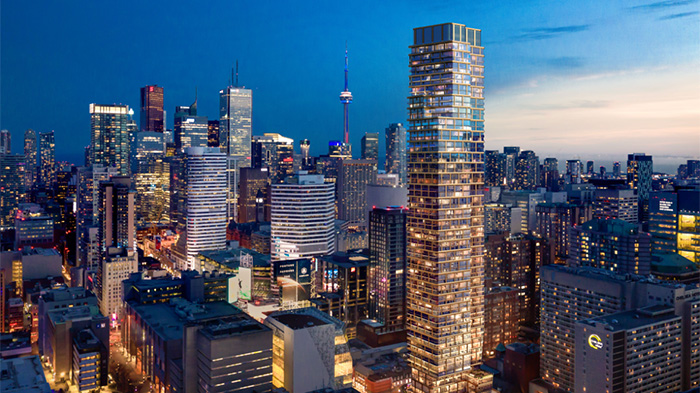 The design takes into consideration the quiet charm of Elm Street juxtaposed with the bustling Yonge Street.
"We had a bit of that flux of people moving out of the downtown (during the pandemic), but we think you're really going to see a strong presence of people moving back because they like the connectivity of being not just close to work but close to all those amenities that you don't get in other suburban locations," he said.
"Were strong believers of the core and downtown and we saw this as a prime opportunity to put our mark on something."
The building will also include retail on the ground floor and 5,000 square feet of community space on the second floor which includes social and co-working spaces.
The balance of the building is condominium residential which includes 819 units as well as 26,000 square feet of indoor and outdoor amenity space. The hospitality inspired design makes the building look and feel like a five-star hotel, Fenton said.
The third floor is dedicated to health and wellness with fitness equipment, programming as well as wellness space. As you move up the building there are more individualized spaces including party rooms, private dining rooms, a children's play space and an indoor/outdoor pet environment.
"It's all topped off on the 56th floor where we have this Sky Club that has a combination of both indoor and outdoor space that has expansive views looking towards the city skyline," said Fenton.
Fenton describes the architecture as sophisticated.
"It has a very distinctive feel in terms of the metallicized bullnose detail that is cladding the exterior of the building and the richness of that champagne bronze colouring with it that we think is very different than what you are seeing in most other buildings today," he said.
Fenton said having Liu involved in the project encouraged the team to think outside the box and create something different.
Liu spent a lot of time in Toronto and lived in a condo on Bay Street for eight years before moving out to L.A.
"He really did, in this particular case, bring a very interesting and unique thought process and philosophy to how we looked at the space as it did shift and change our direction and we think overall for the better," Fenton said.
"He was able to lend his influence and guidance from what he has seen is very unique and cool, whether it be from his own living experiences or friends or colleagues or his own travels."
Follow the author on Twitter @DCN_Angela