The Pickering skyline will look a little different in a few years, as eight towers were recently approved by the city's planning and development committee.
The committee approved two different applications: a zoning bylaw amendment application for three residential towers submitted by Tribute and a high-density, mixed-use redevelopment submitted by SmartCentres. 
"In general, both offer an opportunity to take underutilized lands and create really exciting mixed-use developments in both locations," Nilesh Surti, manager of development review and urban design with the City of Pickering told the Daily Commercial News.
"With Tribute, it's within our city centre, located at a prominent intersection of (Highway) 401 and Liverpool Road. It will have an immediate impact in terms of your entry into the city, going eastbound you will see three new towers. It will continue to complement all the work that we've been doing in our city centre."
The development, located at the northwest corner of Highway 401 and Liverpool Road, will include towers with heights of 46, 49 and 53 storeys with a total of 1,779 units and 1,155 square metres of commercial space at grade.
SmartCentres consists of five towers located at the northeast corner of Pickering Parkway and Brock Road. The applicant is seeking a zoning bylaw amendment and will be developing their site in phases. The building heights will range from 25 to 32 storeys and proposes 1,599 residential units and 4,568 square metres of commercial space at grade.
"The intent of the rezoning was primarily to increase building heights and deal with how do we define the lot area," said Surti.
The developer will need to relocate a couple of tenants as well as demolish the existing commercial buildings within the developable area, Surti said.
"Right now, it's a power centre. There are a number of retail stores. We've got a number of buildings that are vacant and we are looking at this multi-year phased development.
"The first phase includes three buildings having heights of 25, 28 and 32 storeys and they are all connected by a podium," he added. "There are subsequent future phases we don't have information dates on at this particular point in time."
The SmartCentres development is being designed by Turner Fleischer Architects and Tribute will use IBI Group.
"Both of these developments are at the initial stages where we are going to start seeing other developments start happening in the area," Surti noted. "It will end up being sort of a catalyst."
Tribute is also dedicating a significant portion of the property for parkland.
"The unique part of their development is the opportunity that they have given the city for additional parkland," Surti said. "They are also going to be working with Habitat for Humanity providing 27 affordable housing units and then a substantial ground floor day care centre.
"(They are) offering substantial public benefits and uses in their buildings that will serve the residents in the immediate area."
Heights were carefully designed to minimize impacts on the surrounding area.
"This particular area, located in a commercial area, there is no immediate residential there so the impact on the existing residential community is going to be minimized," he noted.
"The buildings have been well designed. We have had them thoroughly vetted."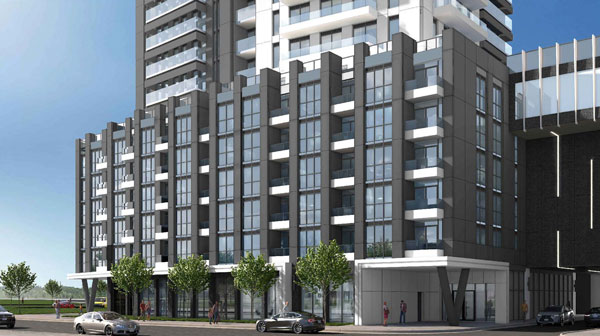 The SmartCentres development is located in a transition area that was always intended for more intense development.
"This is in an area where we completed quite a bit of planning work…to look at intensifying along Kingston Road and Brock Road," Surti said.
"It's a mixed-use development that offers a significant parkland size about 10 per cent of their site area, so that's going to be a benefit to the residents who live there. There are substantial commercial uses that are going to be there."
Overall, the city is moving towards increased building heights and intensification.
"As a city, we are on the cusp of seeing greater intensification, greater heights," Surti said.
"These are the early stages of what we're seeing from the fruits of all the work we put in from a planning perspective to try to transform our downtown into a more dynamic living area.
"How do we integrate these developments and make sure they are complete communities, not just providing residential and also provide other uses that can serve these residents that are nearby?" added Surti.
"We also want to make sure there is appropriate open spaces parkland uses, linkages and connection to existing uses in the existing amenity area."
Follow the author on Twitter @DCN_Angela.