Ontario's Hydro One has announced an equity partnership model with First Nations on new high-value capital transmission line projects that will see Indigenous groups becoming 50:50 equity partners.
The pledge is for projects with a value exceeding $100 million.
Further, as explained by Penny Favel, Hydro One's vice-president Indigenous relations, Hydro One will ensure adequate funding is available to First Nations to enable them to participate.
"The commitment for Hydro One is pretty clear on this," said Favel. "We're going to stand behind the First Nations. We are going to make sure that the funding is available so that we can get the equity investment activated."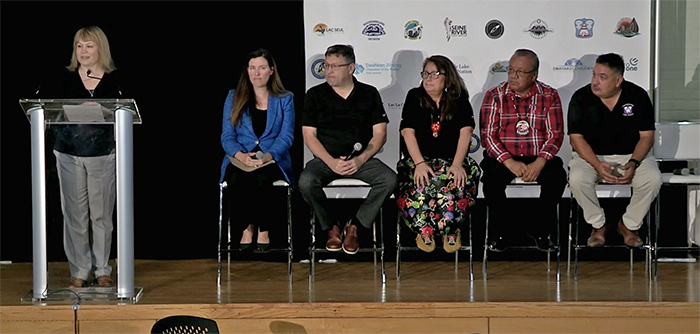 Caldwell First Nation Chief Mary Duckworth, one of four First Nations leaders offering remarks at the Sept. 22 Toronto announcement, served notice the Hydro One deal has set a new standard that other resource companies will now have to match.
"Hydro One is the gold standard," she said. "From this point on, every proponent that comes to Caldwell First Nation better understand and recognize that we will be 50 per cent or 51 per cent partners. We are not taking scraps anymore, and we're not going to be sidelined."
Ontario Regional Chief Glen Hare said from now on resource companies would have to share their wealth.
"That's all we've been saying all along, share your wealth," said Hare.
"We're going to be part of revenue sharing I hope, not going out looking and asking and begging for money."
The new equity model will be applied to projects in the works in northwest and southwestern Ontario respectively. In the spring Hydro One signed an agreement with eight northern First Nations represented by Gwayakocchigewin Limited Partnership (GLP) for the Waasigan Transmission Line project. In total, nine First Nations will have the opportunity to invest in 50 per cent of the Waasigan project.
Hydro One has also committed to a 50:50 equity split for five transmission lines it's developing in southwest Ontario.
"For too long, First Nations have borne the impacts of infrastructure development in their traditional territories without seeing the benefits," said Megan Telford, Hydro One's chief human resources officer.
"We recognize that we did not always get it right, and this equity model signals a significant shift in how Hydro One will work with First Nations…Hydro One is committed to its journey of taking meaningful action to advance reconciliation."
Telford said the commitment comes as the utility prepares to undertake expansion in the next 10 years.
"Let us be clear, there is no energy transition without new transmission in this province over the next decade to achieve a lower carbon future," she said. "We need to expand transmission networks to increase access to clean energy."
Chief Chris Plain of Aamjiwnaang First Nation near Sarnia in southwestern Ontario said his community has already invested almost $300 million of its own money into projects in its territory, and the Hydro One deal represents another opportunity to raise revenues to benefit the community. Benefits have resulted in improvements to education, health, community safety and recreation, he said.
The Hydro One deal represents a further chance to right wrongs the community has absorbed over decades as the petroleum sector has expanded.
"For decades, industry and governments took advantage of our community as a hub for transportation for energy projects, as well as pipelines," said Plain. "We've got a voice now and we're correcting some of those past wrongs."
Hare added First Nations will no longer have to block roads to register their dissatisfaction with resource deals.
"We're good people. And we're not going away. And our kids are going to school for the jobs that are coming up. Our kids are smart. They're engineers. They're teachers. They're lawyers, you name it," said Hare.
"They want to make Ontario strong too because they live here, this is their future too."
Hydro One has also committed to increasing its Indigenous procurement spend to five per cent of all materials and services by 2026 and ensuring that 20 per cent of its corporate donations and sponsorships support Indigenous communities.
"We are committed to advancing our work and taking meaningful action to ensure your communities see the diverse benefits and opportunities from development," said Telford.
Follow the author on Twitter @DonWall_DCN.