The new Sky Canoe headquarters in Port Perry, Ont. will not only be an aircraft hangar providing testing, pilot training and offices for the Noozhoo Nokiiyan LP (NNLP), it will also help connect remote First Nation communities and strengthen trade links.
"The building is really about connectivity," said Danny Bartman, partner at LGA Architectural Partners, in an email to the Daily Commercial News. 
"The co-working spaces will attract start-ups and professionals from other nearby First Nation communities while the drone delivery service will be fostering inter-community trade links with other First Nations in more remote parts of the country."
Sky Canoe produces autonomous, zero-emissions, long-range cargo aircrafts dedicated to creating connectivity, economic development and a sustainable cargo solution for the low carbon economy.
The one-storey, 4,000-square-foot facility, located at 21800 Island Rd. is designed by LGA Architectural Partners and Gillam Group is the construction manager.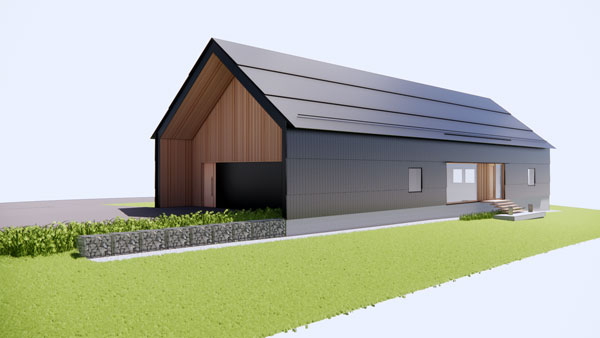 The new building will aid NNLP, which manages for-profit enterprises and investments of the Mississaugas of Scugog Island First Nation, "in their vision to engage in, and develop, wealth creation opportunities."
"The building is a significant addition to the First Nation's commercial centre on Scugog Island as it establishes a development pattern for sustainable growth at that site while framing views of the landscape beyond," said Bartman.
The facility will be constructed of mainly wood framing and a small amount of structural steel. The façade consists of matching metal siding and roofing with cedar siding at the ends of the building as well as the main entrance.
"For all the innovation and technology that will be housed in this new headquarters for Sky Canoe's drone delivery operations and NNLP's coworking and incubator spaces, the building design by contrast is a simple exposed stick-framed hangar," Bartman said. "We wanted to design the kind of building that a carpenter or a boat builder would build for themselves, an elegant barn, a building that you could simply add to and modify yourself over time."
The interior will be comprised of exposed concrete floor slab and exposed timber with open ceilings. A portion of the building will have a mezzanine above to house the mechanical equipment as well as provide for additional office space in the future.
The exposed wood framing, rafters and layering of plywood sheathing is inspired by traditional canoes, reminiscent of exposed rib structures, layered cedar strips and birch bark skins.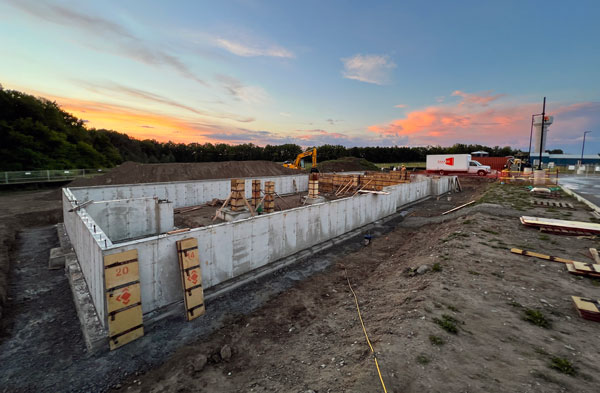 "The exterior shell is clad in a layered ship-lapped pattern of corrugated metal panels and the major entrances (for people and drones) are carved out of the shed-form and punctuated to reveal a layer of cedar lined cladding," said Kevin Martin, project architect at LGA. "The use of cedar has important traditional meaning and provides a natural warmth to the parts of the building that will welcome people on arrival."
As part of early construction on Gillam Group projects, a Token of Commitment, which is specifically designed for Gillam, is ceremoniously set into a concrete pour. For this project, the token was placed in the first pour.
"The coins symbolize Gillam's commitment to delivering impactful projects that represent its values: safety, teamwork, quality and innovation," said Jack Leonetti, director of marketing and strategic initiatives with Gillam Group.
When asked what makes the project unique, Bartman said Gillam Group was brought on board right at the onset as a collaborator, along with the client team, architects and engineers, similar to an integrated project delivery process.
"It was absolutely necessary given the volatility in the construction industry and commodities markets," he pointed out. "Having real time cost estimating and access to trades for design assist so early in the design was really important. We were able to evaluate various timber systems on costs, availability and scheduling and in the end landed on simple stick-framing as the most predictable and flexible way forward."
Lumber and concrete shortages in the industry have posed some issues for the project, said Leonetti, adding the original design for the building structure consisted of many engineered lumber products including glulam beams, laminated veneer lumber and Truss Joist I-Joist.
"Due to the challenges in sourcing such engineered lumber products, the project team has altered the design to include more dimensional lumber with some steel elements to achieve the same structure with materials that are more available in the current market," said Leonetti. "Concrete shortages throughout the industry have made it difficult to lock in a supplier who was able to meet the schedule commitments put forth. Through many discussions and continuous communication, we have been able to work with our concrete suppliers to keep concrete pours on schedule."
Follow the author on Twitter @DCN_Angela.