RioCan has selected an AI-powered cyber-security package from U.K.-based Darktrace to protect its massive Toronto project The Well from global threat actors.
The Well, targeted to open next year, is one of Canada's most complex projects, with multiple highrises offering residential, office and retail spaces across 7.7 acres of land at Front and Spadina in downtown Toronto.
Tenants will include such tech-dense firms as Shopify, Quadrangle, Konrad, Spaces, Intuit, Index Exchange and Financeit and when complete the three-million-square-foot site will host approximately 11,000 people daily.
George Ho, RioCan's vice- president of information technology, explained in a statement that as cyber crime keeps growing, cyber criminals are attacking real estate organizations both to access confidential data, including the financial information of property buyers and sellers, and to disrupt operations and demand ransoms from investors and agents.
AI enables the owner to stay a step ahead of attackers through real-time monitoring of data flows involving both IT and OT — operational technology, such as control systems for elevators, thermostats and appliances.  
"The best thing about Darktrace's AI is that it learns every detail of both our information and operational technology so that we can minimize any disruptions to our normal business operations in the event of a cyber security incident. That is the future of security," said Ho.
RioCan had previously selected Darktrace's Detect and Respond technologies in 2021 to defend network and cloud infrastructure across its properties.
Canadian David Masson, Ottawa-based director of enterprise security at Darktrace, said in constructing smart buildings or smart cities, developers generally intend to use the Internet to make life better and more efficient for their tenants.
"But obviously, you're installing Internet-connected devices and systems, IT systems, OT systems, all around the building," he said.
"There's always a threat landscape, but in a smart building that tends to be bigger, more widespread, and a more complex landscape to manage."
AI is the present as well as the future of cyber security, Masson explained, because IT and OT are so complex these days that there is no way human beings can monitor what is going on. And the speed and complexity are only going to expand exponentially in the future, so Darktrace has to create AI that is future-proofed.
"Things move very fast, the technology relied on moves faster than human beings can think. And the corollary is, the attacks that come at them are faster than human beings can think.
"It's not about replacing human beings, it's about supporting human beings. The whole idea is human beings getting the AI to do the heavy lifting in terms of comprehending what you're trying to protect, and then actually protecting it."
Without AI, cyber security amounts to learning about all the "bad stuff" threat actors are creating and preventing or reacting to it, Masson said. But there are so many threats, and so many systems to protect, it is impossible to stay abreast of them.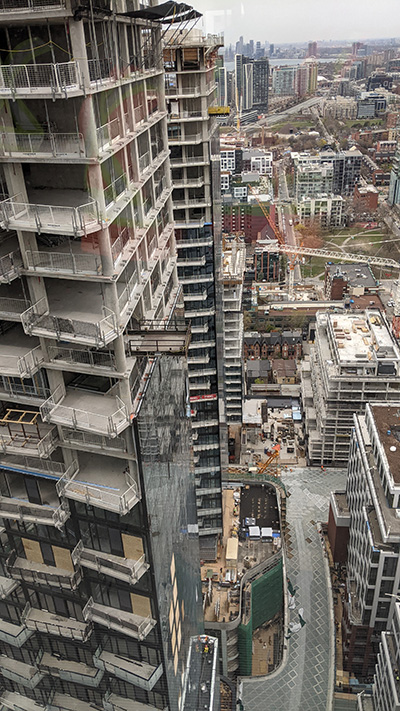 What AI does, he said, it connects with every component of a building's infrastructure and systems and monitors the data that is created in real time. The AI learns the pattern of life in the structure through the flows of data and if there is an interruption — say, new data entering the stream from a foreign destination — it recognizes it and stops the disruption "in its tracks."
The AI also serves the role of documenting the totality of a building's systems. If a subcontractor has not been thorough in chronicling its work, the owner and contractor might not know what has been installed, Masson said. AI is able to figure out, for example, exactly how many smart light bulbs it has to protect.
All of those tech firms, of course, add to the complexity of the task. Darktrace has been hired by RioCan to protect the site and those tenants will no doubt add their own defences, Masson said.
"Guess what, some of these organizations are quite popular targets in themselves," said Masson. "Likely the building might go higher up on some people's target lists."
Follow the author on Twitter @DonWall_DCN