TORONTO — PCL Constructors Canada Inc. (Toronto) has issued a progress report on renovations to the Rogers Centre in Toronto.
PCL was awarded the first phase of the contract in October. Work being completed this baseball offseason is part of a $300-million, multi-year renovation that aims to convert the 33-year-old multi-purpose stadium into a baseball-first ballpark, stated a release.
Work is being sequenced in two shifts over a six-day work week to enable completion by opening day of the baseball season next spring. Demolition to bring portions of the stadium back to base is nearing completion, enabling the next phases.
Work on the field level will include construction of a players' family room, a 5,000-square-foot weight room and staff locker rooms.
On the 100 level and 200 level outfield, new social spaces will be created with patios, drink rails, bars and viewing platforms. The bullpens will be raised and surrounded by traditional and new bleacher seats as well as social viewing areas. As well, 100 level seats will be brought forward to the new outfield walls.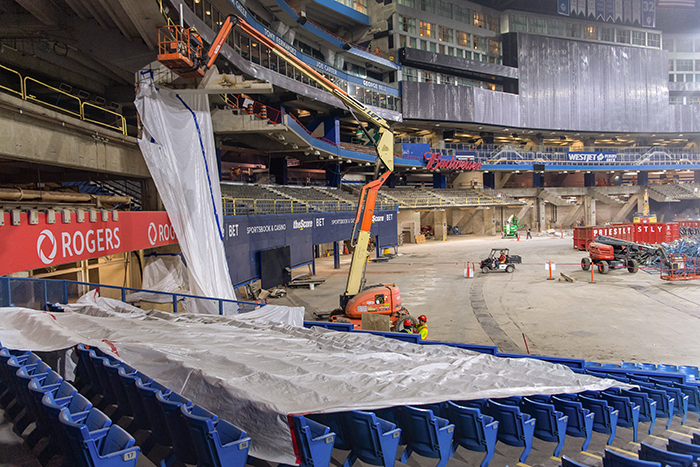 There will be two new social decks in right and left field at the 500 level, and all 500 level seats will be replaced. The demolition of those seats began Oct.14. While the demolition was taking place, building began the second week of November with concrete poured in the 500 level and new structural steel installed.
Structural demolition of the outfield began Oct. 20 and was completed Nov. 18. An average of 110 workers have been on site daily, six days per week, including about 50 workers dedicated to demolition.
A total of 2.2 million pounds of materials have been recycled from the stadium, including 1.3 million pounds of concrete and 900,000 pounds of steel and metal.
A 200-tonne crane was used for heavy structural removal.
The Blue Jays home opener is set for April 11.
"Following months of preconstruction planning, our team hit the ground running on the first phase of renovations to give the home of Canada's major league baseball team a new look for the 2023 home opener," stated Monique Buckberger, vice president and district manager of PCL Toronto, in a statement.