The consortium awarded a $9-billion contract to deliver a major component of Toronto's Ontario Line project says it expects to be able to avoid the struggles of other major Ontario LRT projects by harnessing the experience and skills of its global participants.
Arthur Nicolet, CEO of Transdev Canada, one of four applicant leads with the Connect 6ix team that was awarded the Ontario Line Rolling Stock, Systems, Operations and Maintenance (RSSOM) package for a 30-year term, acknowledged the repeated setbacks of the Ottawa LRT project and the Eglington Crosstown LRT project in Toronto but feels confident the Ontario Line project will be different.
Transdev has worked on 24 LRT projects in 10 countries around the world and its partners such as Hitachi Rail, Plenary Americas and Webuild Group come with similar credentials.
"We are a worldwide company, we operate all modes of transportation," said Nicolet. "We have already done in the last few years PPP projects in Europe, Asia, southern places.
"There are a lot of experts here in Canada, but we also brought experts, so now we have a strong team and we believe that we will succeed."
Decades ago Hitachi brought ultra-high speed rail to the Japanese Shinkansen rail network and the other members of the team have similar reputations for successful transit delivery.
"It's a really strong team of international companies," said Nicolet.
The 15-stop Ontario Line will run 15.6-kilometres from Exhibition/Ontario Place to the Ontario Science Centre with 15 stations. At its peak, electrified, automated trains will be rolling into stations every 90 seconds.
The $9-billion contract was awarded to Connect 6ix for the RSSOM component of the Ontario Line and includes $2.3 billion for capital costs and $6.7 billion for short-term construction financing and transaction costs, train costs and 30-year operations and maintenance, lifecycle and long-term financing. The contract was awarded Nov. 17.
It will cover designing, supplying, operating and maintaining the rolling stock, design, build, operate and maintain of all track and systems including communications and train control, design, build, operate and maintain of a maintenance and storage facility and an operations control centre, and integrating fare equipment with the PRESTO system.
On Nov. 9, Infrastructure Ontario (IO) awarded the south contract, valued at $6 billion, which includes a six-kilometre twin-bore tunnel, six underground stations and one above-ground station.
With financial close reached for the two projects, it was a new opportunity for taxpayers to take in updated costing associated with the project.
Premier Doug Ford announced the project in 2019 citing an estimated cost of $10.9 billion. With two more contracts to be awarded — for the elevated guideway and stations project, and for the Pape tunnel and underground stations project, both targeted to cost $1- to $2 billion — the Ontario Line P3 price tag could end up at $19 billion.
There are also other early works projects and other Metrolinx contracts that will add to the cost.
Much of the additional costs come from the addition of the operation and maintain component to the contract. The project is now expected to reach completion in nine years.
The premier has not addressed the escalation of the project costs. Details of the cost projections are posted on the IO website.
A release from Minister of Transportation Caroline Mulroney cited global project cost inflation and stated, "We will continue to ensure that taxpayers receive the best value possible. As each contract is awarded, the contract cost has been, and will continue to be, announced and posted publicly."
Transdev will be responsible for the operations and maintenance component of the Ontario Line system. Nicolet outlined numerous causes of cost escalations in major transit projects recently but said with the RSSOM P3 contract now signed, the owner will be protected.
"Of course, that's the major concern for everyone, for the taxpayer," he said. "It's kind of insurance in terms of pricing and cost for the taxpayers.
"That's one of the really positive things around P3s. When you fix the price, the price is done. And after that if there are extra costs, they are carried by the private sector."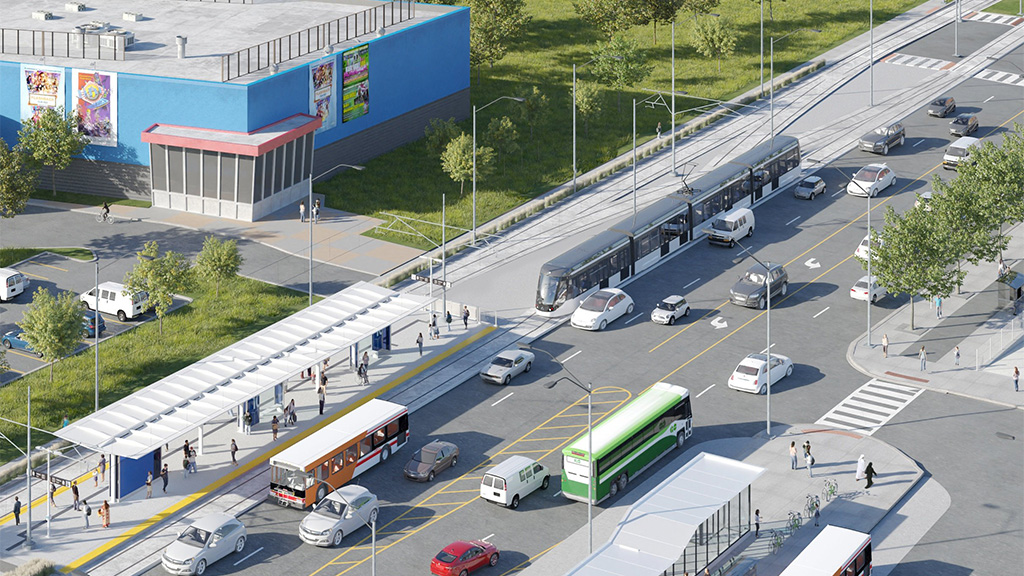 The procurement phase was rigorous, Nicolet said, with Transdev and its partners involved in intense assessment of the risks. Even though operations and maintenance come at the end of the project, Transdev will work closely with its partners throughout because every aspect of the design and construction affects operation and maintenance, he said.
"Collaboration in this project is key because it's really complex around different kinds of systems, involving several companies' insights and expertise," he said. "The construction phase will last nearly nine years, which is long of course. We will face unexpected events, we will have challenges, and you always have innovation year over year…when you can have an impact."
Nicolet said there is a technology escalation clause in the contract to ensure the team is using the latest tech when the project reaches completion.
"We know that sometimes it's better to invest for tomorrow, on something to reduce the cost on the long term, because it's a really long job."
Other members of the team include Japanese Infrastructure Initiative Co., IBI Group Professional Services (Canada), Webuild/Astaldi Canada, National Bank Financial and Sumitomo Mitsui Banking Corporation.
Follow the author on Twitter @DonWall_DCN.