Hamilton's pilot program to inspect its combined sewer system for possible cross connections has uncovered its first sewage spill, in the Rutherford Avenue area of east Hamilton.
Following inspections that took place Jan. 7 and Jan. 9, it has been determined that since 1996 sewage from 11 homes on Rutherford has been flowing directly into Hamilton Harbour instead of to waste treatment.
Hamilton director of water and wastewater operations Shane McCauley was onsite Jan. 10 and explained that after Hamilton public works staff initially discovered the potentially cross-connected sewer line at Rutherford, their suspicions were heightened due to odours they detected. The crew eventually found what was thought to be a storm sewer serving the homes was actually a combined sewer, which combines raw sewage and stormwater.
That 100-year-old combined sewer, which was wrongly documented in city plans, was connected to a storm sewer with run-off to the lake.
McCauley said the root of the misunderstanding has not yet been determined. Staff are aiming to piece together the circumstances under which the old combined sewer pipe on Rutherford was linked to the newer storm sewer, which runs down Myrtle Avenue.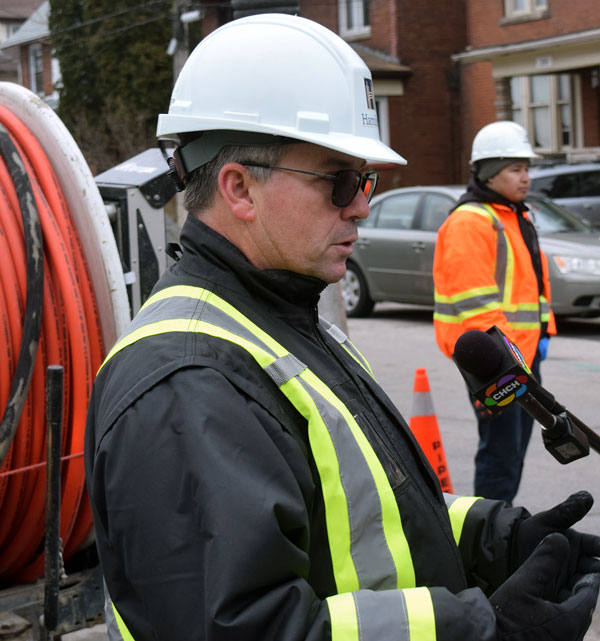 "We're still trying to figure it out," he said. "We know that it looked like the construction took place in 1996. We're pulling drawings from the '50s and '70s and trying to piece that all together."
The pilot program was initiated after an earlier spill emanating from the Burlington Street neighbourhood was discovered Nov. 22, attributed to a 26-year-old misalignment of sewer and storm sewer pipes.
Ontario Minister of Environment, Conservation and Parks (MECP) David Piccini initially called for the City of Hamilton to embark on a complete inspection of its sewer infrastructure but since then MECP staff have discussed less onerous strategies with city officials. While it waited for orders from the ministry, the city launched its risk-based inspection pilot program.
To date, McCauley said, the city has completed inspections on just over 150 maintenance access chambers.
McCauley said crews were conducting inspections on the maintenance chambers at Rutherford on Jan. 7 when they noticed what appeared to be a single sewer lateral cross connection, which is when a single home is wrongly connected to a storm sewer. Two days later, the crew returned to the site to perform CCTV camera inspections and at that point confirmed the 11 houses along Rutherford were tied into a combined sewer.
A vactor truck was summoned, crews used sandbags to prevent further sewage release and the existing sewage was sucked out.
The city has still not determined how to make permanent repairs nor has it been able to estimate the volume of the discharge.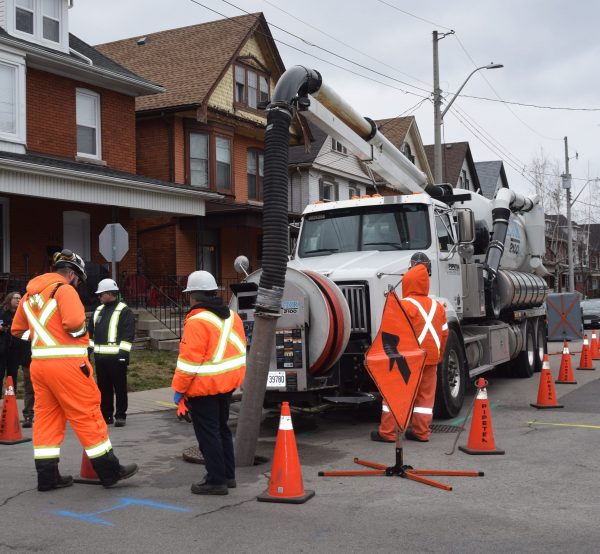 "The next steps for us now, we think we have identified a potential fix for this," said McCauley.
"We're hoping to be able to start those repairs in the next day or two and have a permanent solution and fix to this."
Much of Hamilton's lower city and part of the mountain still have a combined sewer system, while newer areas have the more modern separated system. McCauley acknowledged there could be similar leaks as inspections continue.
"We don't know what's out there," he said. "That's why we're taking this risk-based approach to look at what are the highest likely areas where we might find this. So areas where you have sanitary or combined sewers in close proximity to large storm sewers, where there's the greatest potential for those interconnections to happen."
The November leak also involved wrongly documented infrastructure. McCauley asked, "How much do you trust the documentation that you currently have?
"It's our proactive program to do it. We'll see what the (MECP) orders contain. That may inform some adjustments to our program."
The MECP did not immediately respond to a request for details of its intentions regarding a broader inspection plan.
Patrick McManus, executive director of the Ontario Sewer and Watermain Construction Association, said it is "concerning" that another instance of sewage release has been discovered in Hamilton, on top of a third one four years ago at Chedoke Creek.
"We do think physical inspections are something that should be done in every municipality," he said. "It seems like a logical step forward in how we are collectively managing infrastructure assets in the province and guarding against this type of failure or the risk of it."
Follow the author on Twitter @DonWall_DCN.