Like other sectors of the Canadian economy, the health care industry wants to speed up construction and procure facilities that are up to their high standards.
To meet both requirements, many health care providers have been turning to modular methods.
Modular construction saves time because it enables some of the work to be done in an enclosed factory that is protected from the wind, rain and snow, while the building's foundation is being put in place.
"The COVID-19 pandemic has made us reassess how we think about health care," said Kevin Read, president and CEO of Nomodic Modular Structures Inc. in Calgary.
Nomodic is an integrator of components, including volumetric modules, that are manufactured indoors off-site and then transported to and assembled onsite.
"As the world adapts to new health protocols, it's also thinking about how medical spaces are designed and used," said Read.
The health care system requires fast and innovative solutions for patient testing, treatment and quarantine protocols, he said.
"Modular units, which for years have had many other applications, can be adapted for medical use," said Read.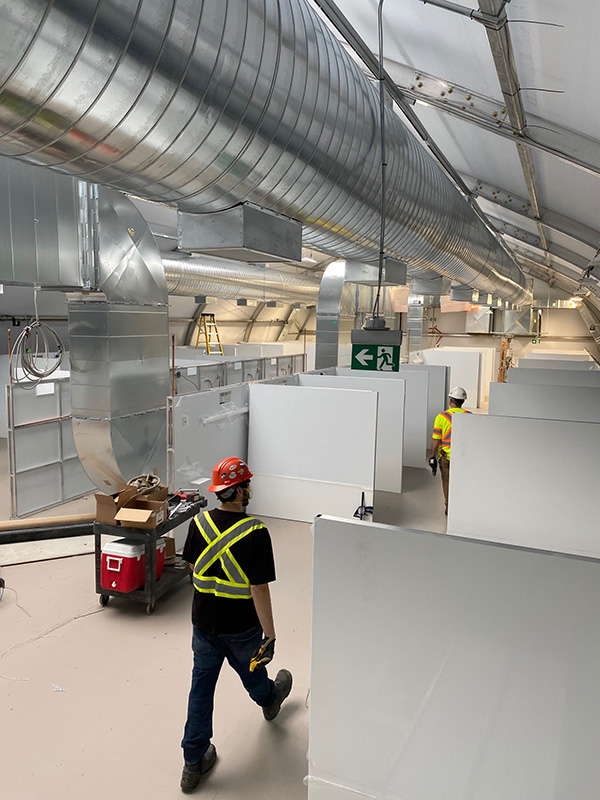 The structures can be used as supplementary units to treat patients who have non-urgent conditions and thereby keep them out of hospital emergency rooms, which are often in high demand.
"Thanks to new technologies, we can create a number of different patient care facilities within one volumetric module, which can be used to create other hospital rooms or patient care facilities," said Read.
The modules have what he calls a plug-and-play configuration. They are transported from the factory to the building site, where they are connected to the mechanical, plumbing and electrical services.
"It's essentially a turnkey solution for the health care system," said Read.
The volumetric modules are especially beneficial in remote and Indigenous communities, he said.
Another Calgary manufacturer, Sprung Instant Structures Ltd., manufactures tensioned membrane modular buildings.
"Sprung makes rapidly deployable, permanent fabric structures that are insulated and engineered for year-round, long-term use," said vice-president Jim Avery.
Founded in Calgary in 1887, Sprung is the world's fastest way to build high-performance fabric structures for any industry, said Avery.
Beginning-to-end construction of a new health care facility can take as little as a few weeks.
Avery said most of the structures Sprung makes are engineered to be permanent, but also designed to be able to be relocated for other applications.
He said health care customers want to know if the structures can be repurposed later on so they can be transitional facilities.
During the early, urgent days of COVID-19 in Canada, Sprung built temporary pandemic response units for three Canadian hospitals: Joseph Brant Hospital in Burlington, Ont., Mississauga Trillium Hospital in Mississauga, Ont., and Peter Lougheed Centre in Calgary.
"The hospitals needed to come up with quick response to a sudden influx of patients suffering from COVID-19 symptoms," said Avery.
In Alberta, although most of the additional hospital beds that were needed to handle the surge of pandemic patients were freed up by the cancellation of elective surgery, still more beds were needed. 
Sprung recognized the province's situation and donated a structure that increased the capacity of Peter Lougheed Centre by 70 beds.
After the structure's installation, the doctors and nurses of the Calgary hospital's emergency department wrote to Sprung to express their gratitude:  "As the emergency department with the highest patient volumes but the smallest number of care spaces in Calgary, we have struggled for the past several years to provide adequate treatment spaces for our increasingly complex patient population.
"The COVID-19 pandemic has only multiplied the challenges that we face…By providing much needed care spaces, the Pandemic Response Unit structure has been a critical part of our hospital's infrastructure during the pandemic and greatly enhanced our ability to provide safe and timely care."
On many projects, Sprung works with another Calgary company, Falkbuilt Ltd., which specializes in what it calls digital interior construction.
Sprung provides the exterior tension membrane shell and Falkbuilt manufactures interior components – prefabricated super studs, digital horizontals, cladding and millwork – and ships them to site for installation.
Falkbuilt CEO Mogens Smed said it uses its proprietary Echo design software to create accurate building models that streamlines the process from design to manufacturing and to installation.
"During the design stage, stakeholders use mobile devices or desktop to meet inside the Revit model, in the Cloud, to discuss and make real time changes," said Smed.