Cadillac Fairview (CF) has embarked on the next stage of an ambitious redevelopment project in downtown Ottawa that will see a large, multi-storey residential tower built next to the Rideau Centre.
The Rideau Registry project is the first residential rental project undertaken by the company.
As part of the plan, the historic Registry Office on site will be transformed into a modern-style café, there will be significant public realm improvements, and an enhanced entrance to the shopping centre.
The 288-unit tower will seamlessly connect to the city's largest shopping mall and the O-Train. It will have green and energy-saving features and designs, including a high-performance building envelope system.
"This project is an exciting opportunity to continue to invest in a community where we have a long-standing history and to deliver much-needed, high-quality residential rental units," says Brian Salpeter, senior vice-president of development at CF.
Construction work at the site began in early December. The first phase of the work involves moving the Registry Office to a different location on the site.
"Cadillac Fairview has a long history of incorporating sustainability best practices into the development and ongoing operations of our assets and it will be no different on the residential side," says Salpeter.
The building will include a geothermal heat pump system to provide space heating and cooling, in-suite energy recovery ventilators, low-flow fixtures that minimize water consumption, and LED lighting fixtures that cut back on energy use.
Salpeter says the building will be different from typical apartment buildings as it will have distinctive amenities reflective of local characteristics with a focus on wellness, social interactions, hybrid working and entertainment. Suites will have innovative designs with more fenestration and natural light.
Renderings show a sleek-looking building with large windows and glass balconies. The entrance to the Rideau Centre is inviting and spacious with tall ceilings.
There will also be concierge services offered at the building to reflect the company's strategy to upping its approach to hospitality.
CF wants to create a connected, vibrant, and amenity-enriched, mixed-use neighbourhood augmented with entertainment, cultural and recreational components, says Salpeter.
The residential apartments will have a direct indoor connection to the Rideau Centre, giving residents access to shopping and restaurants. In the mall, there is direct access to several of the city's public transit options.
One of the entrances to the Rideau Centre will be revamped and improved. It will provide access to the mall as well as the residential building and café.
The tricky part of the project is building the new tower without interrupting activities at the shopping centre. However, CF has worked out a plan.
"This is an exciting project that has been carefully planned to ensure that construction will not impact the ongoing operations and access to CF Rideau Centre," says Salpeter.
The company views preserving and integrating the historic Registry Office building into the residential project as an exciting opportunity to celebrate the building.
The new building is part of a revamp that began several years ago when CF pumped $360 million into revitalizing the Rideau Centre property.
The company has embarked on a strategy of expansion and diversification of its Canadian portfolio through densification of its existing mixed-use assets. CF presently manages in excess of $42 billion of assets across the Americas and the United Kingdom, with further expansion planned into Europe and Asia.
The company's Canadian portfolio comprises 68 landmark properties, including the Toronto-Dominion Centre, CF Toronto Eaton Centre, Tour Deloitte, CF Carrefour Laval, CF Chinook Centre and CF Pacific Centre.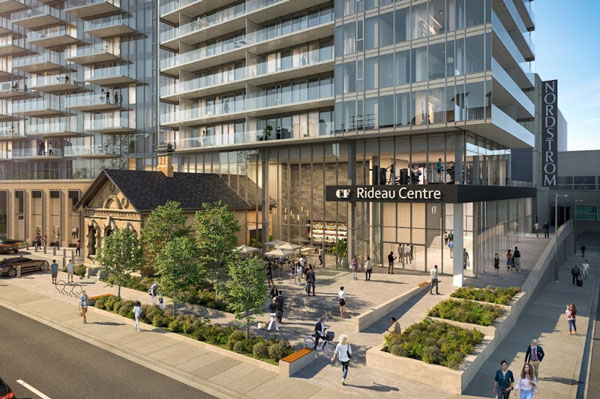 To date, work at the Rideau Centre has included a four-level expansion, new dining hall and complete facelift, including a range of enhancements and upgrades, new public art and a rebuilt pedestrian bridge over Rideau Street. The redevelopment also introduced a new wing which incorporated the historic Ogilvy Building.
Company officials say the new residential building will be unique in downtown Ottawa and add to the skyline.
"CF's Rideau Registry residences will offer a rental product that is unique and will stand out as Ottawa's most sought-after address through innovative design and suite layouts, extensive amenities and professional management," says Wayne Barwise, executive vice-president of development at CF.
"But just as importantly, we're proud to continue contributing to the creation of a vibrant and connected community in downtown Ottawa."
He says CF is pleased the Registry Office will be given new life and purpose as a prominent feature of the Rideau Registry residences.
"We are proud to have incorporated the Registry Office into the design of the new residential tower, thoughtfully integrating this historic gem with leading-edge architecture to create a beautiful new building that is sure to become a highlight of the Ottawa skyline."