With lack of student housing now a significant problem, Hamilton, Ont.'s McMaster University is taking two leaps forward with major projects set to open this year and in 2026.
The latter project, to be known as Lincoln Alexander Hall, will set a new standard for student residences in the region with 1,366 beds planned, almost three times the size of the largest current residence.
McMaster's assistant vice-president and chief facilities officer Debbie Martin outlined plans for the two residences and other capital projects at the recent Hamilton-Halton Construction Association's (HHCA) Construction Forecast event.
Availability of student housing has become a university recruiting issue, Martin told the HHCA audience, a point driven home anecdotally prior to the current school year.
She said most years as students search for rental housing there are around 10 appointments to see each student unit but last year it was 10 times that.
"This last year, it's been the first year that we've ever had a shortage of student housing in and around the Hamilton area," said Martin. "We had lots and lots of students this year who couldn't find a place to live for the first time ever."
The student body at McMaster numbers 37,000. Lincoln Alexander Hall will be the university's 15th residence building, housing primarily first-year undergraduate students.
Based on current enrolment trends, with the additional beds at the residence, McMaster should be able offer a first-year residence guarantee when it opens its doors.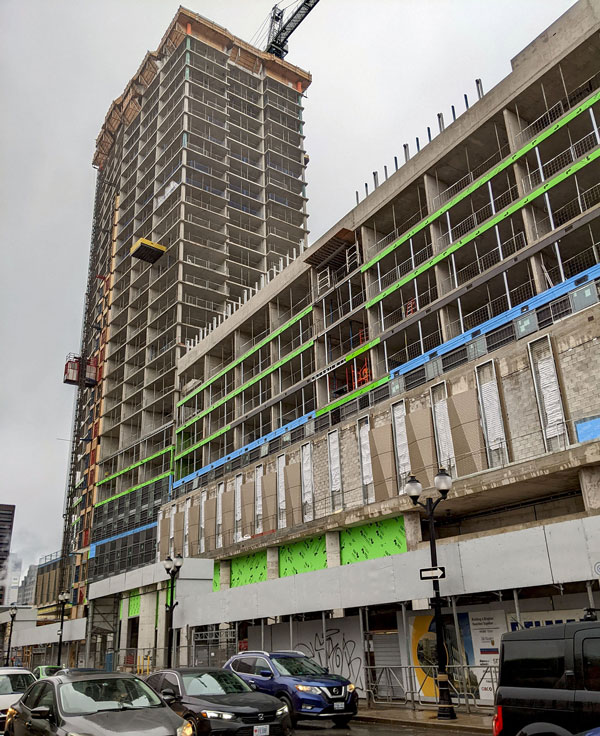 "That is super important for the university right now," said Martin.
Both Lincoln Alexander Hall and McMaster's 10 Bay Graduate Residence in downtown Hamilton, set to open this September, are being developed as P3s with Knightstone Capital Management, a specialist in developing academic residences.
Lincoln Alexander Hall will be transformative, Martin said, with sections 15 and 10 storeys in height and a floor area of 572,000 square feet. Its location on Main Street West between Forsyth and Dalewood gives students a short walk to classes and it's close to Hamilton's planned Light Rail Transit line.
The residence will feature a fitness centre, dining hall and communal kitchens on every floor. There will be 325 long-term bicycle-parking and 43 underground car-parking spots. The developer is seeking LEED Gold certification.
Demolition of existing homes on the property took place during the fall.
The 10 Bay Street project at the corner of Bay and King recently topped off at 30 storeys, Martin reported.
"It's our first graduate student residence and this is really structured around graduate students, older students, so these are students normally in their late 20s," said Martin.
The 600 units are fully contained, as opposed to undergrad residences which have just a bed and a desk. 10 Bay will have studios and one- and two-bedroom apartments and amenities include a fitness centre, music room, movie theatre, barbecue area, outdoor running track and green roofs.
"There's a huge outdoor space on the 10th floor, massive, about the size of the football field, that allows them to be outside and have some green space and walk around," Martin said.
The partners are aiming for Leed Gold with the downtown project as well.
Other major projects highlighted by Martin included:
A new student hub is currently under construction beside the David Braley Athletic Centre that will include a multi-purpose space, lounge, study and event spaces for students, multi-faith prayer room, peer support area and campus food bank.
The Pulse Fitness Centre has been under construction for years at the same site with the gym now open and the rest of the facility to open this winter. The facility features new fitness and weight-training facilities, a women's-only gym and a climbing wall. Stuart Olson is the contractor.
The university is also constructing a new greenhouse near the life sciences building.
"It's our first project where we're using geothermal and putting our toe in the water to see how we do geothermal on campus as we develop our net-zero strategy," Martin said.
Department of biology researchers will use the space to study plant life at a cellular level.
The life sciences building is also being upgraded with more open spaces for collaboration and also gender-neutral washrooms.
Construction of the 10-storey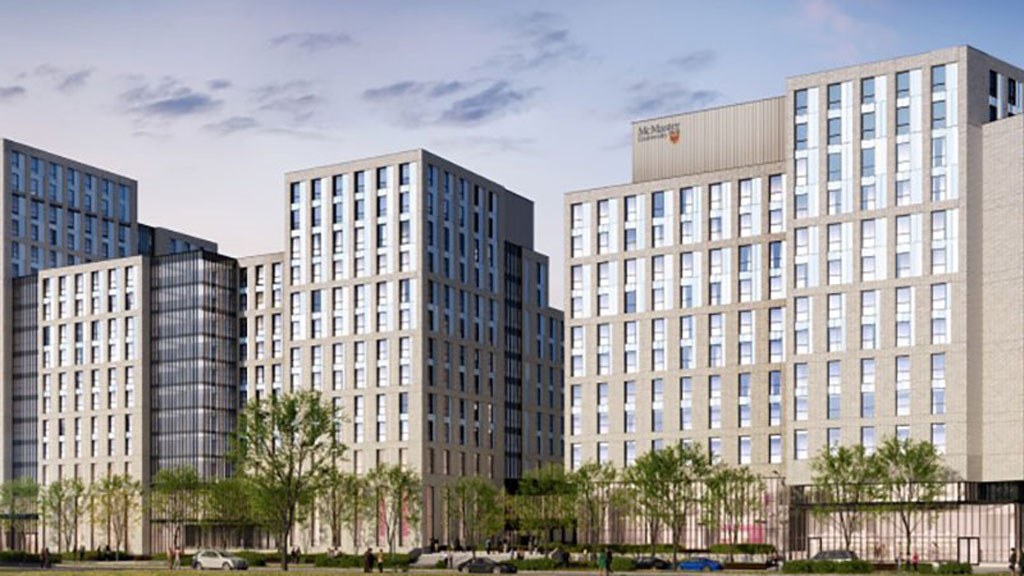 attached to the DeGroote School of Business on campus was launched in September with demolition of the existing building on the site. The DeGroote School, Registrar, Faculty of Health Sciences, Media Production Services and Hospitality Services will be housed in the structure, which is seeking LEED Gold certification.
Follow the author on Twitter @DonWall_DCN