Slate Asset Management recently offered a first glimpse of plans for the redevelopment of 700 acres of prime industrial/commercial land on the former Stelco property on Hamilton Harbour to a local construction audience keen with anticipation.
Slate senior vice-president Steve Dejonckheere told delegates attending the Hamilton-Halton Construction Association's Construction Forecast event Jan. 19 that early projects such as hotspot remediation could get underway within a year, master planning with the City of Hamilton is in progress and short-term repurposing of about 160,000 square feet of existing shops with high ceiling space and overhead cranes could begin in the near term.
The purchase of the 800-acre property was announced last spring, with Stelco contracting for a 35-year leaseback of 100 acres and two million square feet of buildings.
"It's incredible how unique the site is both in the GTHA and Canada and North America," said Dejonckheere. "Everybody here is aware of industrial vacancies and just the lack of sites and the demand that the market has seen for that over the last number of years.
"To have 700 acres of vacant land that has deep water access, rail access and great highway transportation connections is absolutely unique."
The opportunity arose when Stelco embarked on a streamlining exercise and began demolishing its redundant operations, Dejonckheere explained. Slate, founded by Hamilton-born brothers Brady and Blair Welch, worked with Stelco for a year-and-a-half until it acquired the site.
"Now we're jumping into a master planning exercise with the municipality and other stakeholders," he told the Hamilton delegates. "We anticipate that we'll have about 12 million square feet of new development onsite, primarily industrial employment focus, potentially with some retail amenities and other services as well."
Flex office space and spaces for the film sector are also contemplated, Dejonckheere said.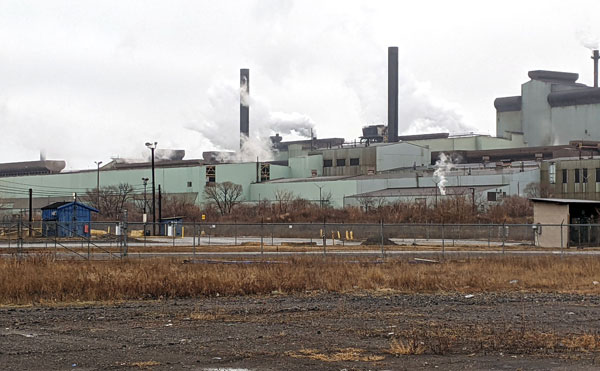 "There's a lot of opportunity for other uses when we're talking about this size and scale."
Dejonckheere said early estimates are that the redevelopment will create 23,000 jobs for the region including construction employment and full time upon completion. The target for the start of phase-one construction is 2024 to 2026 with the shop repurposing, involving short-term leasing of 11 acres, more imminent.
The first phase of the main redevelopment could involve from 1.2 to 1.5 million square feet.
The executive said Slate has not begun official marketing but there have been numerous inquiries already.
"I think we all understand that there's a huge opportunity to have some form of intermodal offering with rail, trucking and shipping.
"That certainly will continue to be studied as part of the plan and likely will be a huge opportunity that we can partner with some of the folks in this room on. We're very excited about that."
Slate is discussing developing an entirely new road network with the city, Dejonckheere noted, replacing the infrastructure Stelco developed over 100 years. So there will be "new development parcels with access to brand new infrastructure," he said.
It seems certain, Dejonckheere said, that the water's edge of the site will be reclaimed for public waterfront access — that's a goal of both Slate and the city.
During the Q&A phase of the presentation, the first speaker offered praise for the initiative.
"This is great," said the HHCA member. "I've been living in the city my whole life, and it's awesome."
"We're excited to hear that, it's amazing how many times we hear it," Dejonckheere said. "And we don't take that responsibility lightly. We were very honoured to be able to do it."
The two sites that require active remediation are 20 to 25 acres in total size, large enough but small in the context of the entire project, Dejonckheere said. That exercise will take the next couple of years, he said.
Asked if one developer will be taking on all or most of the project, Dejonckheere said that has not been determined but it will probably be a combination of firms, given the various types of projects to be developed.
Follow the author on Twitter @DonWall_DCN