The collapse of the 12-storey condominium at Surfside, Fla. in the summer of 2021 killed 98 people and raised concerns in the structural engineering community about other buildings in the U.S., Canada and around the globe.
A number of factors contributed to the Florida tower's collapse and while Canada has witnessed its own structural failures, at least four parking garages in the past 30 years have resulted in several fatalities, the Surfside catastrophe emphasizes the need to take a closer look at how to prevent another event like it.
"Sometimes I feel like somebody has to die close to home before anybody (building authorities) takes things seriously," says Sally Thompson, managing principal of Synergy Partners Consulting Limited, a building engineering firm focused on the Canadian real estate industry.
But it is not just the responsibility of building authorities.
Canadian condominiums require diligent oversight by their boards and need ample capital for their reserve funds, says Thompson, who gave a seminar on lessons to learn from Surfside at an Ontario Building Envelope Council dinner in Mississauga recently.
Thompson says since she started her engineering career in 1990, she's encountered "many" structural problems that could have resulted in "serious failure" if left unrepaired.
"They might not have led to a full building collapse, but maybe a failure of a significant component."
In some cases, where building owners have refused to approve repairs that Thompson has discovered and knows are required, she has had to report the concerns to the city, which can issue a work order or notice of unsafe building.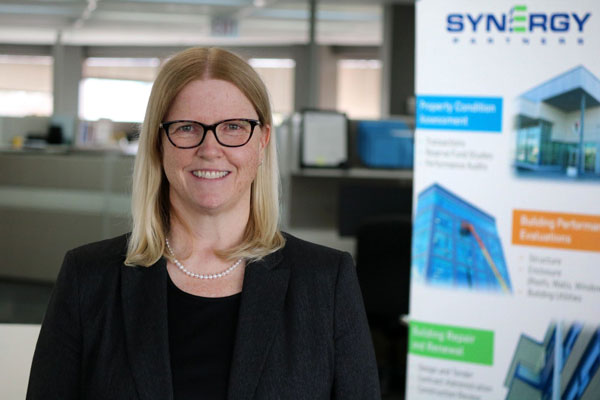 Thompson says understanding the structural detailing of a building is key to understanding the likelihood of failure.
The risk of "progressive failure," partial structural collapse leading to further structural failure can be reduced if the building has integrity steel, reinforcing steel that runs through columns.
"If one bay fails the slab should hang up rather than fall down, or the failure should be localized."
Thompson says it is important for experienced engineers to pass on their knowledge to young engineers.
"We have to work together to train people, to do the peer reviews and share our knowledge. It's a huge responsibility."
A critical component of that training is for experienced engineers to review a junior engineer's onsite inspections for potential problems missed, Thompson says.
She says that many 40 to 50-year-old condominium buildings are struggling financially with the needed repairs because the reserve or maintenance fund was underfunded from day one. It begs the question: what hardships will owners of newer tall condo towers face as their buildings age?
"If you are going to save money for (repairs to) a future $6 million project you had better start when the building is new. You can't wait until the repair is three years away."
Window replacement is an example of a large future renovation project.
"The problem is that residents think they are paying a lot (for maintenance) in most condos and they are not paying nearly enough."
Synergy Partners conducts reserve fund evaluations, which are mandatory for all Ontario condominiums on a three-year cycle. Every other study must include a site visit, she says.
Many condo owners might be in for a surprise when the next reserve fund study is completed. They could face "a huge increase" to reflect the inflation on construction materials and labour since the pandemic, Thompson explains.
In newer "supertall buildings," 50 or 60 storeys, for example, the industry isn't ready to start thinking about improvement costs but over time when they show signs of disrepair Thompson worries condo unit owners might face bigger repair problems than residents in smaller, earlier generation towers have experienced.
It could lead to "some difficult decision-making" when repairs crop up.
Thompson says Ontario should require mandatory garage and façade evaluations "in a balanced way," every five or so years for buildings 30 or more years old. Quebec has implemented such a program with multiple storey parking garages as a result of past structural failures.
"We don't need to evaluate every structural connection in the building but there are certain connections that are prone which need the attention."