Day two of the annual Ontario Road Builders' Association (ORBA) convention in Toronto featured a lineup of provincial ministers providing an update on the highway, road and bridge projects they've been working on and how the sector has played a critical role.
Finance Minister Peter Bethlenfalvy said the government is putting $3 billion into repairing and expanding provincial highways and bridges this year.
"In my Fall Economic Statement I highlighted that the loss of productivity because of gridlock is $11 million a year. That's massive," he told the crowd.
Ontario has an infrastructure deficit but it didn't happen overnight, he added.
"I don't mind borrowing money for infrastructure," Bethlenfalvy said. "I still think you've got to look down the road, pun intended, to building infrastructure because these are productive assets. These are real assets, they will help move people, they'll help move goods to market."
He pointed out the Conservative government ran its re-election campaign on building Highway 413.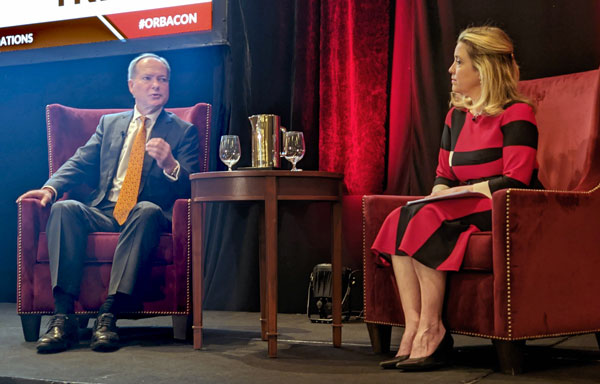 "The people are telling us they want us to build these highways," said Bethlenfalvy. "It doesn't take six months to build a highway. It takes a long time to build highways. If you don't get shovels in the ground now, if you think we have gridlock today we're going to have gridlock tomorrow."
He also stressed the importance of building infrastructure in the Ring of Fire in the northern part of the province.
"Critical minerals and building the infrastructure and the roads in the north is critical to our national security," said Bethlenfalvy. "We can't hit our climate change targets without those critical minerals."
The problem is it takes too long to get shovels in the ground in certain parts of the country, he noted.
"We've got to bust through all that, we've got to open up the north. We need infrastructure," Bethlenfalvy said.
"We need to work together on one environmental assessment. The First Nations are leading the environmental assessment in the Ring of Fire.
"I talked to (Federal Finance Minister) Chrystia Freeland…about this specifically. We need a partner in Ottawa. We need to work together."
He also said the labour and skills shortage is something that keeps him up at night.
"We've got to work to reskill and retrain people. We have to attract people who have the skills from outside of Canada," Bethlenfalvy said. "Having a plan to attract labour, to scale that labour and retain that labour here in Ontario which includes building houses because where are they going to live."
Minister of Infrastructure Kinga Surma
Surma said labour shortages, inflation and ongoing supply chain disruptions are driving costs and impacting businesses in Canada and around the globe.
"This past November, the government and Infrastructure Ontario shared our market update which includes 39 projects in pre-procurement and active procurement totalling more than $35 billion in estimated design and construction costs," Surma said. "The list also includes 16 government announced projects in the early stages of planning for which scope, timing and delivery model are still being determined."
In terms of transit and transportation projects in the pipeline, she said there are five projects in active procurement and six in pre-procurement.
"These include a planned 2.2 kilometre twinning of the Garden City Skyway Bridge connecting St. Catharines and Niagara-on-the-Lake," said Surma. "It also includes the Yonge North subway extension advanced tunnel contract as well as stations rail and systems contract."
She also spoke about the government's focus on building transit-oriented communities (TOC) around transit stations.
"We are no longer building station boxes along our subway lines and GO rail stations, but rather building stations integrated with housing, including attainable housing, public space and other community amenities," said Surma. "On the 21st of January, members of my team and I led a mission to Japan that allowed us to learn how jurisdictions like Tokyo have created transit-oriented communities. Tokyo is a perfect example that TOCs work."
Minister of Transportation Caroline Mulroney
Mulroney told attendees that over the next 10 years the Ontario government is investing more than $25 billion for the planning and construction of highway expansion and rehabilitation projects across the province.
Some of the key projects being advanced include continuing the next phase of construction for the new Highway 7 between Kitchener and Guelph; expanding the QEW Garden City Skyway with a new twin bridge over the Welland Canal; taking the next steps to build the Morriston Bypass; getting shovels in the ground on the reconstruction of Highway 101 in Timmins; and widening Highway 17 from Arnprior to Renfrew to four lanes.
Follow the author on Twitter @DCN_Angela