An 18-unit transitional housing project designed and built in seven months with only two change orders sets a standard for other housing projects at a time when speed of construction is a prerequisite to tackling the deepening housing affordability crisis in Ontario and Canada.
Called Passage House, the residence in East Gwillimbury for the Blue Door, an emergency housing provider, was completed under the CMHC's Rapid Housing Initiative (RHI) in mass timber through a partnership between architect R-Hauz Solutions Inc. and mass timber manufacturer Element5.
The RHI aims to fund thousands of new affordable residences for people defined as most in need under the National Housing Strategy, and R-Hauz's director of sales and marketing Francesca MacKinnon believes teams like R-Hauz and Element5 can help it meet its goals.
A cornerstone to success is the "repeatability" of the design and construction methods so future buildings can economically and speedily be put up, she says.
Patrick Chouinard, Element5's vice-president of market strategy and communications, agrees, adding the market for mass timber in the affordable housing segment is "huge" and there are few design alternatives that can compete for speed of delivery.
"If all Element5 did was affordable housing we could produce about 3,200 units a year."
He says while various government levels are striving for solutions to the housing affordability problem, private industry has to take "a leadership role" in solving the problem.
"It is what we (R-Hauz and Element5) are attempting to do."
R-Hauz has partnered with a number of non-profits in and around the Greater Toronto Area to do mass timber residences under the RHI including an eight-storey mass timber project with Element5 for WoodGreen Community Housing on Danforth Avenue.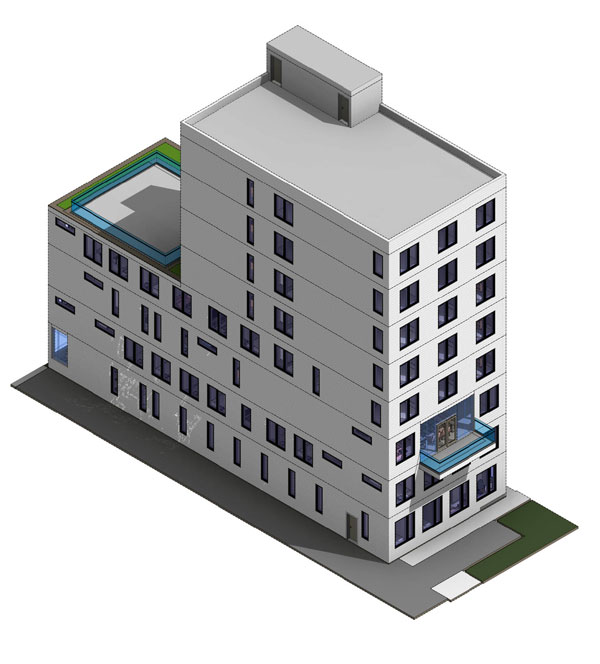 It has also consulted on an eight-storey, mass timber pilot project through the City of Toronto's Mass Timber Affordable Housing program.
"Why we are getting interest as an affordable housing model is because it is an off-the-shelf, repeatable solution that can be modified for specific circumstances and built very quickly," says Chouinard, adding it fits the RHI's third phase (introduced last fall) agenda, requiring project completions of 18 months.
Chouinard says by comparison conventional construction is often not a practical option.
"If we use traditional construction methods in which every building is a one-off then we'll never be able to satisfy the demand for affordable housing."
He adds design-build principles employed at Passage House fit for small-scale supportive housing in urban centres where lot sizes are small.
The designs typically specify cross-laminated timber (CLT) panels for floors, demising walls between units, elevator shafts and stairwells. Glulam elements are used where needed.
Design and detail work, such as the interface between the exterior panels and the structure and how CLT panels intersect with the foundation, is "replicable across all projects…so we don't have to redraw all of that," Chouinard points out.
The success of the mass timber model for rapid housing, however, is dependent "on the integration of products and services" at an early project development stage, he adds.
The consortium should include the architect, general contractor and various consultants, including fire, envelope, mechanical and acoustical.
"We've been building these relationships with R-Hauz for two or three years."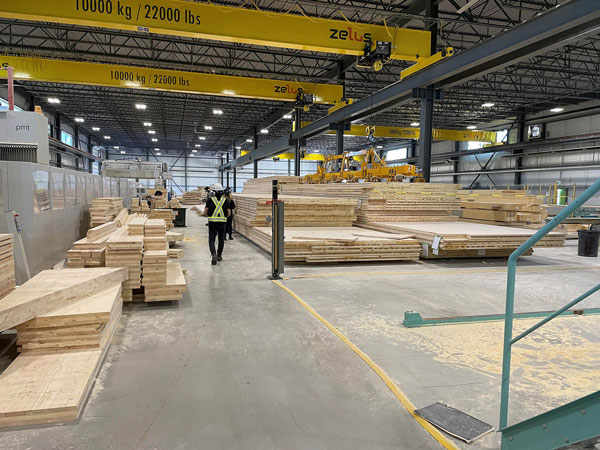 MacKinnon says R-Hauz employs integrated project delivery on all of its mass timber projects, not just affordable housing ones.
The "sweet spot" for mass timber is six storeys or less.
"The greatest need in that sector is affordable housing."
Anything between six and 12 floors requires a hybrid model, such as concrete for elevator cores.
Chouinard says the growth of mass timber has multiplied in a few years but the sector's growth rate is dependent on designers and builders gaining familiarity with the process.
"The opportunities are there, it's just a matter of building the teams."