It's being called Ontario's largest Passive House (PH).
The $39-million, 10-storey, 145-unit mixed-residential Meadowbrook Place on the city's east side, nearing completion, will be Windsor's first new public housing complex in 30 years.
Besides having a highly energy efficient envelope it will also pilot an innovative rooftop rainwater collection system.
And it effectively opens southwestern Ontario trades to PH systems training.
It was Windsor Essex Community Housing Corporation (WECHC) staff themselves who were "really involved" in coming up with a different type of housing design, said Jay Shanmugam, the agency's chief development and regeneration officer. "What are the benefits that it can bring to community housing?"
Besides concerns about climate and sustainability, and easier corporate maintenance, officials wanted a building that was healthy and economical for tenants.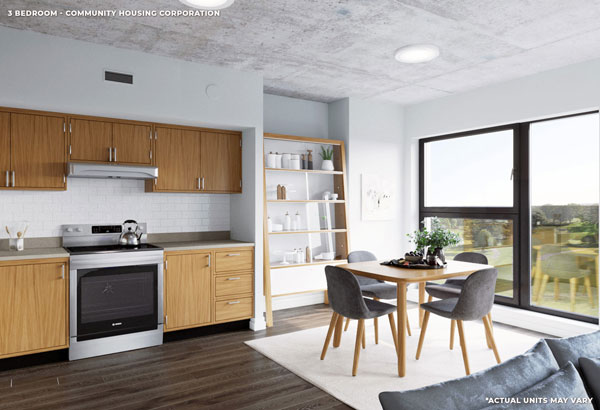 "Fresher ventilation on a 24-hour basis, having an extremely thick insulated building and eliminating those thermal highways which really end up impacting the heat loss, in turn saves the tenants a lot of utility costs," Shanmugam said.
Meadowbrook Place is expected to be 40 per cent more energy efficient "and we're confident that that projection is going to be beaten significantly."
WECHC CEO Cynthia Summers said physically and esthetically the building is a major step forward for social housing, from indoor unit design to outside amenities.
"With the Passive House model you just don't get the energy efficiency, you're actually providing better social housing," she said.
The building was designed by Toronto's Kearns Mancini Architects and the contractor was Windsor-based Amico Design Build.
Construction costs are about an eight per cent premium.
But Shanmugam said that's probably "only because these types of buildings are relatively new to the industry, there's not a lot of trades that are trained."
Eventually, it "shouldn't cost anything more."
The cast-in-place concrete building has a cladding system comprised of an EIFS (Exterior Insulated Finishing System) with an exterior wall thermal value of about R-40. In addition to the thick envelope insulation, the building has a triple-paned high performance window system that is thermally broken, "providing a superior occupant comfort and energy efficiency," Shanmugam said.
Other PH features include an extremely airtight envelope, virtually eliminating any leakage of air in or out of the building.
"This is achieved with careful detailing at the design stage and meticulous oversight in construction stage," he said.
For example, every penetration and opening to the outside, even screw heads on the exterior sheathing, was sealed using specified air barrier products, a combination of trowel applied liquid membrane and specialized peel and stick tape.
Energy recovery ventilators also allow the introduction of fresh air while recovering more than 90 per cent of energy from the stale air.
"So you're really not losing very much energy to the outside environment even with expelling that stale air," he said.
Meanwhile "you're providing a very healthy indoor air quality, unmatched by minimum code design."
The WECHC is also installing a pilot rainwater collection and reuse system. Water is collected from the roof and stored in the basement in dedicated storage tanks then used for flushing toilets on a few floors, which will also help tenants reduce utility costs.
Shanmugam said this was contractor Amico's first PH.
"We're happy to bring this forward to the community, at the same time train the local trades and contractors in this type of build," he said.
Summers said the complex will feature a park-like ground environment with communal vegetable gardens and EV charging stations, creating a sustainable model going forward.
Also, the building is mixed residential, with 67 market rentals and some social housing units rented by specific community organizations like Hiatus House, a shelter for women and children.
"This is really unique, even in Ontario, for social housing. It's very unique to have mixed income housing," she said.