ISL Engineering and Land Services (ISL) of Edmonton has won a 2022 Award of Excellence for project management from the Association of Consulting Engineering Companies.
The prime consultant on the project, ISL won for its design and delivery of a new raw water pumping station for the Town of Drayton Valley, Alta.
The station takes raw water from the North Saskatchewan River at nearby Rocky Rapids and pumps it up to the water treatment plant (WTP), which turns it into municipal drinking water.
"Being recognized with an ACEC Award of Excellence is among the highest honours an engineering consultant in Canada can achieve," said ISL president and CEO Rod Peacock in an announcement.
Drayton Valley, population 7,200, lies 80 miles southwest of Edmonton. Oil and gas is the number one industry in the area.
The story of how it got its new pumping station is a tale of two facilities.
In 2015, Drayton Valley commissioned a new WTP. The old facility, which had been in use since 1960, was repurposed to pump water to the new plant.
For the new plant to receive raw water, the old facility, along with high lift pumping and piping infrastructure, had to be modified.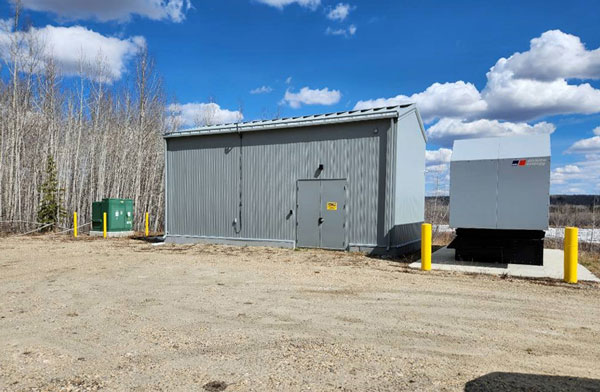 It needed to be the main source of drinking water for the town, while, at the same time, supply untreated raw water to the new WTP with no risk of cross-contamination.
The workaround required modifications to the internal piping and control system to create an interim raw water supply system that came from the same source but was separate from the water treatment process.
The interim raw water supply system stayed in place until a new, separate raw water pump system – the one for which ISL won an award – was built.
A new pumping station was needed because, first, it had become too expensive to continue to operate and maintain the old WTP to pump water.
Secondly, without storage for raw water, rising river levels occasionally went over the protective berms surrounding the old WTP, which could compromise the town's drinking water supply for weeks at a time.
So in 2019 Drayton Valley began the process of procuring a new pumping station.
Prime consultant ISL used the Canadian Construction Documents Committee contract for Integrated Project Delivery (IPD), which marked the first time it was employed on a Canadian municipal infrastructure project.
Shelley Terry, Drayton Valley utilities manager, said IPD was used to save money and time. 
"It gave us the best bang for the buck," said Terry.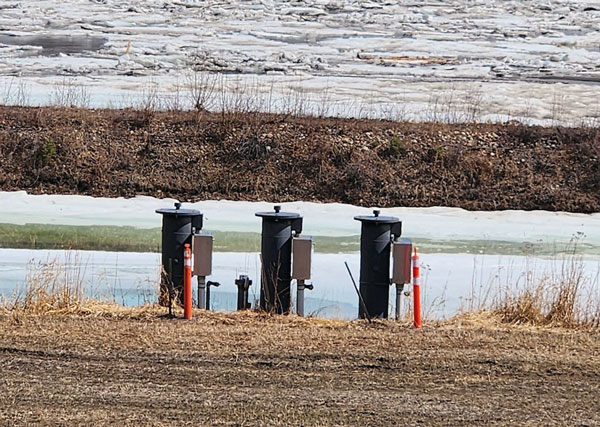 She said IPD's collaborative approach, which brought together the owner, consultant, general contractor, major sub-consultants and trades, worked well for the project.
"It saved us a lot of money," said Terry. "The original estimate was about $7 million, but the final cost was under $4 million."
Live estimating sessions using market data helped set the project schedule and eliminate waste by providing only the implementation drawings the construction team needed.
IPD also enabled unconventional solutions, such as separating the mechanical and electrical components of the pumping station that are usually kept together in one building.
This helped the pump station resist flooding and reduced excavation work, capital costs and carbon footprint.
The new pumping station was commissioned in 2019.
The facility is not large; the building in which it is housed measures only about 50-feet-by-30-feet, but it is powerful for its size.
"The pump station needed to be very robust because it has to lift a great volume of water over a long distance," said Terry.
The pumping station is located 96 metres above water level and 2.2 kilometres west of the river.
The building site, on a flood plain, is adjacent to a steep hillside and a river, which limited the access of construction equipment.
"The new pumping station has three pumps and has the capacity to pump 18 million litres of water per day, to accommodate future growth in Drayton Valley and surrounding Brazeau County," said Terry. "But now it is operating with only one pump, and its maximum capacity is between seven and eight million litres per day."
To minimize future operating and maintenance costs, the system has a low-complexity design, so that skilled operators are not needed to run and maintain it.
In addition to prize-winning ISL, other key players in the project are Magna IV Engineering Inc. (electrical), Chandos/Bird Joint Venture (contractor), J.R. Paine & Associates Ltd. (geotechnical), Group2 Architecture and Interior Design (IPD facilitation), Superior Equipment Sales Inc. (pump supplier) and Goulds Water Technology (pump manufacturer).