There isn't a way to make new highways environmentally sustainable in most of the world.
That was the message Shoshanna Saxe, associate professor in civil and mineral engineering at the University of Toronto and a Canada research chair in sustainable infrastructure, had for attendees at the Transport Futures webinar billed Highway Construction and Operations: Traditions and innovations, held April 20.
"In Canada's Far North, with no transportation service at all, we may be able to argue that there the social benefits and the economic benefits outweigh the environment, but where I live in southern Ontario, I've never seen a strong argument to make it OK here for the future," said Saxe.
"When we think about the future we want to live in and we think about climate change we spend a lot of time talking about transportation because it's one of the single largest drivers of climate change emissions. About a third of all greenhouse gas emissions in the world come from transportation and most of that comes from private automobiles."
But what about net-zero highway construction?
"There is no such thing as net-zero construction of any type, but given all of the knock-on impacts of highways there is particularly no such thing," Saxe stated.
"There is no mechanism to pay back the initial construction. We just keep adding pollution over time, so the initial construction is massively polluting, the operation is massively polluting, the land use is massively polluting and there is no way to get that back. Whereas with subway investments the initial construction takes a lot of material but then the land use, the operations…make things net better. So there is a payback mechanism over time which we just don't have for highway-based investment."
We often invest in highways based on myth, she added.
"In the 1950s and '60s, highway expansion was used to connect places in ways they hadn't been connected before. Given the massive economic change that was happening at the time, the ability to all of a sudden take things from place 'A' and place 'B' that we hadn't had before very much, led to major economic development," explained Saxe.
"That is no longer the case in most of the places where most of us live. In high income, developed places like southern Ontario and most of the U.S. there is almost no economic return on a highway. It's a huge amount of money that goes in mostly for destruction rather than benefit."
Saxe focused on the environmental impacts of highways, particularly on greenhouse gas emissions and their climate impact as well as the impact on air quality, biodiversity and the ability to grow food.
"There is no sustainable future really that is compatible with the type of transportation investments we've made in North America," Saxe said.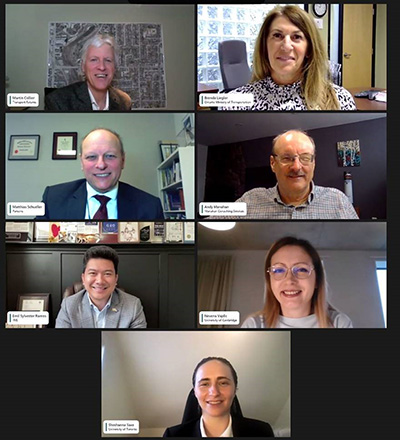 "Part of that is because of all of the other inputs that lead to pollution around the creation and operation of automobile-based systems and particularly highways. One, is there are a lot of materials that go into the construction of highways. Construction materials make up about 15 to 20 per cent of global greenhouse gas emissions every year, concrete being one of the largest individual ones."
Even more than the constructions emissions, a big problem is the world that is created when we invest in automobile and highway-oriented transportation systems, she said.
"We know that the creation of new road space is a huge driver for people to drive more, to invest more money in cars and that, in itself, is self-reinforcing," Saxe noted.
Another big environmental issue is the land use that comes from expanded road-based development. One example is the conversion of natural land, food land, forest lands into human habitat.
"The dominant transportation system we invest in determines how much land we use to build up our cities, whether or not we build more dense or less dense. It's a feedback network as part of that induced demand system," Saxe explained.
"Once you create a highway, you create demand to build something usually car-oriented on the land near the highway. That creates more demand for the highway which creates demand to expand the highway which changes the land use. It keeps going in a cyclical investment. We're more or less always chasing our tails."
She used the proposed Highway 413 in Ontario as an example.
"It's quoted now to be $10 to $12 billion in costs," said Saxe. "That's probably a big underestimate given escalation these days and just general patterns of underestimate in all large infrastructure projects.
"That's a project that our grandchildren are going to be continuing to live with the consequences of long after our careers and even our lives are over…It's very expensive infrastructure and there is a lot we can do with that money."
The next webinar in the highway planning series, taking place on May 4, will focus on stakeholder perspectives. As a proud sponsor, DCN provides our subscribers with a 10 per cent discount using promo code DCN23.
Follow the author on Twitter @DCN_Angela