Members of Ottawa's Light Rail Sub-Committee said they are confident the city has learned its lesson from the highly troubled Stage 1 Confederation Line LRT project and that the multiple levels of oversight introduced for the Stage 2 O-Train south extension will result in smoother delivery.
On May 26 the committee received a progress report from city staff and approved a detailed report on the testing that will precede the opening of the 12-kilometre system, expected this fall.
A peer-review report containing 47 recommendations from SYSTRA Canada and RATP Dev Canada was also received, and two staffers from SYSTRA were on hand to field questions.
"The presentations like this one today, the previous presentation we had, the awareness that I have as a councillor about how the preparation for launch is happening, it's night and day compared to 2019," commented Coun. Glen Gower, a member of the committee.
The confidence in the south extension job is in sharp contrast to the bungled Confederation Line project, which was eventually the subject of a public inquiry.
Justice William Hourigan's 2022 report charged there were deliberate efforts by city staff to mislead city council, ill-advised use of unproven technology, misleading representations from the P3 consortium Rideau Transit Group and a failure to follow best practices.
At the recent committee meeting, Coun. Jeff Leiper, another committee member, referred to Renée Amilcar, general manager of transit services: "I do appreciate being kept abreast of how progress is going and I'm feeling very confident, Ms. Amilcar, you clearly have a great handle on the work that remains to be done."
The project will extend the existing eight-kilometre, single-track, diesel-powered Trillium Line from its present terminus at Greenboro Station to Limebank Station. The extension will include an additional four-kilometre spur line, including one kilometre of double track, to provide a connection to Macdonald-Cartier International Airport.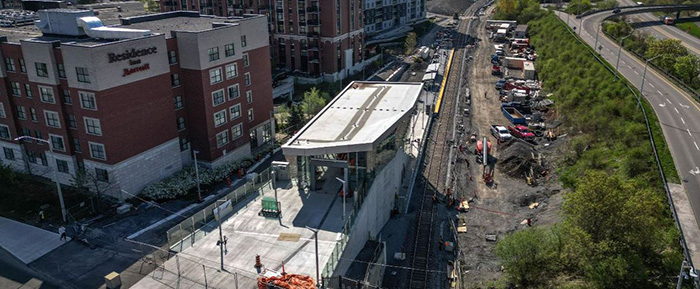 In total there will be 16 kilometres of new track, including double-tracking south of Leitrim Station to Limebank Road, and eight new stations.
The project team is TransitNEXT, wholly owned by SNC-Lavalin.
SYSTRA Group is a globally active engineering firm while RATP provides operations and maintenance services on 30 light rail lines and has active transit operations in 14 countries.
"I think it was one of the most important decisions and most helpful decisions of the previous council," said committee co-ordinator Eric Pelot of the peer-review process. "I think it will help provide assurances to the public that we are again on track to deliver a product that we can be proud of as a city."
Michael Morgan, the city's director of rail construction, walked the committee through the review process.
The peer-review report was delivered to city staff in February 2023 and since then the city has been following what they call an action plan to address the 47 recommendations.
Among the action items, Morgan said, 23 have been fully addressed, seven are in progress, 13 are being addressed in an alternative format, such as a suggestion for concrete placement verification, and four remain to be considered.
Among 20 rail systems recommendations, SYSTRA and RATP urged more cold weather testing of door operations and engine startup; a bogie rotational resistive test, for monitoring the chassis that carries a wheelset; broader considerations for future electrification; and re-evaluation of the proposed system breakdown structure.
Scheduling, training of staff and documentation of lessons learned were also targeted.
"There was a lot of work through last fall to come up with a consolidated schedule that everyone agreed to, city staff, training department, all the internal departments…so that required a lot of co-ordination. But we did get there and that was one of the recommendations," said Morgan.
At one point Leiper asked for an explanation why the city is not accepting a recommendation regarding backup software in case maintenance software fails.
"The backup would be to essentially have a manual system, which is not ideal," said Morgan. "So we're keeping the pressure on having the fully automated system working and ready to go."
Testing and commissioning have already started and will continue throughout the summer. 
The committee recommended council approve the reporting process for the trial running period and direct the transit services department to provide daily reports to council advising of the outcome for the previous day's trial running.
The reports go to council June 14.