For the past 20 years students at a high school in Georgetown, Ont. have been putting their mark on Leonardville, a virtual town that has proven the ideal teaching aid for students interested in a career in an architectural, design or planning profession.
Named after Michelle Leonard, the town's creator, Leonardville is a fictional community that has grown every year much to the pleasure of many students but to the surprise of Leonard, a technological design teacher at Georgetown District High School.
"I never thought it would be around this long. The students love it and continue to grow it and learn from it," says Leonard about the town borne from a simple drawing and now enhanced through computer-aided design software.
A teacher for almost 30 years, Leonard says the town grew out of an assignment for her students to design their own dream home with site elevations and lot features.
But the course is about more than learning how to design a pretty building.
"Architecture is about building a community and a home that you love to live in," says Leonard.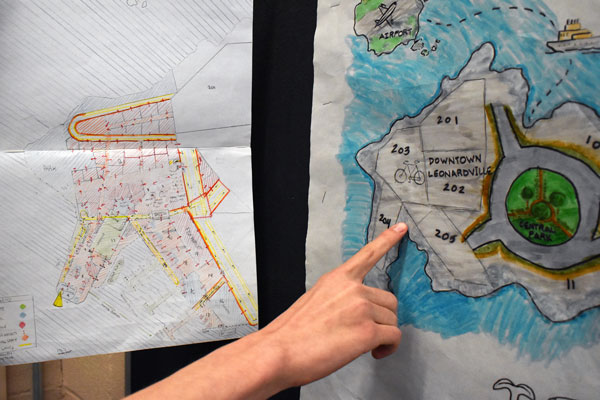 Since the conception of Leonardville, students have added other types of residential and commercial buildings, old and new downtowns and surrounding topography including mountains, lakes, wetlands and farmlands.
"We even have zoning requirements and also setback requirements for all of the land based on the Leonardville regulations, just like the Town of Halton Hills does in real life through the building department," says Leonard, noting many of her graduating students have gone on to post-secondary study in design professions.
Jennifer Spence, climate change outreach co-ordinator for the Town of Halton Hills, thinks Leonardville provides students with a foundation of important criteria to what makes a successful and sustainable city.
Spence has been making presentations for about a decade to Leonard's class on sustainable policies and green development strategies at the Town of Halton Hills. Her talks cover a range of issues and responsibilities architects face at the town, including sustainable design criteria in accordance with the town's climate change adaptation plan and its low carbon transition strategy.
Leonard takes information from Spence's practical examples of sustainable projects in Halton Hills and translates it to projects for the students to work on in Leonardville.
"It provides them real life examples on how to improve a community and make it greener," Spence points out, adding about 750 of Leonard's students have heard her talks over the years.
The climate change outreach co-ordinator calls the relationship between the town and the Georgetown high school class "a unique partnership" that puts students in a good place for a post-secondary education in an urban design profession.
Among the students who have brought impressive projects to Leonardville is Kai Marks who designed routes for electric buses, roundabouts and sidewalks to create "a more eco-friendly way to travel" in the fictional city.
"Kai has really engaged in this concept of building a residential, commercial and transportation plan that will limit the carbon footprint and reduce cars on the road," says Leonard.
Colten Gladwish, who calls Leonard's class "a cool way" to get students thinking about a career in a design profession, recently added a financial investment building to the virtual town, and then developed his own client base for the building and created commercial drawings to suit their requirements.
Another grade 12 student designed a four-acre fish market with a mix of restaurants and retail.
"I wanted to create something that would involve the community and allow smaller businesses to flourish," Willem Smetana says.
Leonard says when she first started creating Leonardville the students were enthusiastic about developing a town that could be "the perfect community. Today, some of them get so excited about what they are doing that I have to remind them that Leonardville is not real."