BDP Quadrangle's dramatic design for a 49-storey residential tower in Quayside on Toronto's waterfront has been awarded an international design award even though it could be three years before shovels are in the ground.
The building, designed for Plaza Partners, features a lattice of triangular offset balconies with peaked arches that are part of an independent exoskeleton, created to prevent thermal bridging and solar heat gain.
The architect announced June 19 the project had won the Future Project Award by the Council on Tall Buildings and Urban Habitat.
BDP Quadrangle principal Stefanie Siu Chong said the future holds continued negotiations with the City of Toronto and Waterfront Toronto on the project, and given Toronto's glacial approvals system, groundbreaking might not happen until 2026.
Chong said she is hoping with the publicity the project is receiving, "We will have a little bit more push in terms of the timeline for approval for this project."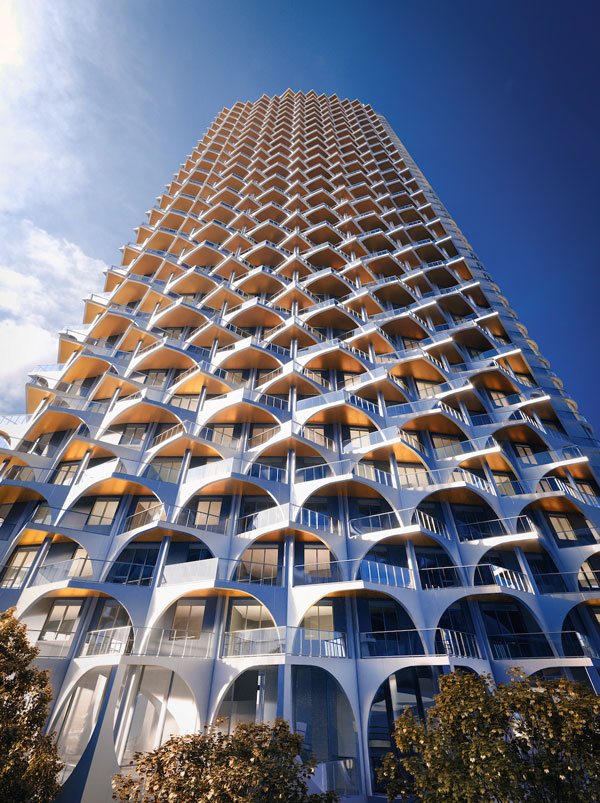 307 Lake Shore Boulevard East is designed as a mixed-use, pedestrian-oriented development with 430 residential units, approximately 700 square metres of community space, 1,500 square metres of indoor amenity space and 300 square metres of outdoor amenity space.
The team aims to meet zero-carbon Passive House standards through airtight enclosures, high-performance windows, efficient mechanical systems, the exoskeleton balcony scheme and other measures. Chong said given that emphasis, the window-to-wall ratio will be at least 40:60.
Chong said the owner/developer is an engaged partner with full buy-in on incorporating five different elements into the vision: design excellence, affordable housing options, cultural and community spaces, sustainability and public realm enhancement.
"We don't just insert sustainability at the end and end up competing with the design. Every single thing we did, from the very beginning, is already in line with these five pillars that we set out," she explained.
The location absolutely necessitated a superlative design, Chong said, with the team conscious of impressions from the Gardiner Expressway, from street level and from Lake Ontario. The tower is designed to follow the site's flatiron shape, resulting in a thin triangular profile.
The top of the building is also exceptional with such elements as stepbacks and articulation, and decorative features such as rooftop landscaping.
Chong noted other Quayside buildings will be designed by leading international architects.
"You don't have to get an international architect to get this calibre of design," she said. "We just want to show that as a practice based in Toronto, we can produce something in that category as well."
The design process was a story in itself, given the team was designing during the pandemic.
Chong said the firm used about five staff architects working from remote settings and they turned to a whiteboard tool from Miro to do digital sketching, sharing ideas and doing mockups.
With that tool, the owner is able to contribute with digital post-it notes.
"I think the process has helped us come up with the design that we have right now because a lot of ideas came together and we discussed it and we came up with the best ideas in there," said Chong.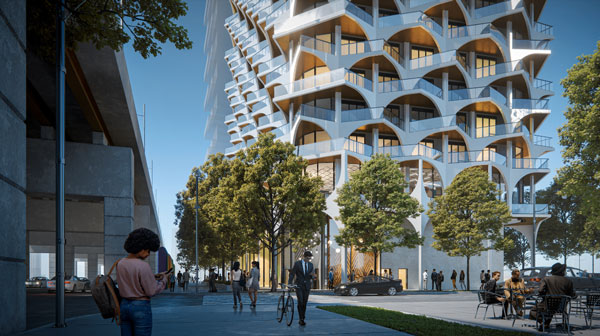 Plaza Partners chief development officer Ornella Richichi said in a statement, "Since the project began, we've understood the responsibility we have to develop such a significant waterfront site in a manner that is both socially and environmentally responsible. To be the only development in Toronto recognized with this award is a welcomed affirmation of those plans and ambitions." 
Explaining how the exoskeleton negates thermal bridging, Chong said most balconies are an extension of the concrete floor slab. The exoskeleton on this project is a completely separate structure that is attached to the concrete slab only at certain points.
"It's not as straightforward to build because you have to come back and then build the second structure for the balcony," said Chong.
There are more techniques and products in the European market to address the issue but Canada is coming along as design standards become more stringent, she said.
"It's our responsibility as architects, when we design buildings, to always push for better and sustainability is always high in our agenda," she said.
Follow the author on Twitter @DonWall_DCN