A new company wants to make it easier for homeowners to build prefabricated accessory dwelling units (ADU) in their backyards while also providing solutions to help solve the housing crisis.
"Every new housing unit built helps with the housing crisis," stated Matt Soloway, CEO of Happi Builds, adding the company helps homeowners capitalize on their unused land while fostering gentle density in neighbourhoods. "I think if nothing else we can all agree that this backyard housing ADU is part of the solution."
The company, led by David Goodman, Jamie James and Andy Shapack, aims to simplify the process of building an ADU, laneway or garden suite by offering services such as initial consultation, design, permitting, financing and installation.
The units can be installed within 12 to 16 weeks.
"It's a big project for people to put a secondary house in their backyard," said Soloway. "We designed Happi to be best friend to both the builder, because they are not set up really to be a customer service-focused experience, and best friend to the homeowner to really help them throughout the whole process."
The first step is figure out what the homeowner's property is eligible for in terms of a backyard house under the bylaw and to be "a full one-stop shop" for people looking for backyard housing options.
Toronto recently introduced a new bylaw allowing property owners to build a secondary house or ADU. The bylaw is similar to one passed in California which has already issued about 60,000 permits for backyard homes.
"From the California experience we decided instead of going out and making our own builds, we wanted to partner with manufacturers who were building climate friendly, designer-focused products and to provide a customer experience," said Soloway.
"What we noticed in California is that there were a lot of manufacturers and builders but there was a bit of a void in the market in how those builders and manufacturers actually worked with homeowners and they weren't really set up that well (to do that)."
In Toronto, over 500,000 properties meet the criteria to build backyard housing, Soloway said, adding the bylaw allows a maximum of 645 square feet on the main floor and units can be two storeys.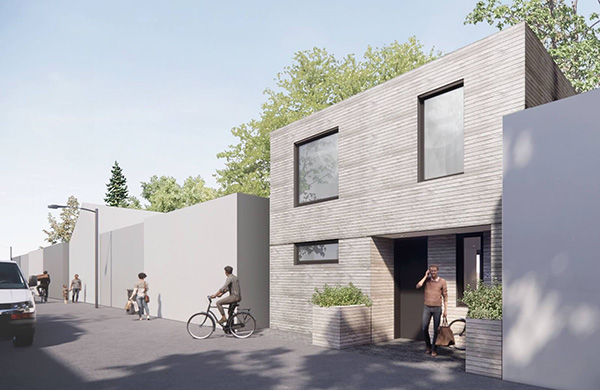 "Our units, the smallest one that we have is a 275-square-foot unit and the largest is the 1,290 which is the maximum allowable under the bylaw," he said.
Homeowners typically need ADUs for two reasons: personal use such as multi-generational housing, home office, yoga studio or gym or as a rental unit.
The units are made in Canada, built onsite by R-Hauz and designed by architects such as Superkul, Pencil Design, Elevation Architects and Forma.
"We are in the process of creating new units that will be built out on the R-Hauz system," Soloway said. "Once you understand the system, we can work with architects and designers to actually design different models that they can then build with the R-Hauz prefab panels."
The mass timber units are constructed with low carbon technologies, built using an all electric, Passive House light approach construction and feature the latest prefabricated building methods, the company states in a release.
"Everything we do is built to comply with the bylaw and every unit and every partner we have on the supply side is very focused on the climate friendliness or the environmental impacts of the units," Soloway said.
While the cost varies from build to build, typically the prefab option provides a reduction in cost and waste when compared to traditional construction.
"No matter what it tends to be less expensive than traditional build just because the prefab both brings down the cost but it also sets a fixed price," Soloway explained.
The company hopes to scale up and continue to collaborate to provide more options for clients.
"As we grow the business we plan to add on a rental program where we can help people with rentals and we're also looking to partner with an eco-friendly furniture designer specific for these small backyard houses," said Soloway. "We really want to be able to continue to collaborate and partner with different companies that can provide a full experience for homeowners."
Follow the author on Twitter @DCN_Angela