A tiny home community in Kitchener, Ont. is providing a place for people experiencing homelessness to have privacy and their own space.
The idea for A Better Tent City (ABTC) was born in 2019 by founders Jeff Willmer, who was formerly the City of Kitchener's director of planning, and the late Ron Doyle.
"Ron approached me with the idea of a tiny home village or a community where we would give each person their own cabin, their own tiny home and let them form a community and let them manage it themselves," Willmer said.
They implemented the idea in April 2020 just as the COVID-19 pandemic hit.
"Ron actually owned industrial property, part of which was an event venue and he thought there are no events going on why don't we use that," said the chair of ABTC. "We set up tiny homes outside and there was a kitchen and washroom already there and so it was pretty quick to get going."
Nadine Green, who owned a convenience store in downtown Kitchener, provided shelter for people experiencing homelessness in her convenience store until she was evicted in January 2020.
"To this day she is a part of it," said Willmer. "She lives in one of the tiny homes. She's like the mother figure for 50 people who have big challenges in their lives."
The individual homes are eight-by-10-foot cabins.
"They're garden sheds that are insulated and provided with electricity and a radiator and a bed but it's really like a bedroom," Willmer explained. "We have common facilities for kitchen, dining, laundry, showers, washrooms."
Although they have had to move the community twice over the past few years, they are now located on land that is owned partly by the Waterloo Region District School Board and partly by the City of Kitchener. It also houses an administrative building.
"There was this big patch of lawn, this green area between the highway and their office building and they agreed to let us set up our community there," Willmer said.
The units were purchased from Stoney Ridge Sheds.
"We placed an order for 10…and we now have 42 cabins on the property," Willmer said. "They are wood or wood composite construction. Once they are delivered, we insulate them, we put in plywood panelling and then we wire them up for power and a radiator."
The washroom and showers are housed in a shipping container. Three connected portables contain the kitchen, dining, laundry and more washrooms.
"Dundee Storage actually converts shipping containers to mobile construction offices, so they had the ability to cut windows and doors," Willmer noted. "Volunteers did the plumbing, the insulation, the tile work, the ramping for barrier-free accessibility."
Alair Homes did all the project co-ordination. Other project partners included MTE engineering and Navacon Construction.
"Once we needed to get permits and approvals for kitchen and washrooms…that's where we really needed someone else to be the project manager," Willmer said.
"Alair Homes stepped up there. Navacon Construction did the trenching to bring in water and sewer to the property. MTE engineering did all the structural engineering to certify that the portable classrooms had proper foundation. We put them on helical piles so we could pick them up, move them.
"It really was volunteers including the local Carpenters' Union that did a lot of work…There are two guys onsite almost every day even now doing construction and maintenance."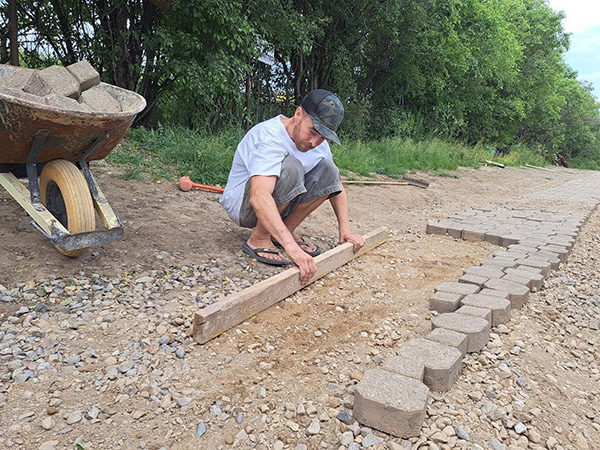 The site is limited to 50 residents for two reasons.
"The site that we're on really cannot fit even one more cabin, we're packed in pretty tightly," said Willmer, adding many of those onsite are homeless due to mental illness or substance use.
The goal was always to prove the concept and encourage others to replicate it and Waterloo Region has done so.
"They have a community just outside Waterloo city limits and it looks just like ours really, 50 tiny homes, a shared facility for kitchen, washroom and laundry," Willmer explained.
"People have the privacy and dignity of their own space but the community connections in the shared facilities…That's a really important form of support that they understand it, they see the value in it and now they're doing it themselves."
Interest has also been expressed in other municipalities across Ontario.
While it began as a community initiative, the municipalities have since come on board in multiple ways, in addition to providing the property.
"Most of the residents are on the Ontario Works Program or the Ontario Disability Support Program and so through those programs they are entitled to a shelter allowance," said Willmer.
"The municipalities were able to arrange for that money to go directly to A Better Tent City so that helps because now we've got an operating budget we can rely on to pay our utilities and pay our staff as well."
ABTC is not a solution to the homelessness crisis, Willmer stated.
"The hope is that they become more ready to transition to housing once housing becomes available," he said. "This is not a permanent solution but it's a good transitional step.
"The long-term solution is affordable, supportive housing for everybody."
Follow the author on Twitter @DCN_Angela