Construction crews are presently doing civil work and finishing a substructure that will support a sleek, new, $1.2-billion correctional facility in Thunder Bay, Ont. that will have many green and sustainable features.
The steel superstructure of the 400,000- square-foot facility is beginning to rise and the first precast concrete section was installed recently to mark a key milestone on the project. It will take more than 430 loads of concrete weighing 23 million pounds to build the complex — more than the weight of the Eiffel Tower.
"Precast installations are underway along with roofing, and interior underground systems installations are progressing in advance of slab-on-grade placement," explains Andrew Morrison, a spokesperson for the Ministry of the Solicitor General.
"The new Thunder Bay Correctional Complex will be a state-of-the-art facility, and the first of its kind for an Ontario correctional facility incorporating unique design features that promote rehabilitation of inmates along with traditional elements found in modern correctional facilities."
The steel superstructure of the complex will be composed of primarily precast, masonry, metal panels and glazing.
The contract for the new correctional facility was awarded in April 2022 and construction began in November 2022 when Infrastructure Ontario and the Ministry of the Solicitor General awarded a fixed-price contract to the EllisDon Infrastructure Justice team which includes EllisDon companies, Zeidler Architecture Inc. and DLR Group.
The complex is being built on the same government-owned land where the current Thunder Bay Correctional Centre is located. A P3 design, build, finance, maintain (DBFM) model is being used by the consortium.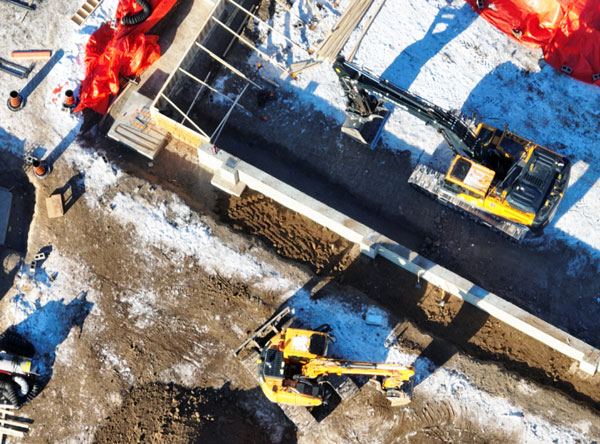 Based on precedent experience, a DBFM procurement model typically has delivered a value for money savings in the range of 15 to 22 per cent compared to undertaking the same projects using traditional models.
According to the ministry, the project is on track for completion in 2026. It will be a 345-bed facility that combines the operations of the current Thunder Bay Jail and the Thunder Bay Correctional Centre.
The jail and correctional centre are among the oldest provincially run adult correctional facilities in Ontario. The jail opened in 1928 and the correctional centre opened in 1965. The original building structure which operated as a prison farm opened in 1911.
EllisDon is engaging subcontractors as needed to complete the expansive project.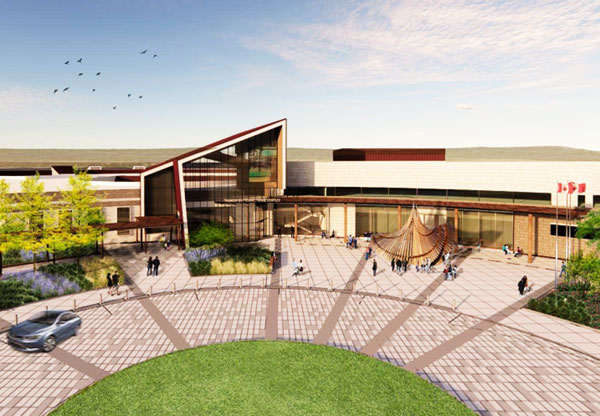 The site is now a beehive of activity with about 200 labourers, carpenters, ironworkers, electricians, plumbers and operating engineers on the construction site. Four cranes — including two crawlers, one mobile, and one rough-terrain are presently in use, along with roughly 20 pieces of earthmoving equipment.
"Construction activities and procurement are managed well in advance," says Morrison.
Renderings of the complex show a modern-looking structure with curved exterior and large entrance way with lots of windows.
The complex is being built with energy-efficiency in mind and is expected to achieve LEED Silver certification through the use of a variety of building elements that promote sustainability, energy-efficiency and reduced greenhouse gas emissions.
The project is also pursuing LEED Resilient Design pilot credits through the United States Green Building Council.
"The new Thunder Bay Correctional Complex will ensure correctional front line staff have a modern facility, work environment and supports needed to do their jobs safely and effectively provide secure and appropriate supervision of those in provincial custody," says Morrison.
The complex will be a multi-purpose adult correctional facility that will address capacity pressures, create additional space for programming, and expand supports for inmates with mental health issues. It was designed with input from front line staff, local municipal partners, stakeholders and Indigenous leaders.
"The ministry conducted a number of community engagement sessions with Indigenous groups, community members and correctional staff throughout the design stage, to request their input and subsequently show them how the input received was incorporated," says Morrison. "Led by the EllisDon Infrastructure Justice team, engagement sessions will continue to take place through the various phases of construction."
The complex has been designed to include an abundance of natural light through multiple skylights, glazing and clerestories throughout to help balance mental health and overall lifestyle for staff and inmates.
The structure will have views of nature, along with fixtures and furnishings that will create a healthy environment for both staff and those in custody.
"There will also be dedicated Indigenous cultural spaces, both indoors and outdoors, such as a smudging space, sweat lodge and teaching lodge," says Morrison. "Some of the outdoor features will include a communal gathering space, greenhouse and secure yard."
The infrastructure build is part of Ontario's plan to modernize corrections and enhance public safety in the North. In 2022, Bird Construction completed expansion projects for the government at the Thunder Bay Correctional Centre and Kenora Jail to address overcrowding while the new complex is being built.