A feasibility study on future workforce housing types in northern Ontario mines supports the use of prefabricated mass timber in remote camps.
Called the Benefits of Mass Timber Workforce Communities, the study identifies "many advantages in terms of climate mitigation…health and wellness" over traditional camp housing, said Veronica Madonna, a partner with Studio VMA Inc., which conducted the study in partnership with mass timber manufacturer Element5 and others.
Commissioned by the Thunder Bay Community Economic Development Commission and the Centre for Research and Innovation in Bio-Economy, the study shows mass timber housing is durable and can be readily moved to new sites, Madonna told a seminar audience at the Mass Timber Seminar conference held recently at George Brown College's waterfront campus in Toronto.
She said with mining exploration expected to boom in Ontario's north over the next 10 to 15 years, the importance of quality worker housing can't be understated.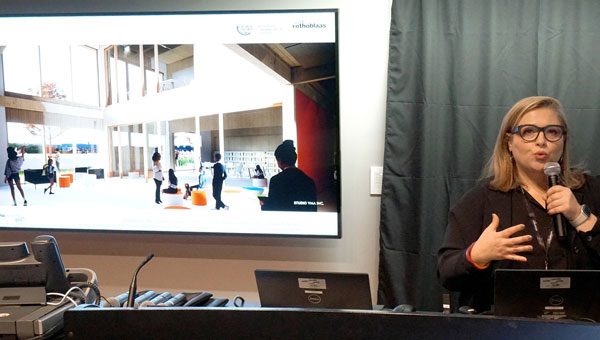 While the Ontario Building Code does not set an energy performance standard for temporary worker housing, she said high-performance mass timber prototypes have R-60 roof insulation, R-50 walls and R-45 in the flooring.
For ease of erection and transportation, the cross-laminated timber (CLT) walls would connect to one-slab floors and roofs. The modular units would be plug-and-play for quick installation, she told delegates.
A modular factory could be set up in a centralized location such as Thunder Bay, she said, adding camps could be arranged in clusters of only six units to avoid the "long tunnel feel" of traditional camp housing. Each unit could come with an outdoor recreational porch.
Madonna added the CLT structures would be durable, outlasting conventional trailer camp housing by decades.
Hurdles remain, however, including transportation of prefabricated materials to sites largely because of inadequate road infrastructure, she explained.
Studio VMA and Element5 were part of a team that also completed a six-week feasibility study on a mass timber design for a Toronto District School Board (TDSB) primary school.
The study, which compared traditional school construction with masonry block to mass timber, showed timber could be cost competitive.
While the upfront costs of a mass timber base building were 1.7 per cent higher than concrete block, calculations on the life-cycle costs over 60 years showed mass timber to be $400,000 less when future carbon tax was added to the total tab.
"When we added the low carbon mechanical system we actually had a $1.14 million savings, even though capital costs were 7.5 per cent higher."
The team developed a post-and-beam system with a CLT floor and roof deck.
The building could be erected in about a month, at least five months ahead of a traditional masonry block construction schedule.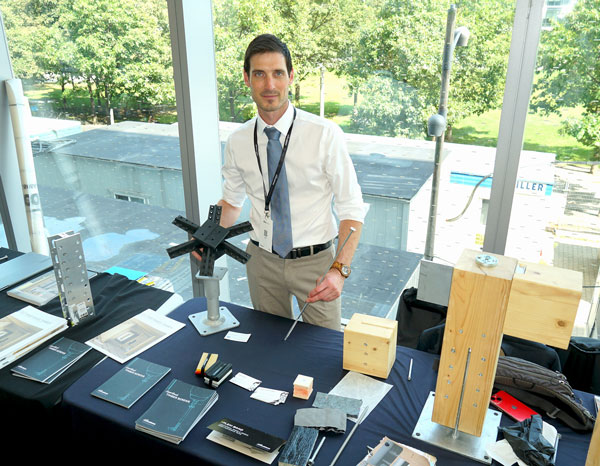 The CLT has a 30 per cent energy savings and carbon reductions were calculated to be 55 per cent, she said.
The TDSB school is expected to be built in east Toronto.
The conference was organized by George Brown College and Rothoblaas, an international firm that produces connectors and other technologies for heavy and mass timber structures.
Francois-Laurent Chabot, general manager of Rothoblaas Canada Construction Products Inc., said it was the first time that the Rothoschool (the branch of Rothoblaas which organizes mass timber seminars globally) took part in a two-day seminar event in Canada.
"The attendee count has been a record for the Rothoschool," he said, noting the conference "exceeded expectations in terms of content, market analysis and network opportunities."