Delegates attending the recent Ontario Building Trades Council annual convention heard repeatedly that even with a tepid economic forecast in the near future, ICI is poised to roar ahead in the province.
The convention was held Oct. 11 to 13 in Windsor, where the consortium Bridging North America is making rapid progress on the $6-billion Gordie Howe International Bridge project and Stellantis and partners are committed to spending $4 billion on an electric vehicle battery plant and $2.8 billion to retool its Windsor as well as its Brampton vehicle plants.
New Ontario Minister of Labour, Immigration, Training and Skills Development David Piccini set the tone early, kicking off the Oct. 12 session by pointing out his government remains committed to $184 billion in infrastructure spending over the next decade including major transit projects in many of the province's largest cities.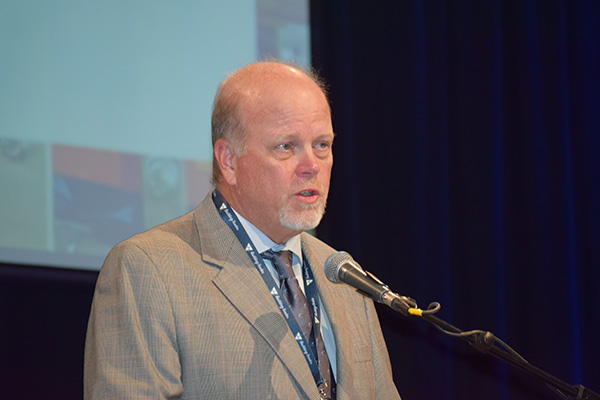 Canada's Building Trades Unions executive director Sean Strickland highlighted major projects across Canada during his Oct. 13 presentation. In Ontario, the theme is Everything Everywhere All at Once, he said, referring to the recent Academy Award-winning film.
"There's tremendous opportunity across Canada, but particularly right here in Ontario," he said, discussing major nuclear projects, billion-dollar builds in the automobile sector by Volkswagen and Stellantis, and major construction infrastructure projects in the mining sector.
"An announcement doesn't mean a job," said Strickland. "But these announcements that are backed up and supported by the federal and provincial governments have a greater opportunity of getting a shovel in the ground. So I would say quite easily that the construction industry is going to be very robust for the next few years."
Strickland added with workforce shortages across the country including Ontario, vigorous workforce planning will be required to ensure the projects have the right trades available when needed.
The same day, Ontario Construction Secretariat director of research Katherine Jacobs offered both a province-wide economic snapshot and construction industry forecast.
Economic growth is projected to slow in the second half of 2023 and remain muted throughout 2024, said Jacobs.
"Even though we started off fairly strong at the beginning of this year, as we're stepping into the second half of the year and heading into 2024, market conditions are anticipated to slow down," she said. "Whether or not we actually enter into a recession is somewhat of a moot point.
"Ontario will probably mildly avoid a recession would be my anticipation, but we will have a much slower growth as we head into 2024."
Using bank forecasts, GDP growth in Ontario is expected to be 1.2 per cent this year and 0.5 per cent next year, she said.
The main drags on the economy will come from reduced consumer spending and weakness in the manufacturing sector, Jacobs said.
Looking at inflation, Jacobs noted the banks are forecasting inflation to be around 3.7 per cent this year and 2.4 per cent next year after reaching a multi-year high of 6.8 per cent in 2022.
That was "primarily a response to the COVID pandemic leading into supply chain challenges," she said. "Inflation has come down but it's still being a little tacky and not settling into that two- to three-per-cent range."
Meanwhile, Ontario's ICI building permit reports have produced exceedingly strong data in recent months.
August institutional permit values jumped from $1.7 billion in July to $3.1 billion in August, Jacobs noted, and year-to-date total ICI permits reached $15.2 billion, up 26 per cent over the same period last year.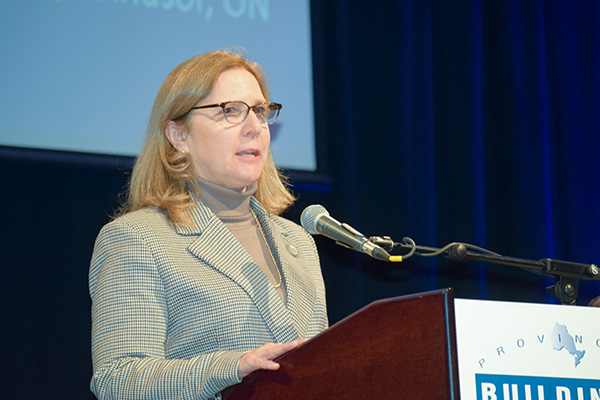 "That is extraordinarily high for one month," said Jacobs, noting the spike was primarily driven by institutional investment, which hit a permit value of $1.7 billion in August.
Jacobs also reported the unemployment rate in the sector remains low — it was 3.9 per cent in August and fell marginally to 3.7 per cent in September.
BuildForce Canada is currently collecting data for its 2024 outlook report and Jacobs urged Building Trades stakeholders to co-operate during consultations to help provide the best data possible.
Jacobs said BuildForce has told her its forecast from the spring still looks accurate.
Total ICI building investment is expected to increase by 22 per cent through to 2027.
Engineering construction investment will remain stable to 2024, before starting another growth cycle in 2025-27.
"We don't really see any slowdown at all," she said, referring to engineering.
Another sector with strong growth on the horizon is nuclear, the delegates were told.
Bruce Power executive vice- president Eric Chassard highlighted projects in the near and long-term from both OPG and his firm.
Bruce's Life-Extension Program, involving inspection, asset management and major component replacement,​ is said to be Canada's largest private sector infrastructure project. And Bruce is looking to the distant future, with billions in spending on its nuclear fleet to secure site operation to 2064. 
Follow the author on Twitter @DonWall_DCN.