The industrial development sector is evolving from the heady first couple of years of the pandemic when developers and investors were scrambling for lands to set up logistics hubs and distribution centres.
Ontario-based Slate Asset Management, which announced it had purchased 800 acres of prime Hamilton industrial waterfront land from Stelco in the spring of 2022, acknowledges the evolution but says its program to redevelop the property, dubbed Steelport, remains fundamentally sound with multiple announcements of new tenants coming soon.
Slate is currently undertaking master planning of Steelport with the City of Hamilton. The firm hosted a stakeholder event on the Steelport site Oct. 11 to unveil the latest drawings and vision for the industrial project and issue a progress report for its Hamilton condo build, Corktown.
"There's still lots of demand, although it's maybe come off of its peak from last year," said Slate senior vice-president Steven Dejonckheere of Steelport. "The bottom line is, we have to push for new industries. Whether it's industries that are spinoff of the EV trends and pushes technological advances, whether it's energy manufacturing, clean energy, whether it's just new age manufacturing, whether it's food supply, logistics and processing, all of these are core functions that we need to support a growing population."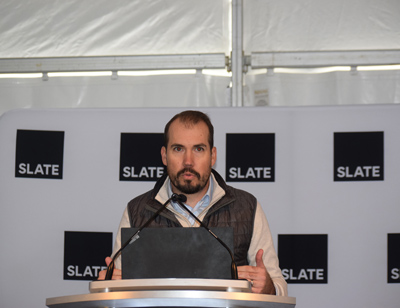 The unveiling of the first tenant, GH Power, a green hydrogen producer, took place earlier this year and Dejonckheere said a batch of bigger announcements may be coming in the next several months.
"We are close, we're having some interesting conversations with some groups that I think would really be fantastic to kick off the vision for this project," he said.
Logistics and supply chain uses will still be prominent, Dejonckheere said.
Other potential uses he foresees are innovation and creative hubs and small-scale industrial flex offices in addition to significant public access, retail and accessory uses for site workers.
"We've tried to design the plan to accommodate these uses, and specifically to really be focused on what the edges of the site look like," he said. "How do we actually unlock opportunities along the waterfront? How do we integrate retail throughout the master plan as well? We want this to be a very diverse mixed-use site."
Slate believes the site's multi-modal transportation with kilometres of shoreline will enable the firm to create a one-of-a-kind industrial park with the potential to create up to 23,000 new jobs across the Greater Toronto and Hamilton Area.
"We've had a lot of inbound people all over the world because the site's unique," said Slate founding partner Blair Welch.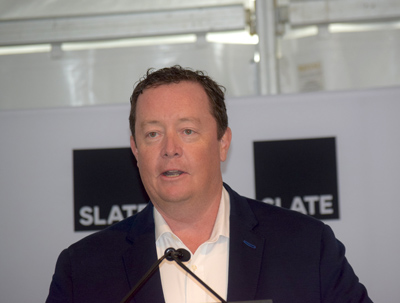 "You have over three kilometres of water from the deepwater port, you have a lot of power, you have rail lines, you have a lot of access to things that tenants want."
The site is already zoned and Welch said Slate is pleased with how the City of Hamilton has co-operated and supported the venture.
"We are just about to start our first phase, but everything has gone smoother than we could have ever hoped," said Welch.
"People are aligned with the same visions."
Slate managing director Brandon Donnelly said the first phase of the Corktown project, Corktown East, has also been well received. Corktown East, 27 storeys with 372 units, was launched this summer.
"Sales have gone extremely well," said Donnelly.
"And this is a slow market. This is a tough market, broadly speaking. So the fact that we've done so well with sales early on is a testament to the quality of offering that we're delivering."
Follow the author on Twitter @DonWall_DCN.