A system that acts as a natural filtering for rainwater while protecting the water quality of nearby Lake Ontario has been implemented in the new master-planned Brightwater project in the Port Credit community of Mississauga, Ont.
Brightwater's bioswales system is estimated to process and filter 300 million litres over the next 10 years.
It is expected to be one of the largest systems in North America. It complements the massive size of the development itself which is a 72-acre, $2 billion mixed-use development that will create homes for approximately 7,000 residents.
"There's over 1.2 kilometres of LIDs (low impact development) incorporated within municipal ROWs (right of ways)," said Rob Merwin, senior associate, land development with Urbantech Consulting, in a statement.
"This is the largest single installation of its kind that has ever been carried out in Canada. This effort required an integrated team approach including urban design, landscape, structural, precast manufacturer, civil, developer, city, region and CVCA. We replicated and replaced conventional end of pipe stormwater quality control ponds, whereas traditional ponds would have required approximately five to six acres of land."
The conservation of water and water quality became an important part of the Brightwater project early on, said Lukasz Wagner, VP of development and construction with Port Credit West Village Partners.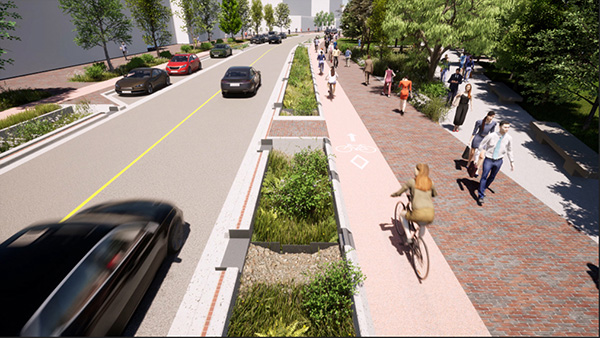 "We were trying to narrow down the quite large roadway sizes and widths that Mississauga has and we were able to do two things: narrow them down to be a little bit more pedestrian friendly and number two, was really prioritize this water quality component, which is exactly what the LIDs are.
"They are essentially a Brita filter for rainwater."
He described the way the system works.
"Any time the water hits the roadway it will run off to the side of the road where it goes through a sequence of different soil layers that are engineered and will effectively then go through a whole treatment chain…before it hits the end of the line which is Lake Ontario. Effectively, you are cleaning the water before it hits Lake Ontario."
The system is in although it's not fully operational.
"The system and all of our road network is now completely in within the community," Wagner said. "The installation of these occurred throughout 2012, mainly. It was a very difficult process because these things come in precast sections that are over six feet in height and two metres wide."
The prefabricated concrete sections were created at the Decast factory in Alliston. The concrete sections were hand formed and created with different dimensions and cutouts.
They were delivered to the site via tractor trailers, lifted and placed carefully underground through areas and trenches that were pre-excavated.
"Now we're at the point where they've been backfilled very carefully," said Wagner. "The weir at the top to control some of the overland flow has been placed as well. We're excited to share that in the next year or two we're going to be planting the very top plant.
"There is going to be a beautiful planting strategy throughout the community as well that will be placed on top which will represent what people will see throughout the community.
"You're going to start seeing planting over the next year and then it will be done in phases as we occupy the various phases of the project," he added. "Those surrounding locations where we have occupancies and people moving in we would commence planting those areas."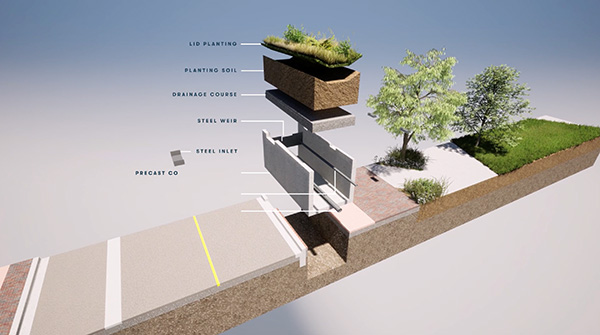 Lauren Abrahams, a senior project leader at PUBLIC WORK, said when the project first started, her team recognized it as a unique opportunity, especially considering the new community is on Lake Ontario.
"We've always seen and talked about it not just as a community that's next to the water but a community that can embrace water as a resource and as a way to give structure and experience to the entire open space, public realm, street network," she explained. "We thought a lot about historically before, so many industrial transformations of the site what we might have found there. There would have been rivers and creeks and an entire natural system of hydrology set in a very biodiverse plant community experience."
She referred to the system itself as "hardworking green infrastructure."
What's really remarkable about the project is the scale, she added.
"Every single new public street has this green infrastructure integrated within it," Abrahams said. "Through a much more natural approach, that's a way of allowing the streets to do what pipes and the engineering stuff usually does, but it's also a way of creating this park-like environment and streets which is so different than what we are used to seeing."
The system could be implemented in other new communities, Wagner said.
"This is going to turn into a case study for not just the city of Mississauga but I think other municipalities as well," Wagner pointed out. "I think it's going to be a new norm for a lot of communities going forward specifically because it's functional, it's going to be a very pleasant and it meets a lot of different needs for people."
Follow the author on Twitter @DCN_Angela