Metrolinx is pushing ahead with plans to build 1.5 kilometres of the Eglinton Crosstown West Extension (ECWE) as an elevated stretch through a sensitive wildlife corridor and ecosystem of urban forest in the Mount Dennis area in Toronto despite continued objections by an Indigenous-led coalition.
The growing, nine-member coalition wants the project to be built underground or at-grade, which would save Metrolinx both time and money. However, the Crown agency indicates its preference is for the project to go ahead as planned.
"The request for proposals was released in April 2022 and closed late last year, and we are now working to finalize agreements," reads a statement from Metrolinx that was prepared specifically for the Daily Commercial News. "Once we have a contractor on board, we will begin working on a detailed schedule together."
As it stands, the proposal calls for the rail line to run as an elevated section of rail from just west of Scarlett Road to east of Jane Street. The section will cross the Humber River in a flood plain zone that has experienced severe flooding in the past.
The $4.7 billion ECWE project will bring the LRT another 9.2 kilometres west along Eglinton Avenue West to Mississauga. It is expected to be completed in 2030-31.
The elevated guideway is preferred to other options, says Metrolinx, as it will be climate resilient infrastructure that will provide safe, reliable commuter service for nearly 70,000 riders per day, put thousands of people and jobs within a 10-minute walk of transit, and reduce annual greenhouse gas emissions by 5,800 tonnes.
"When combined with the Eglinton Crosstown LRT, it will result in nearly 6.5 million fewer car trips each year and cut commute times between popular destinations like Yonge and Eglinton and Square One by up to 22 minutes."
However, the concern of the coalition is that trees will need to be cut to accommodate the above-grade extension. The forest is also a flood and erosion protector and sound barrier, provides greenspace for migratory birds and is home to threatened species, as well as endangered bats that begin hibernation in November.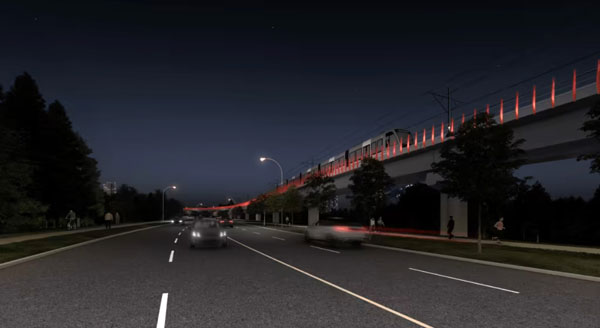 Metrolinx says it is working with the Toronto and Region Conservation Authority and City of Toronto to ensure at least three trees are planted for every one that is cut down.
"Work has already started to plant approximately 8,500 new trees to offset roughly 1,300 tree removals needed in the area, about half of which are invasive species," says Metrolinx. "Up to 3,500 plantings will take place in Mount Dennis area parkland, with the rest taking place in other local parks, ravines and natural feature areas."
Neiland Brissenden, spokesperson for one of the groups in the coalition called Stop the Trains in Our Parks, says they are not opposed to transit expansion, and in fact agree it is necessary. However, the members believe tunnelling underground or building the section at-grade are better options to consider.
The coalition recently held a candelight vigil at Pearen Park to commemorate the trees and wildlife that will be destroyed in the urban green space by the elevated segment. Earlier, a tipi had been erected and sacred fire was tended at the site for nine months, but it was temporarily closed after Metrolinx threatened legal action.
Coalition members are not professional protestors and felt they couldn't risk the consequences, Brissenden says.
"We're a group of community members that has never done any fundraising, and the primary goal of our Indigenous partners is to heal and to educate and provide support for Indigenous youth. We just felt that we couldn't risk anybody in our coalition suffering potentially serious consequences."
The coalition is now looking for another location for the sacred fire.
"The idea that a fire truck was going to come and put it out was not something that we felt was respectful to the ceremony," says Brissenden.
Coalition members did meet recently with Metrolinx to keep the conversation going. However, nothing was resolved, and the coalition is now looking at other ways to promote the underground or at-grade options. Brissenden says four initial designs were considered by Metrolinx, including underground and at-grade.
"If it's about speed and cost, going at-grade would save money and time. Underground offers the best severe weather protection, it has the lowest maintenance costs in the long run, and it protects our parks. It saves our parks. At-grade would be the cheapest option, the quickest to build, and again it would save our parks."
The coalition is still expanding as the Ontario branch of the Sierra Club and Greenbelt Guardians, a grassroots organization aimed at protecting the Greenbelt, have now joined.
"We've got new partners and the more we talk about it with people, the more support we get," says Brissenden. "If anything, we're looking at more sophisticated ways to get our message out and have the community consulted.
"We're going to keep fighting on this. We're going to keep pushing and we're working on a few other ideas. We have to flush those out yet, but we're going to keep trying to keep the pressure on and protect our parks and our community."