Despite hurdles such as COVID-19, supply chain disruptions and the logistics of trucking material to a remote site, a massive safety project to replace two large steel sluice gates and stabilize structures at Smoky Falls dam on the Mattagami River is proceeding on budget and ahead of schedule.
Work at the isolated site, roughly 85 kilometres northeast of Kapuskasing, is being done in conjunction with another project at the nearby Little Long Reservoir, where four new gates are being installed along with several other improvements to control water levels in extreme weather events.
The projects will help Ontario Power Generation (OPG) comply with provincial dam safety requirements and help make the company's hydroelectric operations more resilient to climate change.
"The Smoky Falls dam safety project will bring the structure to the standards necessary and replace the two gates that are required," says Pranav Jindal, project manager for OPG on the venture.
Most of the work involves heavy civil construction. The sluice gates, which can be raised and lowered to control the flow of water, are being removed and replaced. Each is 13-by-10-metres and weighs 70,000 kilograms.
Other water-retaining structures at the dam will be closed or stabilized. The project includes permanently closing 25 surplus overflow spill bays and removing eight surplus sluice gates to meet safety requirements.
Multiple concrete plugs have already been installed and the work is ongoing. Site stabilization activities have begun with drilling for installation of new post-tension anchors that will stabilize the dam.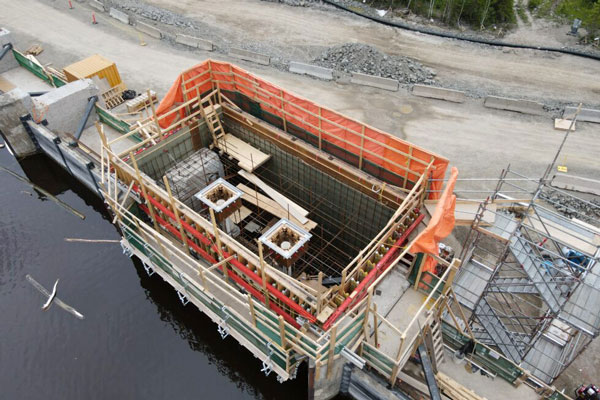 The massive project, which began in September 2021, is expected to be completed by the end of 2024. Crews will focus on demobilization and site rehabilitation in 2025.
"We expect about 11,500 cubic metres of concrete to be placed and to date we have placed 8,500 cubic metres," says Jindal. "This year alone, we accomplished 50 per cent of the infrastructure work.
"We were able to put concrete plugs in 30 out of the 33 bays and we also installed 66 post-tension anchors. These are basically big anchors that are elastically tying the dam to the bedrock to make it more stable."
The project will require 600 tons of rebar and 7,500 square metres of formwork.
Presently, the focus is on commissioning the new sluice gates at Smoky Falls which will enable water to be directed around the generating station in the event of flooding. Installation of the remaining concrete plugs and stabilization work on the dam is also underway.
Peter Kiewit Sons is leading the project and there are roughly 50 subcontractors working on the venture. KGS Group is providing engineering services and Keller Group is doing the anchor work. CANMEC is providing the sluice gates and Miller Group is providing concrete for the project.
The dam was first constructed in 1931 by the Spruce Falls Power and Paper Company and, at the time, was the only one on the Mattagami River system. Later, generating stations were built at Little Long, Harmon and Kipling, along with the Adam Creek spillway, which made spillways at Smoky Falls obsolete. The dam was sold to OPG's predecessor, Ontario Hydro, in 1991 and in 2014 and 2015 OPG completed a $2.6-billion upgrade of the four river dams.
"When Smoky Falls was built, there was a total of 35 spill structures, and when Adam Creek was constructed, they only needed two, so this project is to close 33 of those spill bays permanently," says Jindal.
In the 1960s, the spill bays were closed temporarily. Some of them used timber logs with steel reinforcement which has a finite life. The new directive is to close the surplus spill bays for good. The timber logs will be left in place in most instances and permanent concrete plugs will be placed in front.
According to Jindal, planning and logistics have been key to the project remaining on budget and schedule.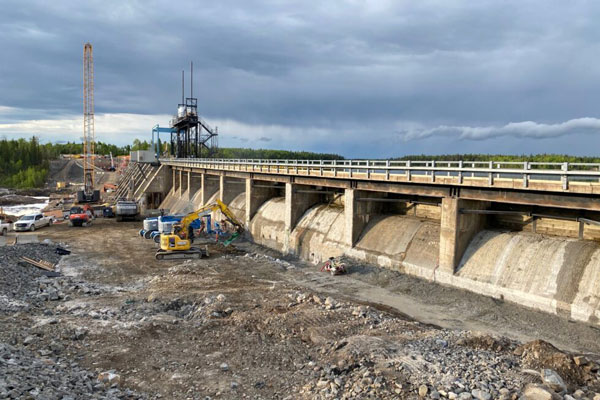 Because the project started during COVID-19, he says strict precautions had to be taken as trades were arriving from across Canada to work on the venture. Workers would test before flying to the site, onsite testing was conducted when they arrived, and if someone had COVID they were isolated.
The supply chain was also an issue, but problems were mitigated because OPG has a policy of procuring materials well in advance.
"We strategically procure them and stage the construction, so they don't become a bottleneck," says Jindal.
Because the site is in a remote area, OPG has also had to make ensure that materials are trucked in and arrive on time. The project uses a lot of concrete, so a batch plant was set up close to the worksite.
As for the labour force, workers are staying at a camp between the Smoky Falls and Little Long sites.
OPG has put a heavy emphasis on recruiting Indigenous workers and those from surrounding areas.
Presently, there are about 200 workers at the camp, including 50 who self-identify as being from Indigenous communities. On the Smoky Falls project, there have been 35,000 hours of Indigenous employment while at Little Long, there have been approximately 190,000 hours of Indigenous employment.