Erecting scaffolding in subzero temperatures, such as the kind that locked most of the country in an iron grip earlier this winter, requires extra vigilance.
"We're dealing with cold and ice and drizzle. On some days, it's just too cold to work," says Scafom Canada foreman and journeyman carpenter Mike Romeiro.
The design and layout of a scaffold varies according to project conditions and engineered drawings are required for suspended ones if they are going to be higher than 50 feet, or if demanded by the client, he says.
Dismantling them is no less challenging and has to be undertaken in the same systematic order, with the same emphasis on safety, says Romeiro.
In late December, while many people were enjoying the Christmas break, his crew was braving the frigid weather to partially remove a system scaffold at a downtown Toronto office building. It had been erected by the crew last fall so a contractor could build a steel base for two generators.
Below on the street, a designated ground crew was temporarily closing streets with the help of a police officer, "so if by accident we had dropped something there wouldn't be anyone below us," he explains.
"And, of course, the workers were tied off while dismantling our deck system."
On this particular project, pipes, fittings, tubes and other scaffold components were removed and temporarily stored in the tower before being taken away by elevator. Entering the building gave the workers a brief respite from the weather.
"It was still bitterly cold," says Romeiro.
After several years in the business he has strong opinions on the precautions that have to be taken in the winter such as taking numerous warm-up breaks, wearing the right equipment and dressing in layers.
"There has to be just the right amount of clothes, otherwise you get hot and sweat and then become cold which defeats the purpose (of dressing in layers). Then there is the issue of mobility. If you wear too many clothes you can't work," he explains.
When it comes to safety boots, he recommends having two pairs. A thinner boot is best for the summer because it breathes, while water-resistant insulated boots without steel should be worn in the winter. Steel transmits cold, he points out.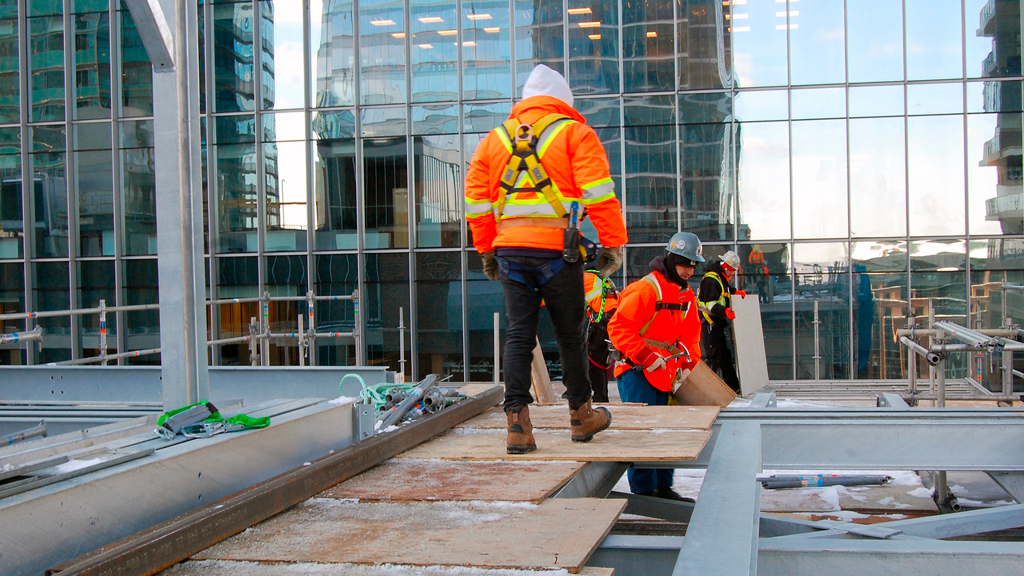 Similarly, steel gets cold in the winter and hot in the summer and that's why it's essential to wear high quality gloves for construction with a lot of lifting or movement of metal.
In his role as foreman, Romeiro supervises a crew comprised of both journeymen and apprentice carpenters, conducts risk assessments and ultimately signs off before the scaffolding is turned over to the contractor.
A coloured tag system is used to flag the condition of the scaffold. A red tag is a warning it's not completed and can't be used, while a yellow tag indicates a part maybe missing — such as a handrail needed for an opening — and that workers on it have to be tied off.
A green tag signals "everything is OK," he says.
As with any construction project, the work day for a scaffolding crew commences with a visual inspection of any potential hazards and a safety session reviewing issues such as weather, icy conditions and fall prevention training.
Although many contractors have onsite safety teams, it's still Romeiro's responsibility to monitor crews working under harsh conditions.
That includes seemingly small matters such as ensuring workers drink lots of water "and not just in the summer, but also in the winter because they don't think they're thirsty and become dehydrated.
"We want them to make it home to their families," he adds.
Romeiro has been in the trade for 18 years, having entered it after completing the College of Carpenters and Allied Trades general carpenter apprenticeship program straight from high school.
The fundamentals of carpentry will give potential workers a general idea of how to build a scaffold and then onsite training provides them with knowledge of the different types used in construction, he says.
Scaffolding training is one component of the college's 7,200-hour three-level carpenter apprenticeship which usually takes about four-and-half years to complete, says executive director Cristina Selva.
However, an 84-hour upgrade course can also be taken either during the apprenticeship or after it's completed.
In addition, an advanced level training course is also being developed and should be offered in six months. It will include "nuclear addendum training" which carpenters must have to erect scaffolding at Ontario Power Generation's nuclear facilities, says Selva.