A new Smart Welding Lab at George Brown College's Centre for Construction and Engineering Technologies (CCET) aims to change the way future welders are trained and ensure students are industry ready, says its president.
The new 3,053-square-foot facility, located at the college's Casa Loma Campus in Toronto, features 26 individual stations with computerized systems, large LCD screens around the room with cameras for demonstrations and the option for students to start their training on virtual welding systems.
"Welding is one of the world's most essential trades and plays a vital role in the construction of everything from buildings to bridges and aircraft to automobiles. The launch of this showcase facility will attract a new generation of students to the trades and I think will hopefully inspire more employers to host apprentices for training," said Anne Sado during the grand opening on April 4.
"We know that learning on state-of-the-art equipment means a lot to our students and apprentices as they build the skills that they need for industry. With the launch of this lab we are making a strategic investment in the future of Ontario's construction industry."
The Smart Welding Lab provides the following learning tools:
monitors and specialized cameras that allow instructors to demonstrate and digitally document welding techniques;
26 virtual welding stations for students to practise in a controlled environment using realistic simulations; and
an accessible welding station for people with special needs.
The lab, which was made possible through the Ministry of Advanced Education and Skills Development via its Apprenticeship Enhancement Fund, will play a key role in training students in several trades, including millwrights, steamfitters, sheet metal workers and refrigeration, and air conditioning system mechanics.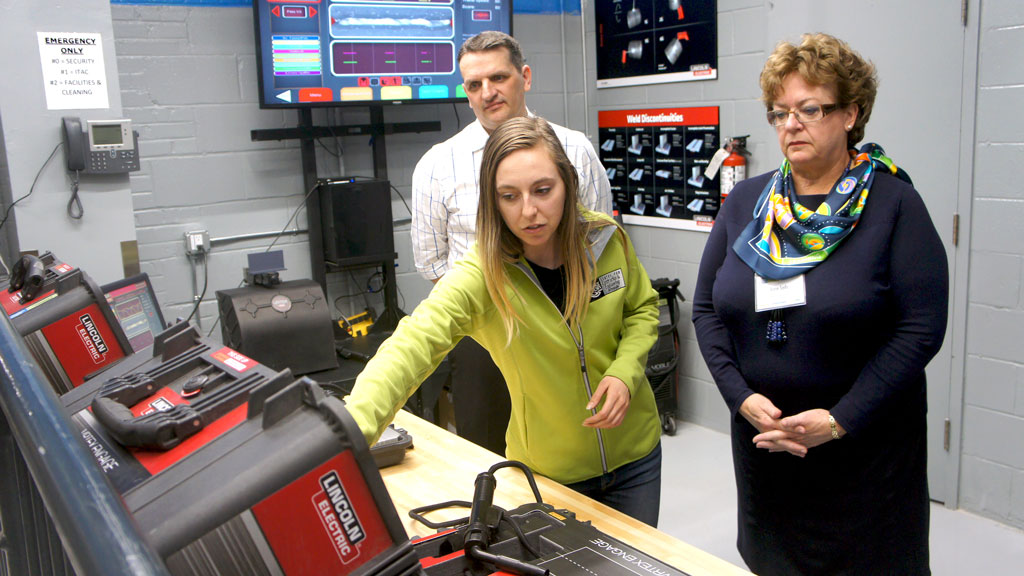 Construction of the new facility began in 2016.
"We went through some growing pains in doing this," said Tom Tomassi, who is part of the welding faculty at CCET. "We had to basically remove the fabrication shop from this area and locate it into the next building over and then tear everything down here and start from scratch."
Tomassi said the modern machinery allows students to go from one process to another within seconds.
"Students have a different approach to how they want to learn — some want to go right on in and some want to ease into that particular type of work. For those students we do have some virtual welders where students can practise," he said.
The equipment used in the lab is the VRTEX Welding Training Simulator from Lincoln Electric.
"The system allows a student to weld virtually to show what factors are critical in making a sound weld," said Chris DeFazio, district manager of north central Ontario for Lincoln Electric. "Using the simulators can educate someone on the techniques and allow them to build the muscle memory required before continuing their training in a real welding environment."
Sado added, "The monitors and highly specialized cameras will enable our instructors to effectively demonstrate welding techniques but also ensure that you have the opportunity to try it and we can demonstrate and do that without compromising personal safety.
"The type of equipment we have here really is state-of-the-art and it will capture details that we really weren't able to document before. To be able to document that digitally will be a big help."
The goal is to train welders in a relatively short period of time.
"As we all know, the industry is crying for welders and in 10 years from now, unless we do something about it, there will not be that many," said Tomassi.
"We are optimistic that we can train people in two semesters to do all major welding processes. At the end all these individuals that wish to do so can go for certification. I'm actually looking forward, after 25 years, to get back into the game of training welders."