Each year, International Women's Day (IWD) creates an opportunity to assess the progress women have made and the barriers that still exist to true equality within all aspects of our society.
In 2019, #InnovateForChange marks the theme of IWD and brings focus to the ways in which innovation and change can help empower women and girls. The same can be said for skilled trades professions; as technology continues to change our industry, the nature of work changes with it.
Currently, we sit at roughly four per cent of women in skilled trades. With the estimated impending loss of 250,000 skilled trades people over the next 12 years, never has the necessity of attracting and retaining women in our industry been as important as it is today.
I am a personal testament to the fact that some of the best careers for women are not the most traditional.
As cultures and attitudes shift and a growing number of companies seek gender diversity, women pursuing unconventional careers such as the skilled trades have more opportunity than ever before.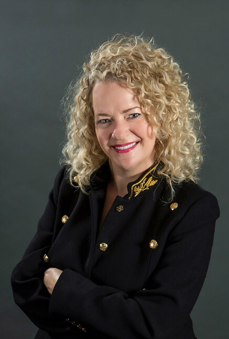 I'm so very proud of Canada's Building Trades Unions (CBTU) skilled tradeswomen not just because of the work they do but also because they had the courage to step into new territory, challenge gender stereotypes and contribute to a more sustainable future for our industry. Because of the work done by tradeswomen and men that mentor, encourage and support women, we will ultimately be able to attract more young women to our industry, empowering the next generation of skilled tradespeople needed to build and maintain Canada.
Over the next 10 years, the Government of Canada plans to invest $186 billion in infrastructure construction. This doesn't include the additional billions of investment dollars that provinces and territories will spend on new schools, hospitals, airports, roads and bridges.
If Canada is going to get this infrastructure built, it will require paying attention to workforce development, and the CBTU is doing our part.
Last month, with the support of the Government of Canada, we announced the launch of provincial Offices to Advance Women Apprentices (OAWA) in Manitoba, Saskatchewan and Nova Scotia.
Based on the success of the OAWA office in Newfoundland and Labrador, where women represent approximately 13 per cent of the skilled trades workforce, these additional OAWA offices will create ongoing support services for women seeking or already employed in the skilled construction trades, including providing career services, employment supports and networking opportunities.
The program will also develop and maintain a registry database, which is crucial for properly tracking services provided, apprenticeship numbers and helping secure higher completion rates through support and diligent oversight.
We know that women face obstacles in many industries and the lack of equal opportunity is not unique to the construction trades, in some cases, it's just more visible. Regardless of the industry, having women supporting and mentoring other women goes a long way in overcoming some of these challenges.
Creating a space for women to network, support, mentor and develop leadership skills is essential, which is what CBTU's Build Together, Women of the Building Trades program does. With seven provincial chapters across the country, Build Together continues to engage tradeswomen and others to champion the issues of equity, diversity and inclusion.
On this International Women's Day, it's important that we acknowledge our male champions who understand that gender inclusiveness means involving both men and women to advance women's leadership.
We acknowledge those who make special efforts to provide visibility to women through mentoring and coaching; who help level the playing field for everyone.
It is the informal champions who genuinely believe in fairness, gender equality and the development of talent in their organizations and use their authority to change workplace culture.
Women notice this and we appreciate it. For each one of you who encouraged our female members to run in their local union elections, lead business development, chair committees, sit at the bargaining table, become shop stewards, forepersons and international representatives, we thank you, you are the much-needed catalyst for change.
To continue to affect change around women in the skilled trades, please consider joining us or sending some of your members to the 2019 Women Build Nations Conference (WBN), hosted by North America's Building Trades Unions, in Minneapolis, Minn., Oct. 4 to 6.
Last year, I had the opportunity to attend my first WBN Conference and experience the contagious enthusiasm of over 2,300 tradeswomen, who spoke about the growth and future of our industry.
It is the only conference of its kind that fully demonstrates the multiplier effect of how positive change comes about when women support women.
"We must open the doors and we must see to it they remain open, so that others can pass through. Sisterhood is powerful," Rosemary Brown, a politician and activist once said.
This International Women's Day, I have one simple ask; regardless of your gender, open those doors and encourage and support women to pass through them.
If you're in a position to help expand their visibility and arm them with experiences that will broaden their perspective and therefore enable them to more effectively compete for and gain access to big roles — do it. The world and our industry will be far better off for it.
Arlene Dunn is a director at Canada's Building Trades Unions. Send comments and Industry Perspectives column ideas to editor@dailycommercialnews.com or editor@journalofcommerce.com.