True to the stereotypes, workplace millennials want to be respected, included in decisions, sit in on important meetings before they've earned it and need to think their work is relevant, says David Coletto, Abacus Data CEO.
And like it or not, Coletto said, it's a demographic inevitability that the millennial cohort will be the main source of employees for the construction sector for the foreseeable future and it's the constructors who will have to bend to meet the millennials' needs, not the other way around.
"Every sector is having this problem," said Coletto in an interview after his evening keynote address at a Canadian Construction Association Leading the Evolution Summit on April 25.
"But given that millennials are going to be the majority of working-age people I don't think you cannot figure it out. You can try to replace retiring Canadians by looking at new Canadians or other demographics but every sector has to figure this out and construction in particular because there is an obvious gap there.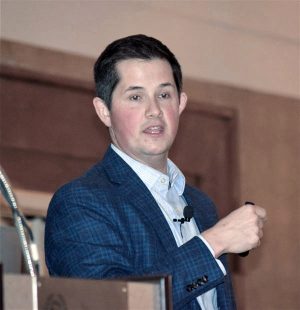 "I don't think you are going to change millennials. If they are a square peg in your circle, you are not going to get them to be circles, I think you are going to have to become more like squares."
Coletto, an older millennial himself at age 37, spoke on the theme Get your Shift Together: What does Generational Change Mean for the Future of Construction?
The competition for millennials, a generation defined as born between 1980 and 2000, will be tight, said Coletto.
"The oil patch, which has the advantage of being able be to pay a lot, they still struggle but they are able to recruit young people," he noted. "It does require change. I don't want to cast aspersions on this entire industry but I've heard there's a reticence to change. Those organizations that make the effort do see a payoff. It's about culture change, and restructuring the workplace."
Key elements in a new recruitment and human resources strategy, Coletto said, will be addressing millennials' needs to have company intentions made clear, with "authentic" efforts to engage with them; establishing a clearly articulated corporate purpose that meshes with that of the future employee; indicating openness to hearing the recruit's opinion and inviting participation; providing constant feedback and recognition of the worker's efforts and impact, with others on the team notified of contributions; and running a digital-first enterprise that recognizes the employees' attachment to their devices.
That last point can even go so far as scheduling social media device breaks, just as employers once permitted workers to take smoke breaks, Coletto said.
Millennials want to share stories on social media and the work stories they tell have to reflect personally- or socially-significant accomplishments.
Construction employment works well in this context, Coletto suggested. Employers in the sector have good narratives to tell to recruit millennials and can easily make the case that the work is worthwhile.
"Even if I am not doing the most groundbreaking building, even if I am just building a subway system, there's a purpose there, there is a story to be told," said Coletto. "A lot of industry doesn't like boasting about what they do, but because what I do needs to be something I'm willing to share, you have to tell me a story that I can tell my audience, and I think construction has amazing stories to tell."
According to Coletto, other traits of millennials that construction employers should incorporate into recruiting practices include:
they want security, opportunities and to be respected;
they ask for what they want and expect to get it;
they want managers to listen to their concerns, even personal, and to help them solve problems; and
they mainly consume news through social media (Facebook, 37 per cent), not radio (seven per cent) or television (10 per cent), so much so that if a catastrophic world event happens over a weekend and their feed misses it and they have not phoned a parent, they might go three days without a clue of the event.
But be careful of terminology, Coletto said — millennials have earned such a strong reputation for being narcissistic, lazy and entitled, it is the worst generational branding in history and they do not like to be called millennials.