At first glance, ballet and construction would seem to be worlds apart. But there are more than a few connecting threads including the fact both are "very creative and very technical," says EllisDon project management director Cara Grant.
"Ballet dancers have to know how to use the space they're given to work in and so do project managers."
Similarly, the same qualities of dedication, focus, and determination necessary for becoming a ballet dancer are the same attributes for being a successful project manager, says Grant, who has the rather unique status of achieving both positions.
She is both a National Ballet School of Canada graduate and former member of the National Ballet of Canada whose entry into that demanding profession began at a very young age.
Grant started taking ballet lessons when she was only three years old and then, at age 10, left her home province of Alberta and enrolled in the National Ballet School, which is based in Toronto.
"You're too young at that age to make a career decision. But I had an intuitive feeling about what I wanted to do with my life."
The National Ballet School is a boarding school and, as Grant describes it, a student's progression from one grade to the next in a competitive and physically demanding environment is not easy or guaranteed.
"At the end of each school year you are evaluated and invited back or not. Only three of the students I entered the school with in Grade 7 made it to Grade 12."
Following her successful graduation, Grant was hired by National Ballet of Canada and danced with the group for four years. She then resigned and travelled to Europe for a year where she furthered her professional development by dancing with a number of different groups.
Shortly after her return to Canada, she slipped on the walkway at her home and broke her pelvis. "There were nerve issues and it took a long time to get over the pain."
It also ended her career as a dancer. As she was only in mid-twenties at the time, that termination wasn't as devastating as might have been if the fall had occurred later in life and, as Grant points out, she was becoming curious about other careers even before the accident.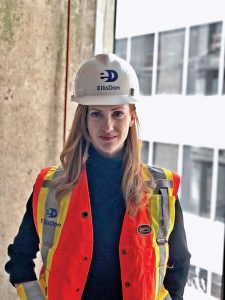 "I was always interested in design and architecture and I remember walking along (Toronto's) Wellington Street, looking up at the towers and wondering 'How do they do that'?"
Similar to the motivation for enrolling in ballet school, it was an "intuitive process" which eventually led to studying design and architecture at Ryerson University where she obtained her Project Management certificate.
After graduating, she obtained a position with Genivar, now WSP, rising from project co-ordinator to project manager during her 10 years with that company.
"I managed projects from design to construction. But I wanted to get more involved in the actual construction side of things and two and half years ago, I started making a few phone calls to EllisDon."
Initially hired as a project manager, she was promoted to her present position as director of project management a year ago.
In that role she manages a number of different project teams. Some of her projects have included new construction/renovations at Toronto's Eaton Centre, St. Michael's Hospital, and the Egale Centre, a residential/counselling support service facility for LGBTIQ2S (lesbian, gay, bisexual, trans, intersex, queer, questioning and Two Spirit) youth.
Her portfolio also includes managing the recently completed Stackt Market, a modular retail/hospitality complex constructed from shipping containers close to the city's waterfront.
Asked if she has been subject to any slights as a female in what, is still, a primarily-male dominated industry, Grant says the goal throughout her career has always been to "keep professional and focused on the job".
Although her ballet dancing days are long behind her, Grant still keeps connected with that side of her life by keeping in touch with former colleagues and sitting on the board of directors of Fall for Dance North Festival, a non-profit organization which stages low-cost festivals at number of venues including Toronto's Union Station.
"Most people have one career. I have been fortunate to have had two."