Strive, persist, be in it with all your heart.
Those are some of the qualities Nicole LeClair was looking for when choosing the winner of the new annual Nicole LeClair Welding Bursary Award.
"I was looking for a candidate that meets all of those requirements and is really passionate about welding and I wanted to try to select a winner who I feel is going to remain in the industry," explained LeClair.
"I've been in the trades for 20 years. I feel like I've come full circle and I want to give back. I feel like if you can do something to help, you should. The numbers are dwindling for people getting into the trades unfortunately — so I'm trying to do everything I can to promote it."
LeClair is a welder fitter, a welding engineering technologist, a level 1 visual welding inspector, is Red Seal certified and recently got her international Welding Engineering Technology diploma. She is now a welding professor at Mohawk College in Stoney Creek, Ont.
The award was created to support one student within Ontario each year who is pursuing welding at the post-secondary education level within Ontario.
Applicants must be Ontario residents and may be entering into any year of program study in order to apply. The award is supported by LeClair's personal funds and other charitable donations. The CWB Welding Foundation will continue to administer the bursary after her passing, she noted.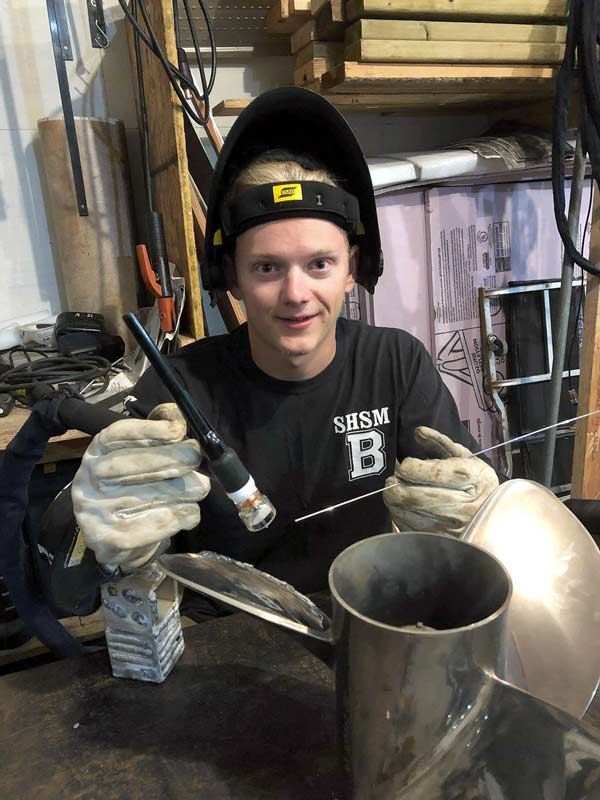 "It's a longstanding thing that I've established and it's the first year that I got to issue my first bursary so it's memorable and it's really cool to see it come full circle after all the planning and work and advertising," said LeClair.
"I don't have kids myself and I wanted some sort of a legacy that I could leave behind for my trade that I feel passionately about and also to encourage other people to get into the trade."
The first recipient, announced in July, is Lyndon Hensrud, 18, from Kenora, Ont.
"I had it narrowed down to about three people and it was pretty hard to pick a winner but I had a video chat with them and I did that before I announced the winner because I wanted to make sure that person is relating to me and talking to me the way I interpreted from the application," said LeClair.
"Part of the application process is 'tell me why you think you're the best candidate for the award' and that's when they really got to kind of tell their story and pour their heart out about their history in welding and why they like it what they want to do in the future."
Lyndon is enrolled in the Welding Techniques program at Confederation College in Thunder Bay, Ont. in September. The 2019 bursary was $1,500 and will be paid directly to the post-secondary institution to offset student tuition and fees.
"He's very committed so I felt pretty good about my decision," said LeClair. "He loves welding so much that he volunteered his time to weld and he has his own welding equipment in his garage. He had some long-term goals in his write up as well about TIG welding and getting aviation TIG welding tickets and striving to get his Red Seal. These are all things that told me he was in it for the long haul." LeClair did her welder fitter program at Cambrian College in Sudbury, Ont. and her Welding Engineering Technology program at Conestoga College in Guelph, Ont.
"In 2001 when I was a student, I was the recipient of a $1,000 bursary from the Canadian Welding Bureau," said LeClair. "I never forgot that and I thought I would pay it forward."
Contributions from individuals or organizations are encouraged and a tax receipt will be issued.
"I want to, in time, target businesses to make donations because they're going to get a taxable receipt but they're also helping their own industry supporting future welders," said LeClair.
"$1,500 is going to be a minimum that I issue every year. If this takes off and grows and I get more donations then I can offer two bursaries in a year."
She will also continue to volunteer her time speaking at high schools and serving as a welding judge at Skills Ontario.
"I'm heavily involved in the industry to try to let students know that it's a viable career with good benefits, good pay," said LeClair. "We need to do something because welding is never going to go away and we need some skilled people in the field to come in and take over these jobs as baby boomers are retiring."