Twenty-seven-year-old Aidurus Mohamed sees his decision to take a course in formwork several years ago as "life-changing." At the time, he was operating a forklift for a just above minimum wage job with no future.
"I saw that there were way more opportunities in carpentry," says Mohamed, who is working his way through the apprenticeship program as a formwork carpenter.
Like Mohamed, Kemar Clark was as a low-paid cook in Toronto when he turned to carpentry. "I had zero experience in construction but I wanted to try it," says Clark, who came to Toronto from a small town in Jamaica three years ago.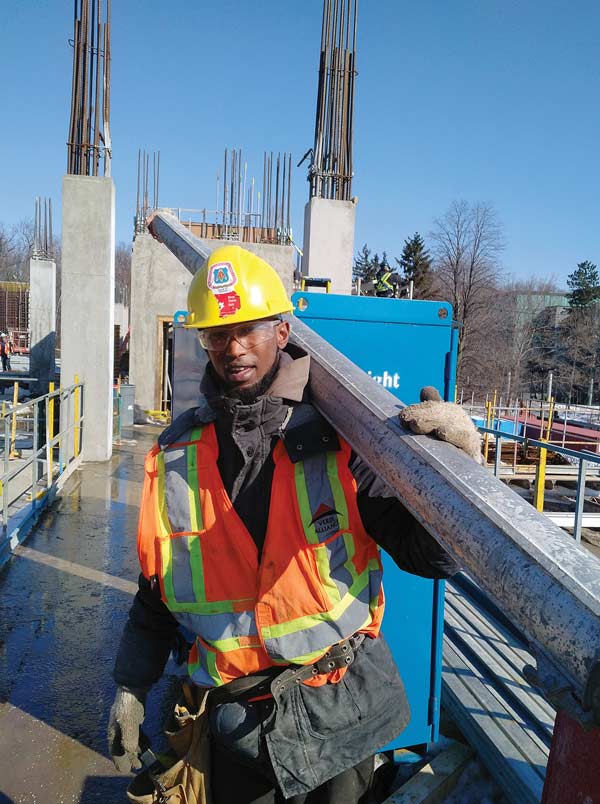 "I knew it wasn't going to be an easy job. It is physical work," says Clark, now a second-year apprentice.
Both young men got their start taking a formwork course at the College of Carpenters and Allied Trades (CCAT) in Vaughan, Ont.
Today, employed by Outspan Concrete Structures Ltd. at the Crosstown Eglinton LRT's new Kennedy Station, Clark is part of a crew forming walls and slabs. The station will be the eastern terminus of the Eglinton Crosstown LRT. It will also serve as an interchange station connecting with the TTC Bloor-Danforth subway line.
Clark sees the work continuing for months, maybe even more than a year.
"That could put me into my third year (apprenticeship) or maybe even my fourth year," he says, adding the big LRT project is a magnet for young carpenters because of the long-term construction opportunities.
The Crosstown Eglinton LRT is also a learning ground for the new generation of carpenters. The 10-year project will have more than two dozen stations over 19 kilometres when it is completed in 2021.
Second-year carpenter's apprentice Abdirahman "Abdi" Mohamed, 29, got his start in 2017 after walking away from a period of underpaying jobs in warehousing. Raised in Etobicoke, Abdi knew little about construction work when he, too, took the eight-week formwork course offered at CCAT.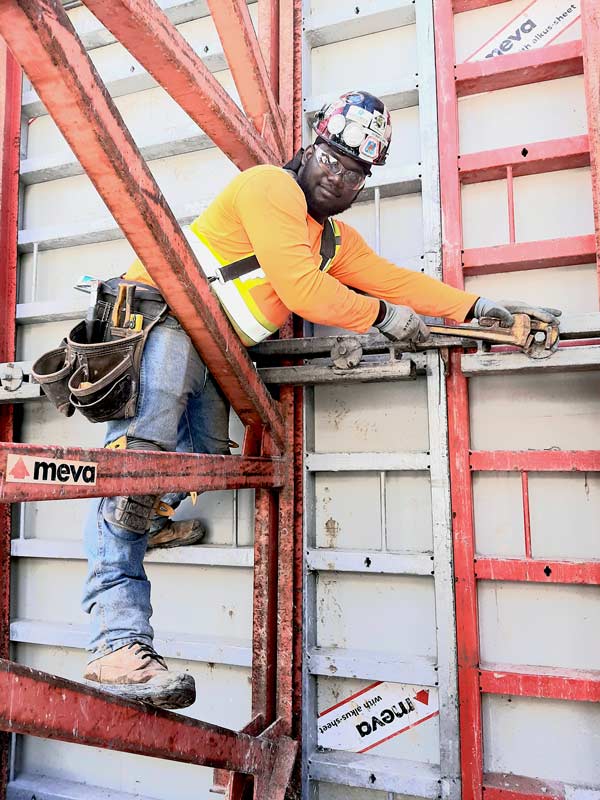 "I learned there that I wanted to be in this field. They showed you a lot of things in the course and it was very hands-on learning," he says.
His first construction job in formwork for CMC (Carrier Mausoleums Construction) lasted 18 months. He has been working at the LRT's Science Centre Station for Structform International Ltd. now for about 10 months.
Employed with formworking contractor Verdi Alliance for about 18 months, 27-year-old Aidurus has witnessed a number of carpenters retire in his short time in the industry.
"There's a huge age gap between the young guys and the older guys; there's nothing in the middle."
While some industry observers fear that retirements on mass could leave younger carpenters with too-few mentors, Aidurus says there is always an experienced carpenter around at Verdi to help him out.
"If you really want to learn, you can find someone on the job who can teach you."
Aidurus has sights set on achieving a Red Seal certification under Structform's tutelage.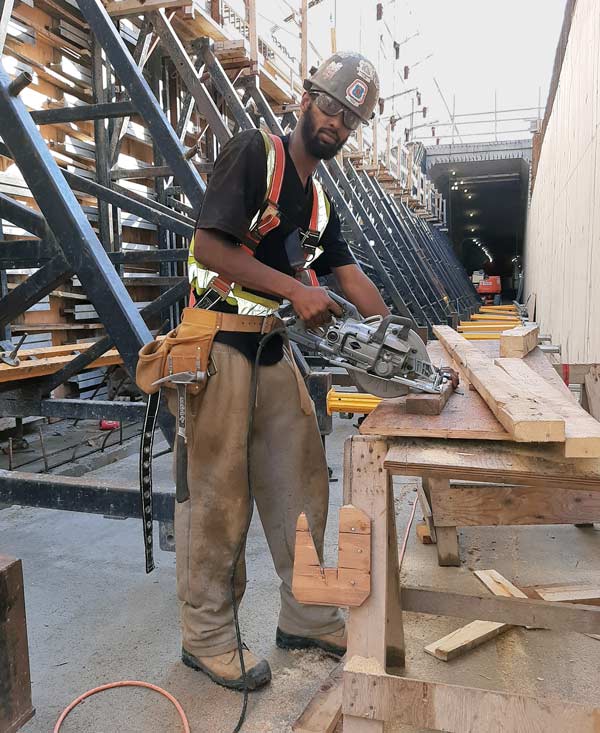 Chris Campbell, business representative for the Carpenters Local 27, sees the LRT as a good starting point for many young apprentices because it can offer steady, long-term employment.
"The consistent work is good training and it provides financial stability for the workers and their families," he says.
Campbell supports hiring policies that include a percentage of the people living along the LRT line. He has walked stretches of Eglinton Avenue, passing out recruitment fliers on behalf of the Carpenters' union to local barbershops, grocery stores and other retail shops.
"I figured why not go to the neighbourhoods where the LRT will run. I have received so many calls from young people and even their families asking about it."
At the Science Centre Station, Abdi hopes to get his journeyperson papers while working on the line.
"It is a journey to get your Red Seal — you have to put in the work, the dedication…show that you want to be there and improve."
Clark, Abdi and Aidurus represent a new generation of carpenters, comfortable with innovation and new technologies facing the industry. But Abdi, for one, doesn't dismiss the older generation. He says respecting the values handed down from the last generation of carpenters is important.
"They are part of a culture, a history. They can teach us a lot."