It's not quite the 3D printing concept most people are familiar with but a Vancouver company has rolled out a technology process to "print" structural steel components on a customized project-by-project basis.
LifeTec Construction Group takes rolls of steel and mills them into a package of steel joists and studs to complete a job using Computer-Aided Design (CAD) and Computer Numerical Control (CNC) technology in a twist on 3D printing.
They started with residential construction and have now moved into mid-rise structures and are just starting into industrial, commercial and institutional jobs, says LifeTec founder and president Krishna Jolliffe.
"It's all driven by 3D design and then our technology which takes that design and breaks it down into components of twelve, six and three and five-eights dimensions which are then "printed out" through CNC at our plant," he says. "Then they're taken to the site and assembled."
It differs from 3D printing in that each piece is not built-up through a sintering process in a machine. That way would take too long and cost way too much. However it is similar in that each piece is computer-designed and then processed according to a computer program.
More detailed than a giant IKEA flat-pack, each component is also marked for location and processed so the items immediately needed at the site are on top for easy access with the rest arranged in descending order of requirement.
"We have no limit really of length so if we opened the doors we could probably run off 100 feet," Jolliffe laughs.
There's hardly any waste, he adds.
"The punch-outs for conduits are collected and put through a break and used as tie-downs," he says. "And any other small pieces are just collected and sent back for recycling. It's all clean metal."
The process isn't strictly 3D printing in the popular sense, he says, but it's easier for people to grasp the concept to describe it that way and it works almost the same way.
"It's just that we don't use lasers or other equipment to build up each piece, it would take too long and cost too much," Jolliffe says.
There are inherent advantages to the structure-to-go method, he says, and that includes needing less labour, faster erection times along with the ability to concurrently finish the structure because all the punch-outs and box locations are pre-installed.
"We guarantee to be plus or minus 0.5 mm for each location or we pay for it," he says.
The other advantages over wood include no warping of materials, no time wasted cutting sticks to size on size, and no issues working with wet wood and waiting for it to dry before the finishing process can start. And, no wastage to cart away and pay to dispose of.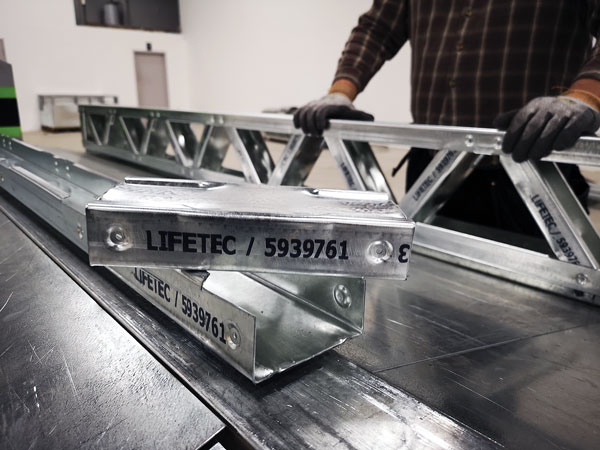 Jolliffe and his investors bought into the Framecad system which has 1.000 machines in 120 countries with LifeTec the partners in western Canada. It's been so successful since they started up less than three years ago that he says he's never made an outbound sales call.
"Work is coming to us," Jolliffe says but notes that not everyone is rushing in and that's partly because the construction sector tends to be conservative about change.
"It's often hard to convince someone who has always worked with wood to shift from something they know," he says.
However, the company is on track and expanding its customer bases.
"Owners and big developers started calling," Jolliffe says. "And so 90 per cent of our work right now is industrial building and multi-unit mid-rises which seem to be a sweet spot. Our load-bearing studs are a really good substitute for pre-cast concrete and with the pre-installed insulated panel it's a good solution."
It's not a blanket, one-size-fits all alternative, he insists, but says it can solve a lot of problems.
"For example, here in Richmond the ground is soft and so this is a mite lighter material to work with," he says.
It sound incongruous that LifeTec is smack dab in the middle of British Columbia, home of the forestry industry, where wood is king and timber towers reign, yet it is carving out a place for steel structures.
They've moved from one machine in a 7,000-square-foot facility to four machines in a 50,000-square-foot place and have filled their order pipeline with letter of intent which has allowed them to go back to their investors to expand their resources.
"We've got about four million square feet in our pre-construction pipeline in B.C.," Jolliffe says.
LifeTec wants to expand across Canada but it's one step at a time for now, he says, though there are calls from outside B.C. and from the United States.
In essence, LifeTec is more about logistics than construction itself, ensuring the right materials in the right order and quantity are shipped and delivered to the site.
It's about technology and artificial intelligence and the rest is building out their brand.
Today it's mid-rises but it's feasible to go up to 10 floors or higher, Jolliffe says. Also, hybrid steel and concrete designs are popping up such as the US$600 million, 58-storey Rainier Square Tower in Seattle which uses an innovative shear wall core system with steel plates in lieu of traditional rebar and formwork to speed up completion.
"They figure they'll shave 20 to 30 per cent off installation time," says Jolliffe. "And get 20 per cent more usable space inside."