Productivity is becoming an increasing concern in rebar-tying work and it is spurring automation with the use of hand-held rebar tying devices growing and U.S. based Advanced Construction Robotics (ACR) bringing to market TyBot, an intelligent and fully autonomous tying machine.
The TyBot machine, which has been working in U.S. construction sites (including a demonstration on the Detroit side of the Gordie Howe International Bridge Project) for the past two years, will swing into full-scale commercial production starting in 2020 with orders placed this year. (The robot's sibling product IronBot, a robot able to lift, carry and place rebar in horizontal applications is currently a prototype, and will go into field trials in 2020).
In the U.S. TyBot trials, the robot designed for horizontal surfaces such as bridges and highways consistently produced 800 intersection ties per hour or 8,000 intersection ties per 10-hour shift. It requires no lunch or work breaks and can work shift work and seven days a week.
"Our co-founder (a contractor) has experienced the labour shortages that exist and has been concerned about declining productivity," says Jeremy Searock, ACR president, who is also a co-founder of TyBot. Stephen Muck, chairman of Brayman Construction in Pennsylvania, joined forces with Searock, who trained in robotics while with the U.S. navy and upon leaving earned a degree from Carnegie Mellon University (a research university known for its robotics). The Pittsburgh area is also a hub for robotics and artificial intelligence companies, said Searock.
"He (Muck) saw the same problem everywhere — not enough workers and demand growing internationally for construction. The gap was just going to get worse," Searock said. Robotics was deemed the gap solution.
Searock said that TyBot is unlike most common robotics such as drones, robots, or, even medical robotics surgical applications. They are all controlled by an individual.
TyBot is designed to operate independently; it moves along its track, it can spot the rebar intersections to tie. "There is no programming or having to type in all kinds of direction," said Searock, a feature that contractors like.
Searock said there is no special mechanical set-up required as TyBot it has been designed to use the bridge's screen rails that are commonly used for concrete finishing. The TyBot unit can span deck areas from four metres to 30 metres. According to ACR's data collected from U.S. trials, the TyBot provides a 20-40 per cent productivity boost in man-hours compared to manual labour crews with the variance based on the crew's skill level.
ACR vice-president Carson Carney said TyBot allows contractors, in a tight labour market, to free up employees to work on vertical areas. Automation has the advantage of enhanced safety as it limits the number of employees to the work place. The incidence of work-related injuries — especially those sustained in repetitive work — is reduced.
The basic 20-metre TyBot unit will sell for US$795,000. The company is also offering lease options.
Mike McKoryk, chief instructor for the B.C. Institute of Technology's (BCIT) ironworkers' programs, said that there is a steady flow of students into the institute's rebar program but the majority of students are really looking at advancing on the broader ironworkers' program.
McKoryk, who has worked rebar, said it is a construction area that brings concerns regarding both productivity and repetitive-use injuries as individuals are either bent over tying rebar and using repeated hand motions during a shift. "It is fairly strenuous," he said, adding that employees are the most productive during the early portion of a shift but fatigue generally kicks in later on in the day.
When it comes to tying rebar on large flat areas, bridges can be a challenge. McKoryk said normally, one in three or four intersections are tied off in common construction reinforcement before concrete is applied. But, the B.C. ministry of transportation usually sets a standard of 50 per cent of the rebar to be tied. On a large bridge, that can equate to hundreds of thousands of rebar ties that have to be placed, he said.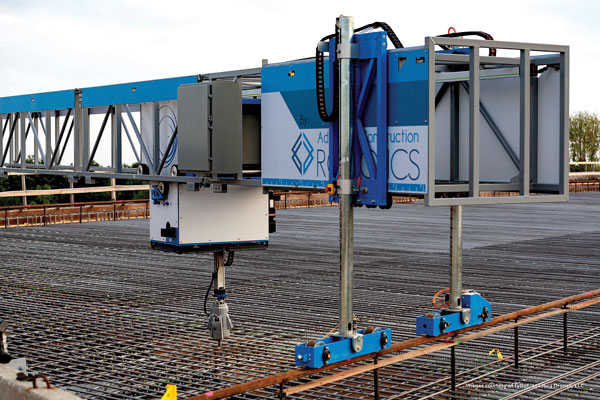 Automation could provide an advantage, McKoryk said, but the B.C. rebar industry — like other aspects of construction — has been slow to adapt. He said that while hand-held tying devices for rebar have been on the market for over a decade they have made only a few appearances in the workplace. BCIT does not have any hand-held devices with which to instruct students as there has been no lead by companies demanding it as part of the program curriculum, he said. He does however provide video information on their use.
In the U.S., research companies looking at the sales of hand-held tying devices for rebar are anticipating sales to grow over the next decade. In Canada, the University of Waterloo (Centre for Research Expertise for the Prevention of Musculoskeletal Disorders) carries information on its website on a series of studies carried out by the National Institute for Occupational Safety and Health (NIOSH) and the Construction Safety Association of Ontario which looked at one particular type of tying device. While the studies looked at the potential for reducing repetitive type hand-wrist injuries of rebar workers, it also commented on productivity.
"In certain applications, there have been documented increases in productivity. The NIOSH-Ontario studies found that power-tying tools can tie rebar twice as fast as hand tying. Actual productivity increases will depend on the type of work and the frequency of tying," the website said. It also found some models available could be used while the employee was standing upright while extender handles could also be used as an adaption.
There are a variety of hand-held tying tools on the market offering a range of options: weight, rebar diameters, number of wire loops, and battery life. The prices range from a consumer model at $300 to the more robust models that are priced $2,000-$3,000.
"It is perhaps the hardest job in construction and if not the hardest, one of the top three," said Doug Parton, business manager for the Burnaby, B.C.-based ironworkers' local 97. His union is actively recruiting rebar workers.
Parton said the amount of B.C. work on the horizon will require a union intake of 200 new hires in the rebar sector. In order to get people onto the job site, the union has started its own rebar training program at its union hall in conjunction with construction companies. His intake is six per week for a two-week training program.
"In two weeks' time for the introduction and basic training, they will have a job, the tools and the equipment which are being supplied in partnership with our (member company) contractors," he said.
In Alberta, contractors say they are always looking for rebar workers. Glen Shaw, owner of B.A.R. Placers (a union shop), just finished out the summer with eight students all of whom had quit before the summer ended. "It is physically demanding work," he said, adding his company goes through 60-80 hires a year that don't stay on the job because of the physical demands. Rebar ironworkers have to be able heft bundles of rebar, climb and work on vertical surfaces, and also spend long hours bending over when working on flat surfaces.
"We get maybe one in 10 or 15 hires staying," he said, adding that for those who can tough it out, there are many pluses: working outside, travelling to different locations, good wages, and union benefits.
"Our journeymen get $75,000 to $90,000 with overtime and a foreman gets $100,000-$110,000," said Shaw. "Right now it is also an entry level job you can get into with very little education and learn as you go on the job site."